Explore Tibet is a bona fide Tibet travel agency and Tibet tour operator developed by a team of local Tibetan tour guide who have thorough and in depth knowledge about Tibetan culture, climate, hotels and all destinations for tours in Tibet. We are determined to discover new, enriching Tibet trips with in-depth, authentic Tibetan experiences. Despite strict restrictions caused by political upheaval and natural mishaps, we are very happy to share our Tibetan authentic experiences with visitors. We are specialized in tailor-made Tibet tours on the whole Tibetan plateau, based on the needs and abilities of our clients, and to explore Tibet on more personal level. This is why most of our travelers are repeat travelers or direct referrals from our previous clients.
All of the staffs at
EXPLORE TIBET
are local Tibetans with many years of working experiences, many of them have received training in ecotourism that sponsored by the esteemed Columbia University. Our guides are familiar with the most beautiful Tibetan tours and are experienced in high-altitude trekking. Most importantly, as native Tibetans, they have deeply ingrained knowledge of Tibetan culture, tradition, religion and history that is part of their daily life. During our trips, our guests have the opportunity to experience the life of Tibetans and learn about their daily routines and customs. Travels may take you through ancient monasteries, nomadic lands and the stunning landscapes of the Tibetan plateau. This makes for an unparalleled experience of Tibet's unique environment and its rich traditions!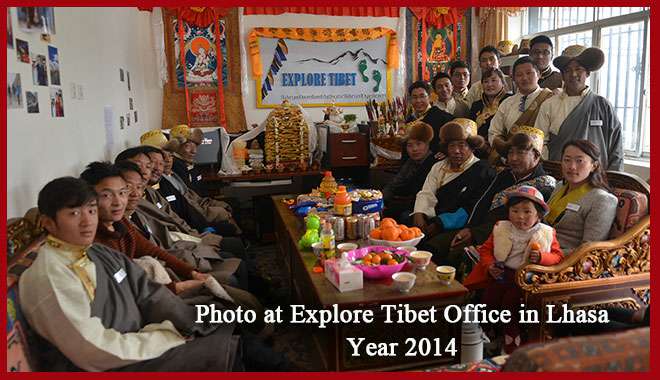 Being a local tour operator, I am personally pleased to practice the knowledge of
Responsible Tourism.
We are dedicated to relying upon native people and using local services to encourage the local economic development. Apart from the economic development, we value our rich culture, indigenous tradition and unpolluted environment by signifying them as the core values of preservation. We also try our best to live by a Leave No Trace principle by educating our staff and teaching appropriate etiquette to our respected guests before they travel through Tibet. Though our influence is limited, we are proud to be one of the first local companies that implement the practices of Responsible Tourism in Tibet and we are confident that will grow in broader field in the future.....
Google+
We are certified by:
I am Tibetan born and grew up in Tibet, but did not truly discover the beauty of my country until I explored its wonders with my guests in the past years. The more I traveled, the more I came to love the land that I call home. The task of educating our guests inspired me to study our ancient culture, traditions, religion and history through both books and the elders of my village. In my experiences, I have explored almost every corner of Tibet. Through interaction with natives and visitors alike, I have a deep appreciation of the needs of travelers who
visit Tibet
. The accumulation of all of these experiences resulted in my founding
Explore Tibet
to provide
authentic Tibetan experience
s
through the culture and landscape that make up this magical country.
I am proud to say that the Explore Tibet is an energetic Tibetan team having strong Tibetan cultural background and
Tibet travel
experiences on the Tibetan plateau, with many years of working experiences, all our staffs has an abiding enthusiasm for guiding and introducing the authentic Tibet, although their background and expertise may vary, but all our staffs are committed to tackle new problems and finding new ways to explore Tibet in a different way.
We invite you to join with us on the roof of the world and experience something extraordinary.
Thanks and look forward to welcoming you soon.
Best Wishes!
Sonam Jamphel
Founder of Explore Tibet

Write Us Here