5 Countries That No Require China Visa to Get Tibet Permit
All visitors to Tibet require a valid Chinese visa, but there are 5 Nationalities that don't need to have the Chinese visa in order to apply for Tibet Travel Permit from the Tourism Bureau in Lhasa.
Just like you might expect, you must first obtain a Chinese visa to travel into China and then into Tibet. As of right now, Chinese tourist visas usually can't be obtained upon arrival. This means you must apply for a Chinese tourist visa at least a few weeks before your travel to China. There are some nationalities however, that do not need such a visa to enter China.
As Tibet is located South-western part of China and is the same as any other destinations in China, a Chinese visa is the most important document that you are required to apply for. What makes Tibet different from other Chinese locations is that you also need the
Tibet Entry Travel Permit
to travel into and around Tibet. Independent travel is not allowed in Tibet and therefore you have to organize your Tibet tour through a local
Tibetan tour company
such as Explore Tibet. Once your tour itinerary is finalized, we at Explore Tibet will apply for your
Tibet Entry Travel Permit at the Tibetan Tourism Bureau in Lhasa.
This is the only government department in China that issues this permit.
There are several nationalities that don't need to hold a
Chinese travel visa
if their journey is short (15 to 30 days). According to the China Consular Affairs website, there are 11 countries listed as visa-free travel countries. These 11 countries which don't need to apply for a short term China travel visa are: Ecuador, Serbia, Tonga, UAE (United Arab Emirates), Barbados, Bahamas, Republic of Fiji, Grenada, Mauritius, Republic of San Marino and Seychelles. While these countries do not need a visa for short-term travel within China, they are mostly still required to apply for a
Tibet Entry Travel Permit
.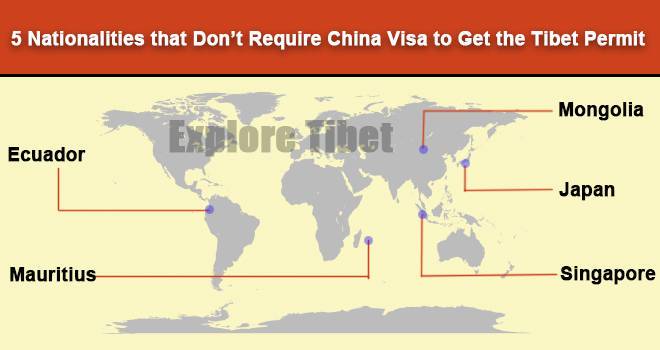 As of this year, the Tibet Tourism Bureau accpets
5 nationalities that don't need a Chinese visa for the Tibet Entry Travel Permit application. The 5 nationalities that don't need Chinese visa to apply for the Tibet travel permit are Singapore, Japan, Mongolia, Mauritius and Ecuador
, so if you are from these 5 countries, then you only need to send us your passport copy and we will get the
Tibet Entry Travel Permit
without any problem.
While all of this might sound confusing, it is not as complicated to
travel Tibet
as it appears. The
Tibet travel permit
process is continually being simplified and has seen a decrease in restrictions over the years. We at Explore Tibet have more than 12 years of experiences in operating Tibet tours and have helped 5000+ international travellers obtain the Tibet permit each year. We will handle the complicated part, the most important thing for travellers to remember is that if you have any question about your own passport and visa requirements, we are more than happy to look into it with you personally.
What are the easiest steps to get the Tibet Travel Permit?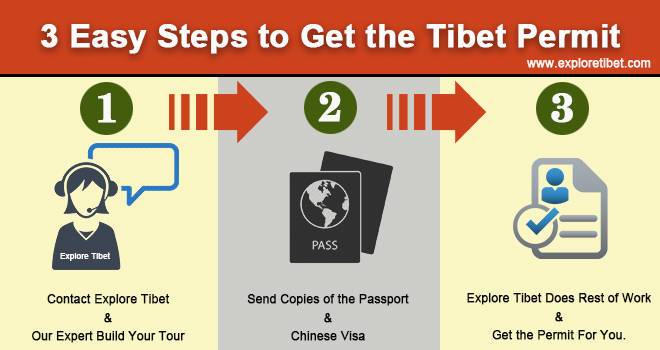 Some Quick Questions & Answers About
Tibet Travel Permit
.
Can I apply for the Tibet travel permit abroad or in mainland China?
Ans: No. Tibet Travel Permit is only can be issued from the Tibet Tourism Bureau in Lhasa.
Can I apply for the Tibet travel permit by myself?
Ans: No. you can't apply the permit by yourself, you need to organize your
Tibet tour
through a licensed local tour company such as Explore Tibet, who will get it for you.
Do I need to send my passport to apply for the travel permit?
Ans: No, we don't need your original passport, only a clear and complete image or scanned copy of the passport is enough.
How long the Tibet travel permit process would take?
Ans: Generally, it takes around 10 days, but some restricted destinations like Mt Kailash would take more than 20 days.
How much for the Tibet travel permit cost?
Ans: There is no way to buy the
Tibet travel permit
separately, as it violates the regulation of Tibet Tourism Bureau, Explore Tibet's package tours includes Tibet entry travel permit and other permits.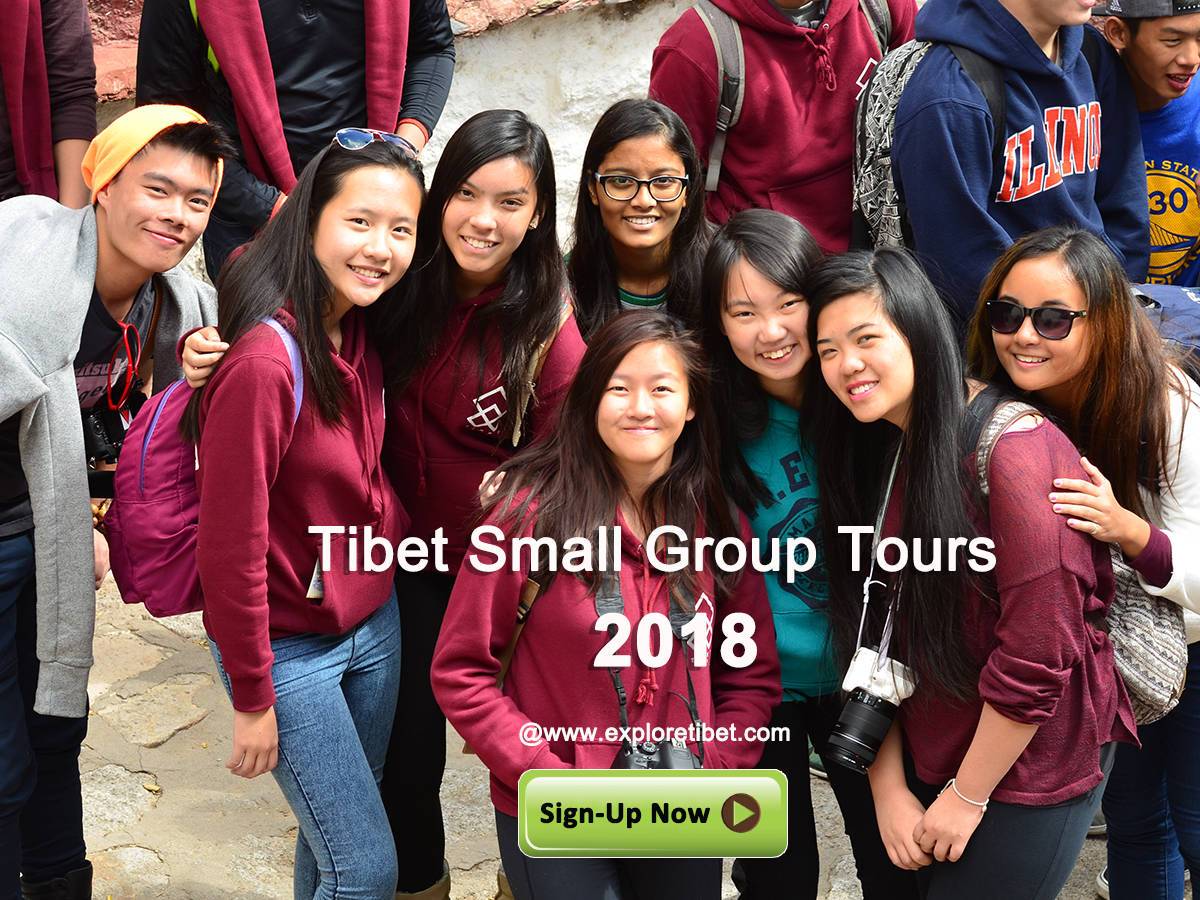 Contact Us
+86-13398000993(Lhasa)
sales@exploretibet.com
exploretibettour
Find a Trip Choose one or more fields