Introduction of China Tibet Train
Qinghai-Tibet Railway, the world's highest railway, with the alternative name "rocket to the roof of the world" is an engineering wonder. It has overcome the difficulty of constructing infrastructure on the highest plateau.
The 1956-kilometer railway link begins in Xining, the capital city of Qinghai Province and goes to Lhasa, the capital city of Tibet Autonomous Region. The 814 kilometer-long stretch from Xining to Golmud was built in 1979 and started operation in 1984. The 1142 kilometer stretch between Golmud and Lhasa runs south along the Qinghai-Tibet Highway and was constructed by rebuilding the original 32-kilometer-long line from Golmud to Nanshankou and laying 1110 kilometers of new track. Upon its completion, the maximum train speed is designed to reach 100 kilometers per hour in the frozen earth areas and 120 kilometers per hour on non-frozen earth. Currently, there are seven major departure cities to Lhasa, Beijing, Shanghai, Guangzhou, Chengdu, Chongqing, Lanzhou.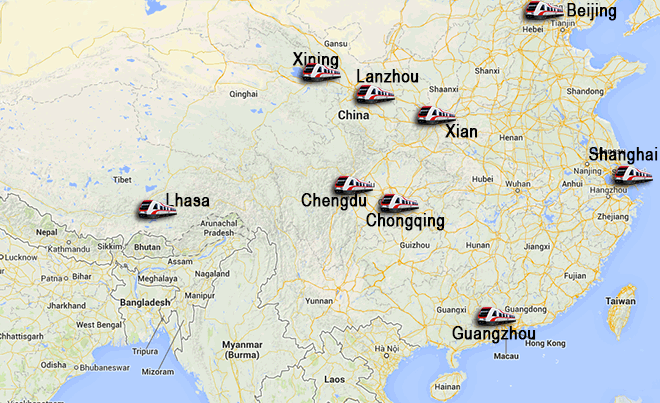 Due to the developed railway network and safety guarantee, It's a rather good choice to travel China by train, especially to Tibet by the Tibet train.
Why choose trains:
Preparing your body for the high-altitude acclimatization and reduce the risk of suffering from altitude sickness to some degree. ·      The most convenient and the cheapest way to get to Tibet ·      You can experience the marvelous and majestic man-made landform and witness the amazing natural beauty of the sceneries. ·      Through the window, you can encounter the indigenous creatures like the Tibetan antelope, Tibetan wild donkey, and snow leopard all the way to Tibet.
Oxygen supply and medical issues
The passenger carriages used on Lhasa trains are specially built and have an oxygen supply for each passenger. Every passenger train has a doctor.  Each seat in the train is equipped with an oxygen supply outlet for any possible emergency. Before the train reaches the high plateau, train attendants will distribute oxygen masks, you can connect the mask with the outlets on your bed.
Different train options:
 A. Soft sleeper (first-class option)
This is the most comfortable option on the train. You will have your own bed. There are 4 berths in each cabin and is equipped with its own TV. Each side 2 beds, upper and lower bunks. Toilets on the train are shared and are located at the end of each carriage. Furthermore, there are a lockable door to every single soft sleeper compartment.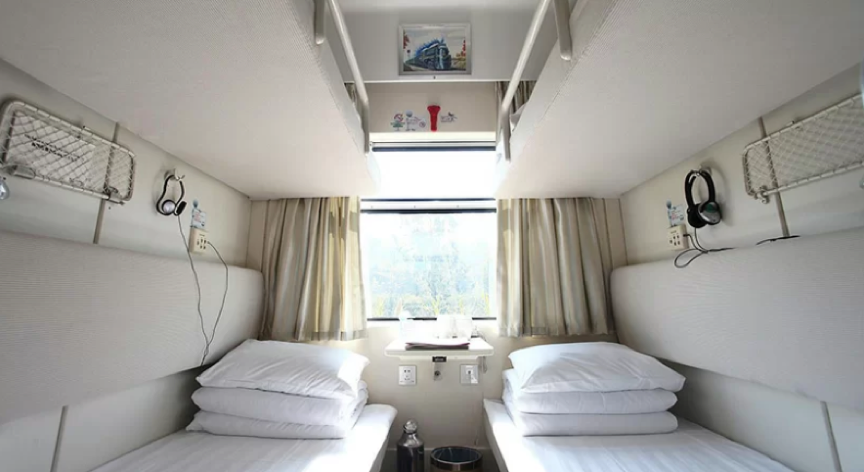 B. Hard sleeper (the second-class option)
You will have your own bed. There is enough space to lie down but not sit up on your bunk. There are 6 berths in one cabin, each side 3 berths, upper, middle and lower bunks. It is open to the aisle of the train and no door.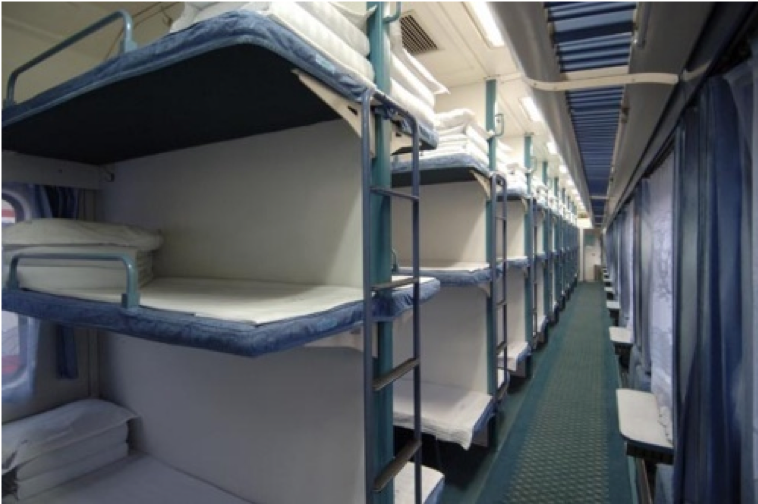 A. Hard seat (the third-class option)
Passengers sit next to each other in open compartments of 4 or 6, you cannot lie down, and space is a bit small. Hard seat is not recommended to westerners since this cannot` help acclimatize to the high altitude.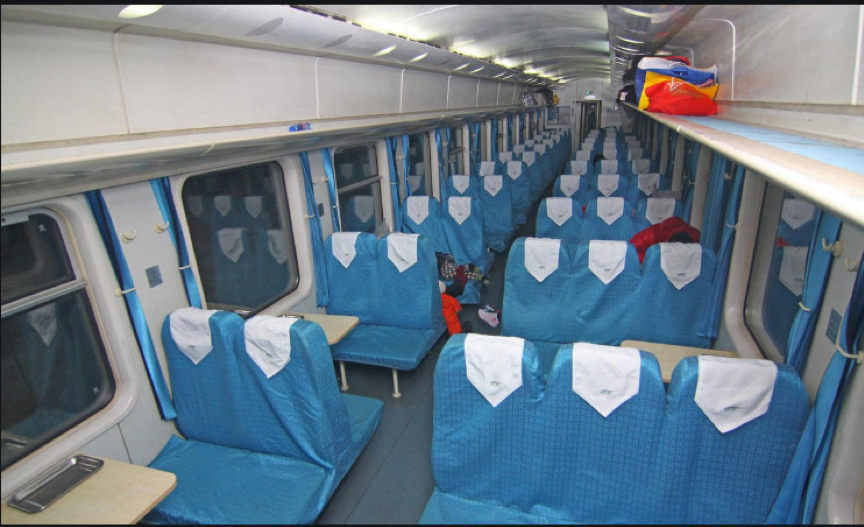 Toilet Facilities 
There are no private washrooms anywhere on the trains, all the toilets are shared by everyone. Remember to bring your own toilet paper with you.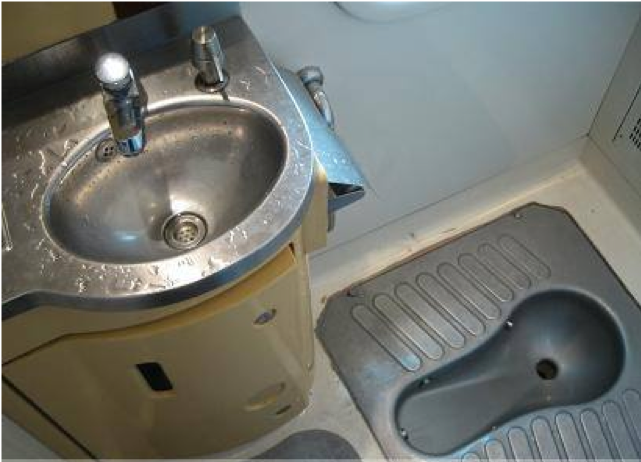 Public Wash Basins
As the wash basin is shared by all passengers on the carriage, it can get crowded during 7 to 9 a.m. in the morning and 6 to 9 p.m. in the
evening.
Hot Water Dispensers
Boiled water dispensers for drinking and preparing instant noodles and tea can be found at the end of the aisles. Please bring your own cups and get water. Remember to drink more water and it will help prevent high altitude sickness.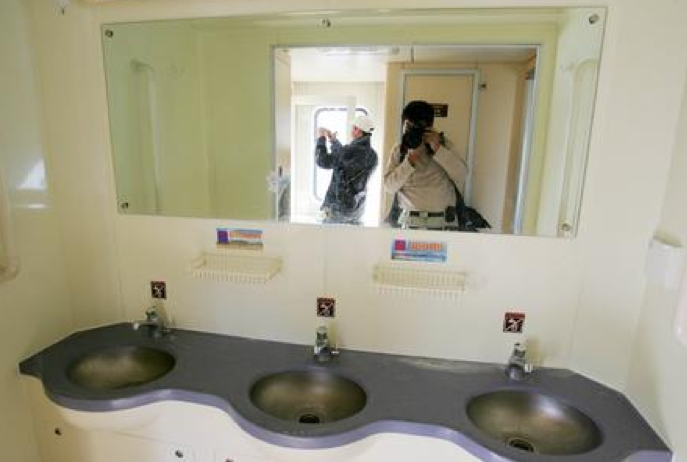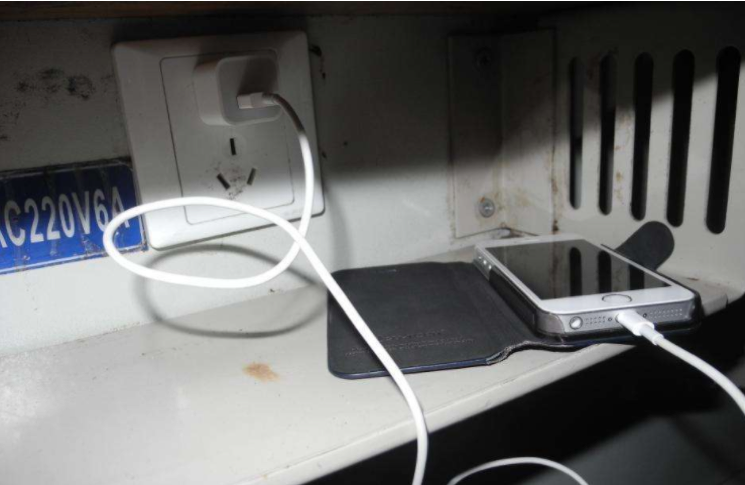 There are sockets on the train but no WIFI available
There are sockets on the train for passengers to charge phones in the aisle. but remember the sockets and plugs used in China are A, C, and I. You can buy adapters in China in advance. WIFI is not available on the train, nor the access of the Internet. Smoking is not allowed in the cabin Smoking is strictly forbidden in the train as the train is tightly sealed and pressurized
Train tickets fees for children
Every adult can take 1 child who's height is under 1.2m,Children whose height is between 1.2 meters to 1.5 meters need to pay half the price of ticket(but no seat) , and if over 1.5m, need to pay full fare of ticket. Tips: Tibet train tickets are issued 30 days prior to departure. They are often sold out very quickly after the release dates. So is best to make your reservation as early as possible(better make the payment before 60 days in advance) 
Packing list: 
1. Certifications: Tibet Travel Permit, valid passport (those who holds passport), credit card, a little cash 2. Anti-altitude medicines: Gaoyuanan or Gaoyuankang capsule, Diamox 3. Toiletries: towels, facial cleanser, soap, paper, towel, toothbrush and toothpaste, vacuum cup, flash light (train cabin lights go out at 10pm) 4. Sundries Cellphone charger, USB cable, power bank, charger, flashcards, notebook and pens.
How to Read a Tibet Train ticket: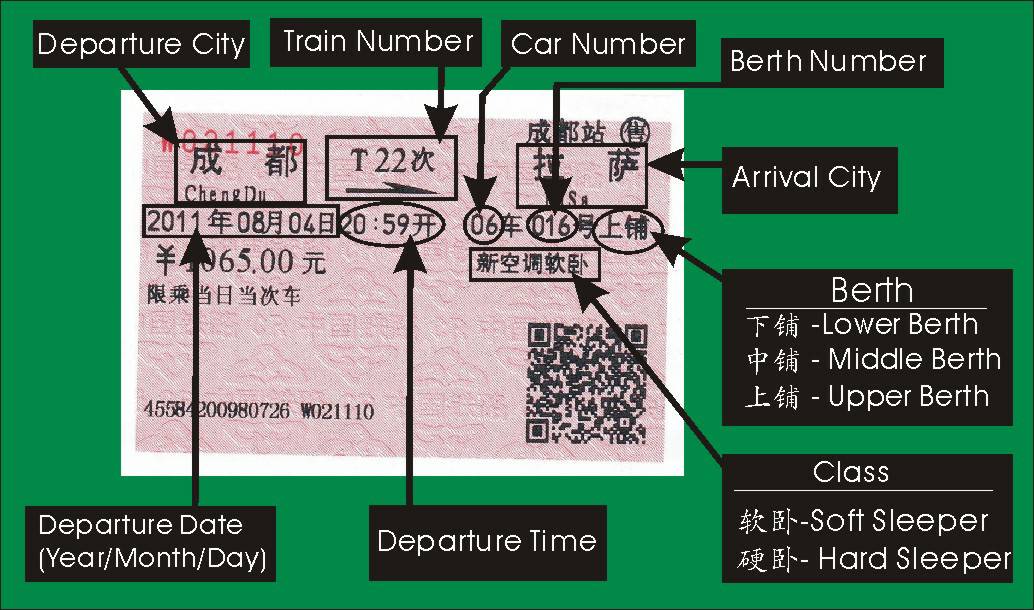 Note: the Tibet train ticket costs we listed in the table is net Tibet train ticket cost, but most of the time it is very difficult to get the train tickets as there are huge number of visitors taking the train every day, so certain amount of services will be added to get the tickets from local ticket agent, exact amount of service fees will different based on the season.
Comparison of Three options in Tibet Train
| | | | | | | |
| --- | --- | --- | --- | --- | --- | --- |
| Category | Berth(s) | TV Screen | Sleeping Space | Ticket Price | Privacy | Safety |
| Soft Sleeper | 4 | yes | Bed  | high | high | high |
| Hard Sleeper | 6 | no | Bed  | medium | medium | medium |
| Hard Seat | 2 or 3 in a row | no | seat | low | low | medium |
China Tibet Train
Shanghai to Lhasa Train Schedule & Price The overview of Shanghai: Shanghai is a big city on the sea, where many foreigners work and live here. Besides, it is well-linked by international flights with many foreign big cities. Shanghai Railway Station is...
| Duration | Distance | Frequency | Soft Sleeper | Hard Sleeper |
| --- | --- | --- | --- | --- |
| 47h20m | 4373 | Every day | CNY1310.5 | CNY841.5 |
Chongqing to Lhasa Train Schedule & Price The overview of Chongqing: Chongqing is Located in the west of China. Transportation in Chongqing is very convenient for foreigners and there are a lot of international flights arrive Chongqing. The train runs from Chongqing to...
| Duration | Distance | Frequency | Soft Sleeper | Hard Sleeper |
| --- | --- | --- | --- | --- |
| 42h13m | 3641km | Every other day | CNY1120 | CNY720 |
The overview of Xining: Xining is the eastern gateway city of the Qinghai-Tibet Plateau. Most specialists recommend that better travel first to Xining (which is ~ 7400 ft/ 2250 meters) and then take the train to Lhasa to prevent high altitude...
| Duration | Distance | Frequency | Soft Sleeper | Hard Sleeper |
| --- | --- | --- | --- | --- |
| 21h41m | 1972 | Every day | CNY808 | CNY521 |
Guangzhou to Lhasa Train Schedule & Price The overview of Guangzhou: Guangzhou is at the heart of the most-populous built-up metropolitan area in mainland China. Located in the southwest of China, international flights and domestic trains are both available in this...
| Duration | Distance | Frequency | Soft Sleeper | Hard Sleeper |
| --- | --- | --- | --- | --- |
| 53h45m | 4980km | Everyday | CNY1526 | CNY919 |
Lanzhou to Lhasa Train Schedule & Price The overview of Lanzhou: Lanzhou is a tourist city, and it has been selected as one of the top ten summer resort cities in mainland China. Besides, it is an excellent gateway to...
| Duration | Distance | Frequency | Soft Sleeper | Hard Sleeper |
| --- | --- | --- | --- | --- |
| 26h27m | 2188 | Every day | CNY823 | CNY522 |
The overview of Beijing:  Beijing is also an important gateway to Tibet by train. It is the capital city and well-linked by international flights with many foreign big cities. So, most foreigners will choose to come to Tibet from Beijing. Destinations...
| Duration | Distance | Frequency | Soft Sleeper | Hard Sleeper |
| --- | --- | --- | --- | --- |
| 40h30m | 3757 | Every day | CNY1186 | CNY763 |
Chengdu to Lhasa Train Schedule & Price The overview of Chengdu: Chengdu is the main gateway city in the southwest of China. It is connected with many international cities and major domestic cities in China. Thus, Chengdu become a hot starting...
| Duration | Distance | Frequency | Soft Sleeper | Hard Sleeper |
| --- | --- | --- | --- | --- |
| 43h07m | 3360 | Every other day | CNY1062 | CNY709 |