Guangzhou to Lhasa Train Schedule & Price
The overview of Guangzhou:
Guangzhou is at the heart of the most-populous built-up metropolitan area in mainland China. Located in the southwest of China, international flights and domestic trains are both available in this modern city. The train departs from Guangzhou for Lhasa departure every other day and will arrive on the third day.
Destinations
Train No.
Depart
Arrive
Runtime
Fare in CNY
Hard
sleeper
Soft
sleeper
Guangzhou to Lhasa
Z264
11:52
 16:45 (3rd day)
52h53m
CNY865
CNY1468
Lhasa to Guanzhou
 Z266
12:55
19:50(3rd day)
54h55m
Frequency: every other day.
Guangzhou Lhasa Train Schedule (2020)
note: ODD refers to 1st, 3rd, 5th, 7th, 9th, etc.
EVEN refers to 2nd, 4th, 6th, 8th, 10th, etc.
2020
Jan
Feb
Apr
May
Jun
Jul
Aug
Sep
Oct
Nov
Dec
Guangzhou →
Lhasa
EVEN
ODD
ODD
ODD
EVEN
EVEN
ODD
EVEN
EVEN
ODD
ODD
Lhasa →
Guangzhou
ODD
EVEN
EVEN
EVEN
ODD
ODD
EVEN
ODD
ODD
EVEN
EVEN
Note: the train ticket costs we listed in the table are net ticket costs, but most of the time it is very difficult to get the train tickets as there is a huge number of visitors taking the train every day, so a certain amount of services will be added to get the tickets from a local ticket agent, the exact amount of service fees will differ based on the season, so please contact our trip advisor for the exact cost of the tickets.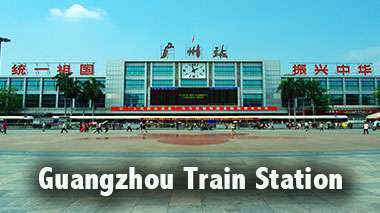 Guangzhou Train Station
Address: Huanshi West Road, Yuexiu, Guangzhou, Guangdong, China
Phone: (020) 86661789, 61357222,
Ticket Hotline: 12306
Distance from Airport: approx. 34km
Metro to There: Line 2, Line 3, Line 5
Taxi to there: Taking a taxi from the airport to Railway Station cost around CNY130 and takes about 50min.
Note: Please make sure that you have a copy of the Tibet Travel Permit to board the train.
Please use the below map to check the distance from your location to the train station.