The overview of Beijing: 
Beijing is also an important gateway to Tibet by train. It is the capital city and well-linked by international flights with many foreign big cities. So, most foreigners will choose to come to Tibet from Beijing.
Destinations

Train No.

Depart

Arrive

Runtime

Distance
(km)

Fare in CNY

Hard
sleeper

Soft
sleeper

Z21

20:00

12:45
(3rd day)

40h45m

3753

720

1144

Lhasa to Beijing(west)

Z22

15:50

08:28
(3rd day)

40h45m

Frequency: Every day
Note: The train ticket costs we listed in the table are net ticket costs, but most of the time it is very difficult to get the train tickets as there is a huge number of visitors taking the train every day, so a certain amount of services will be added to get the tickets from a local ticket agent, the exact amount of service fees will different based on the season, so please contact our trip advisor for the exact cost of the tickets.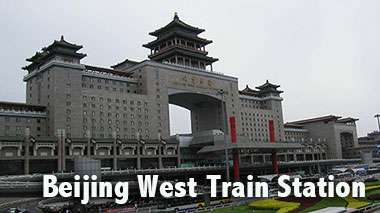 Beijing West Train Station (火车西站)
Address: Located near the West 3rd Ring Road, the station is only 8km from the Forbidden City,
Phone: 010-51826273 or 010-51521673
Ticket Booking Hotline: 12306
Metro to There:  Line 7 or Line 9
Bus to There: No. 3, No. 9, No. 21, No. 40, No. 50, etc.
Taxi to there: Taking a taxi from the airport to Beijing West Train station cost around CNY150 and takes about 50 min.
Note: Please make sure that you have a copy of the Tibet Travel Permit to board the train.