Chongqing to Lhasa Train Schedule & Price
The overview of Chongqing: Chongqing is Located in the west of China. Transportation in Chongqing is very convenient for foreigners and there are a lot of international flights arrive Chongqing. The train runs from Chongqing to Lhasa every other day and you will arrive on the third day.
Destinations
Train No.
Depart
Arrive
Runtime
Distance
(km)
Fare in CNY
Hard
sleeper
Soft
sleeper
Chongqing to Lhasa
Z223
22:12
09:55
(3rd day)
35h43m
3641
627.5
997.5
Lhasa to Chongqing
Z224
18:40
06:40
(3rd day)
36h
2020 Frequency
Chongqing to Lhasa (Every other day)
 Chongqing Lhasa Train Schedule (2020)
note: ODD refers to 1st, 3rd, 5th, 7th, 9th, etc.
EVEN refers to 2nd, 4th, 6th, 8th, 10th, etc.
2020
Jan
Feb
Apr
May
Jun
Jul
Aug
Sep
Oct
Nov
Dec
Chongqing →
Lhasa
EVEN
ODD
ODD
ODD
EVEN
EVEN
ODD
EVEN
EVEN
ODD
ODD
Lhasa →
Chongqing
EVEN
ODD
ODD
ODD
EVEN
EVEN
ODD
EVEN
EVEN
ODD
ODD
Note: the train ticket costs we listed in the table are net ticket costs, but most of the time it is very difficult to get the train tickets as there is a huge number of visitors taking the train every day, so a certain amount of services will be added to get the tickets from a local ticket agent, the exact amount of service fees will differ based on the season, so please contact our trip advisor for the exact cost of the tickets.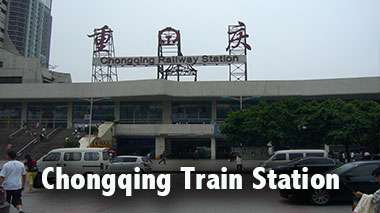 Chongqing West Railway Station
Address: No. 168, Fengzhong Road, Shapingba District, Chongqing
Phone: 023-65276685
Distance from Airport: Approx.45km
Bus to there: No. 213, No. 441, No. 473, No. 499, No. 325, No. 504, No.526
Airport bus to there: Appro. 35 min, cost 15RMB per person
Taxi to there: Taking a taxi from the airport to Chongqing West Railway Station cost around CNY90 and takes about 40min.
Note: Please make sure that you have a copy of the Tibet Travel Permit to board the train.
Please use the below map to check the distance from your location to the train station.