The overview of Xining: Xining is the eastern gateway city of the Qinghai-Tibet Plateau. Most specialists recommend that better travel first to Xining (which is ~ 7400 ft/ 2250 meters) and then take the train to Lhasa to prevent high altitude sickness. Thus, most people choose to take the train from Xining, and you will arrive in Lhasa on the second day.
Destinations
Train No.
Depart
Arrive
(2nd day)
Runtime
Distance
(km)
Fare in CNY
Hard
sleeper
Soft
sleeper
Xining to Lhasa
Z6801(暂时停运Temporary suspension)
–
–
–
1960
495
781
Lhasa to Xining
Z918(暂时停运Temporary suspension)
–
–
–
Xining to Lhasa
Pass by trains
Z21
Z223
Z265
Z165
15:21
12:26
19:31
21:27
12:45
09:55
16:45
19:35
21h30m
Lhasa to Xining
Pass by trains
T22
Z166
Z266
Z22
15:50
11:30
12:55
15:50
13:20
09:10
10:35
13:20
21h30m
Frequency: Every day
Note: the train ticket costs we listed in the table are net ticket costs, but most of the time it is very difficult to get the train tickets as there are huge numbers of visitors taking the train every day, so a certain amount of services will be added to get the tickets from a local ticket agent, the exact amount of service fees will differ based on the season, so please contact our trip advisor for the exact cost of the tickets.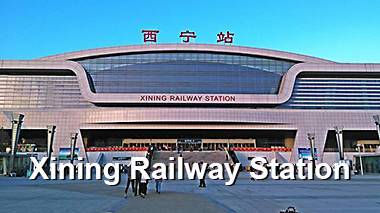 Xining Railway Station
Address: No. 128 of Huzhu Road, Chengdong District, Xining
Phone: 0971-9510510
Ticket booking hotline: 12306
Distance from Airport: Approx. 27km
Bus to there: No.1, No.3, No.11, etc
Taxi to there: Taking a taxi from the airport to Xining Railway Station cost around CNY150 and takes about 40 min.
Note: Please make sure that you have a copy of the Tibet Travel Permit to board the train. Please use the below map to check the distance from your location to the train station.