Traveling to Tibet from China by Train
Traveling to Tibet is one of the world's greatest journeys, heading for the highest plateau on the planet. Traveling by train along the Qinghai Tibet Railway from mainland China to Lhasa makes this amazing journey even more spectacular.
Trains run to Tibet from mainland China from seven different gateway cities. Which gives you a wide choice of where to start your epic adventure. Getting to Tibet by train does, however, require that you have the right visa and permits and have a pre-arranged tour with a registered Tibet tour operator. Choosing the right Tibet travel itineraries is key to have a memorable Tibet tour.
Chinese Visa and Tibet Travel Permit
The visa for China can be obtained on application at your local Embassy of the People's Republic of China. And requires a completed application form, valid passport with at least six months validity remaining at the time of travel.
Also needs two passport-sized photos, a confirmed hotel reservation in China, and a confirmed outbound flight from China to your next destination or back home. Processing for the visa normally takes around three working days, and the visa cost depends on your country of origin. If you plan to travel to Tibet then you need a Tibet travel permit.
The Tibet Travel Permit (TTP) can only be obtained once you have booked a pre-arranged tour with a registered Tibet tour operator. Once you have booked your tour. They will make the application for the TTP on your behalf, using a scanned copy of your valid passport.
The application process takes up to 20 days, it may take fewer days according to the latest notice from the Tibet Tourism Bureau. Once your TTP has been approved and received from the Tibet Tourism Bureau in Lhasa. The tour operator will forward it to your hotel in China, ready for your departure.
There are seven gateway cities to Tibet from mainland China, including Guangzhou, Beijing, Shanghai, Chengdu, Chongqing, Lanzhou, and Xining.
Beijing
Trains from Beijing to take a long time to reach Tibet, usually around 40 hours, but with Beijing being the capital of China. There are many advantages to starting your epic journey from there. As well as being one of the most popular tourist cities in China, Beijing is the closest city to the Great Wall. It has some of the most well-preserved sections of this huge feature of Chinese history and architecture.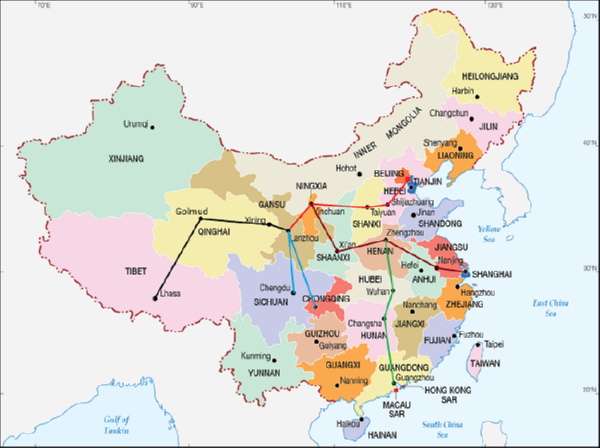 Shanghai
Shanghai was once the most important trading port in Asia for international trade with countries around the world. A huge multi-cultural metropolis that lies on the delta of the awesome Yangtze River. This stunning city has its own unique charm, not to mention an amazing and ambitious skyline. While traveling to Tibet from Shanghai does take around 48 hours, it is well worth it for the sights you can see.
Guangzhou
Guangzhou, which was known in the colonial era as Canton, is a modern metropolis and major business center. It feels more relaxed and laid-back than Shanghai's bustling and busy atmosphere. Its relative closeness to Hong Kong also makes it the preferred gateway to Tibet for travelers from the former British colony, as travel to the city from the island is short and easy.
Chengdu
Chengdu, in southwest China's Sichuan Province, is the home of the famous giant panda, and the city has four amazing research and breeding centers that have been instrumental in breeding and rearing giant pandas, which has resulted in these cuddly animals no longer being on the endangered lists.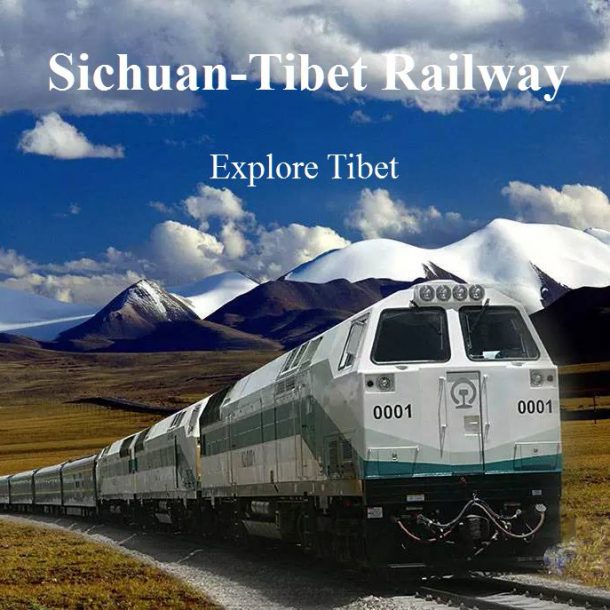 Chongqing
Chongqing is an amazing city that is noted as the largest single city in inland China, and lies on the banks of the Yangtse River. The city has a host of nearby attractions, from the Fengdu Ghost City to the stunning Yangtse River Tours, which leave from the city regularly and take you through some of this vast river's most amazing sights.
Lanzhou
Lanzhou, the capital of Gansu Province, sits resplendent on the banks of the Yellow River, and has major links to the famous Northern Silk Road, which ran across northern China to India, the Middle East, and Europe. Now one of the major sites for Silk Road tourism, the city lies in an area that has a wealth of caves and grottoes that are a major part of China's history.
Xining
Xining is actually the best place in China from which to take the train to Tibet. At an altitude of 2,275 meters above sea level. Xining is at the ideal elevation to allow you to acclimatize to higher-than-normal altitudes for a day or so and gives you a little bit of a head start on acclimatizing for when you get to Lhasa. And with plenty to see and do in and around the city, you will not be bored. It is the gateway to traveling to Tibet.
Booking your Tibet Train Ticket
For all travelers to Tibet by train, it is advisable to book your ticket well in advance of your expected date of travel. If possible, you can book the ticket as much as 60 days in advance, when the sales for the tickets open for your travel date. Leaving it too late, especially in the peak months of summer. It could mean you will not be able to travel on your required date.
Ticket booking can be complicated. And it is actually best done using a travel agent or your tour operator to do it for you. International travelers will not be able to book on the website of the train, as it requires a valid Chinese credit card to pay. So when you book your arrival. You'll miss the chance to get tickets for your required date of travel. Using us to get your tickets is the best option, as we will be able to book and purchase the tickets as soon as the window opens, ensuring you get the tickets for the dates you want.
Boarding the Train to Tibet
Getting to the train station to board your train to Tibet depends on which city you are departing from. All cities do have bus schedules and local trains or metros that connect with the railway stations, and in most cities, there are also airport shuttles that link the international airports with the railway stations. If you are not sure about using public transport, you can get taxis to all airports, through the cost is a lot more, and fares will vary depending on where you are.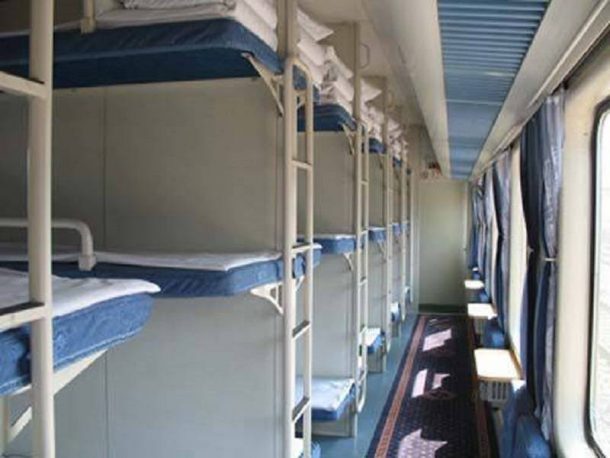 The trains to Tibet are comfortable and clean, and traveling this way to the Tibetan capital is a true delight. The trains are warm in the winter and cool in the summer, with air-conditioning throughout, and have all the facilities that you could possibly need, with the exception of a shower.
The berths, both hard and soft sleepers, are comfortable and adequately-sized for an average person. And at the end of each carriage, you will find western, Chinese toilets, washing facilities with warm water, and boiling water for snacks and drinks.
Every carriage is pumped with additional oxygen from Golmud to Lhasa, to help prevent altitude sickness while on the train, and for those that need it. The oxygen tubes are available from the train staff to use in the personal outlets in every cabin and in the corridors. There is also a dining car that has a wide range of dishes, that bring meals, snacks, and drinks to your cabin.
Getting to Lhasa from the Railway Station
Buses leave the station for downtown Lhasa regularly from the bus depot on the eastern side of the station entrance. The numbered buses to get to the center of Lhasa are; Bus No's. 1, 6, 13 and 14, which run regularly to the downtown areas, around the Potala Palace, Barkhor Street, and Jokhang Temple. The average fare is usually around one yuan per person, but you may be limited on luggage.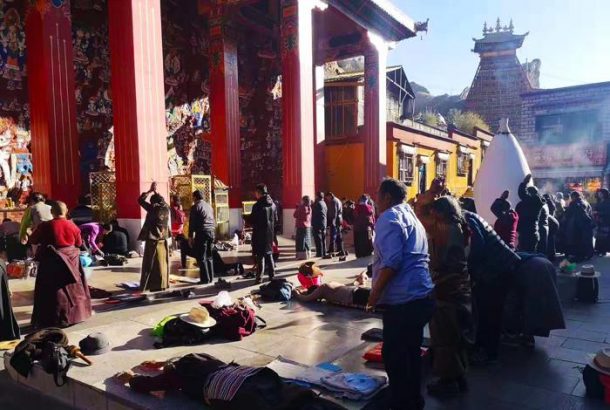 Taxis also run the route, and can cost anywhere from 25 yuan for a metered ride to as much as 50 yuan for an unmetered ride. It pays to use taxis that use the meter, or share the cost with other travelers.

We also have a shuttle service from the railway station to the city, which we provide free of charge. When you arrive, our shuttle bus will usually collect you from the station and transfer you to your hotel in the city. So, after all, traveling to Tibet isn't difficult at all.