Architecture in Tibet has many unique features, such as adaptation to the cold, high-altitude climate. Buildings are generally embellished with symbols of Tibetan Buddhism. Labrang Monastery is one of the six great monasteries of the Gelug school of Tibetan Buddhismn .Explore Tibet Team, a professional Tibet travel agency, today introduces Labrang Monastery to you.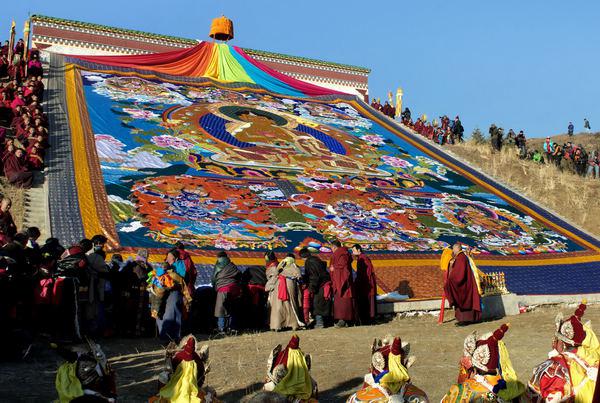 The Labrang Monastery was built in 1709 in southern Gansu province by a monk from the nearby of named E'angzongzhe, who was the first of the monastery's Living Buddha. The Labrang Monastery is located in the hearts of Tibetan, and stands by the Daxia River and faces the Dregon mountain. The layout of the Labrang Monastery belongs to the Tibetan style and the construction patterns are mostly a compound style of both Han's and Tibetan. The main Buddhist architectural items include temples, pagodas, and grottos, so as the Labrang Monastery. White Towers both in the northeast and northwest are the symbols of the whole construction. There are different kinds of statues of Buddha. It is made of gold, and silver, copper, and a mount of ivory, jade, crystal are also inset in it.
Labrang Monastery is regarded as a great art treasure, except the stunning frescoes and tapestries, incredible carpentry, painted Tibetan furniture, white Tibetan scarfs, Chinese traditional calligraphy are also fully embodied in the monastery. Labrang Monastery is not only monastic holy places, but also serve as sacred land as one of the the spiritual symbols of Buddhism.
Everyday, thousands of pilgrims come to pray in the monastery. You can spend one day to explore around Labrang and rejoin the local Tibetan to pray around the monastery with pulling the paying wheels. Discover new, enriching trips with in-depth, authentic Tibetan experiences with .Explore Tibet Team.