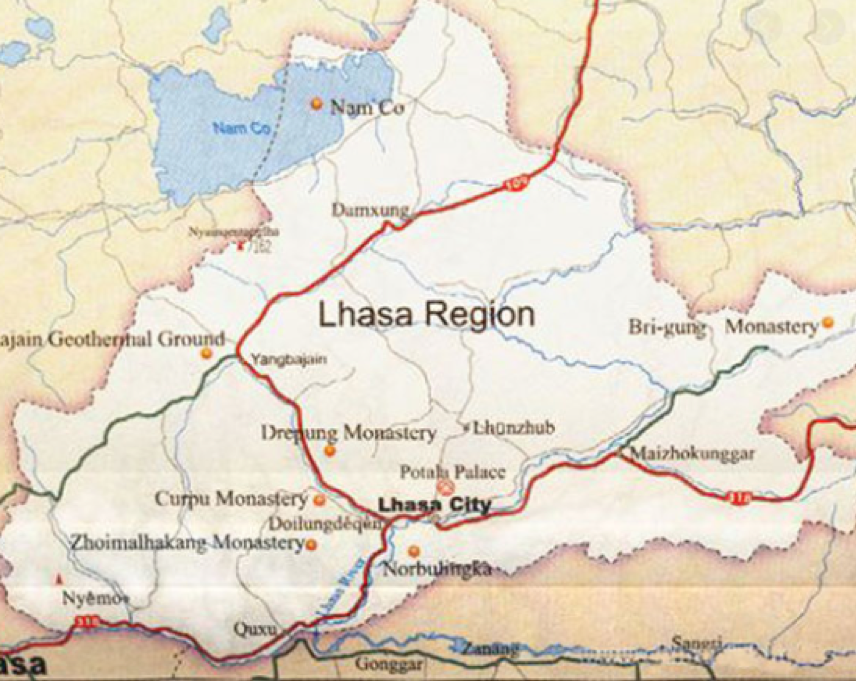 The holy city of Lhasa is the historical capital of Tibet since the 7th century after King Songtsen Gampo unified Tibet, but Neolithic potsherds and implements of bone and stone excavated from the region in 1984 suggest it was a place of human habitation thousand years before Songtsen Gampo's time. World monuments of Potala palace and Jokhang temple are still functioning right in the city. It is the historical capital as well as the center of Tibet, every year trucks of local pilgrims visit Lhasa for its holy monasteries and temples which are the main Tibet Lhasa attractions for tourists.
Located at an altitude of 3,490 meters (11,450 ft), Lhasa is one of the highest cities in the world, and it used to be known as the highest capital city in the world during the time of the Tibetan empire. The divine city contains many culturally important Tibetan Buddhist holy sites such as the Potala Palace, Jokhang Temple, Norbulingka Palace, and many more. 
Lhasa and Around
Chinese Name: 羊八井 English Name: Yangpachen Hot Spring Tibetan Name: ཡང་པ་ཆེན་ཆུ་ཚན། Location: Located 90 kilometers northwest of Lhasa Opening Hours:...
More Details
Norbulingka Palace is located in Lhasa City, Tibetan Autonomous Region. It covers around 36 hectares of area. It is one of...
More Details
Chinese Name:西藏博物馆 English Name: Tibet Museum Tibetan Name:་བོད་ལྗོངས་རྟེན་རྫས་བཤམས་མཛོད་ཁང།། Location: Tibet Museum is located in the southeast corner of Norbulingka Summer Palace....
More Details
Chinese Name:小昭寺 English Name: Ramoche Monastery Tibetan Name: རྒྱ་སྟག་ར་མོ་ཆེ་གཙུགས་ལག་ཁང།།  Location: Located in the northwest of the Tibetan capital of Lhasa, it...
More Details
Tsurphu monastery is the main monastery of Karmapa and it is one of the biggest monasteries of Karma Kagyu lineage of...
More Details
Ani Tsangkung nunnery is located along the Lingkor pilgrim circuit in Lhasa. It is a place where now female Buddhist followers...
More Details
Barkhor Street is historically an active place as in the ancient time people get there for divine water from the Milky...
More Details
"Drepung monastery" literally means"heap of rice" It is named after its formation of huge numbers of white monastic buildings congested on the...
More Details
Ganden Namgyal Ling Monastery, the actual name for the Ganden Monastery was founded by Tsongkapa (the scholar from Amdo Tsongka...
More Details
Sera monastery was founded in 1419 by Tsongkhapa's disciple Jamchen Choje Sakya Yeshe, it was built at the base of Mount...
More Details
Jokhang Temple is also called Rasa Trulnang Tsuglhak Khang in Tibetan,it is located right in the centre of the old Lhasa encircled by...
More Details
Potala Palace is the most symbolized figure of Tibet and it can be seen almost from everywhere in Lhasa, standing...
More Details
Drak Yerpa situates northeast of Lhasa around 45km, it's a place with many mythical stories of Tibetan kings, scholars, lamas, and so...
More Details