Responsible Travel
What is Responsible Tourism?
Globally, tourism has become one of the world's largest and fastest growing industries and is a main source of income for many countries and individuals. Despite this, tourism has been neglected by some as it tends to impact it's host country and the increasingly negative consequences has drawn attention from World Tourism Organization as well as individuals. These growing numbers of concerns about the negative impacts of tourism has introduced the practice of Responsible Tourism.
Responsible Tourism aims to achieve the triple-bottom line outcome of sustainable development which are Local Economic Growth, Environmental Integrity and Social Justice by maximizing the positive impacts and minimizing the negative impacts. In a nut shell, Responsible Tourism is define as tourism "that creates better places for people to live in, and better places to visit."

How does Explore Tibet practice Responsible Tourism?
Being a local travel company, we have a particular responsibility to introduce the practices of Responsible Tourism in Tibet. Our rich culture, indigenous tradition and unpolluted environment are the core values of preservation, so that future generations can enjoy the essence of what Tibet represents. Though our influence is limited, we are proud to be one of the first local companies that implement the practices of Responsible Tourism in Tibet.

● Our guides and staff attend annual Eco-tourism trainings supported by Columbia University through the Tibetan Village Project. These trainings enrich our staff with knowledge and Responsible Tourism awareness.
● We employ local Tibetans as guides, drivers, cooks and porters for all the trips that we operate.
● We provide fair wage to our staff and hirers.
● All our tours and activities are customized by knowing the local culture and our clientele's needs.
● We encourage the native culture by using local owned hotels, family run guesthouses, restaurants and handicraft shops while retaining the respect we have for our clients' needs.
● We encourage the local economic development by designing tours that travel through small villages and using their services and products.
● We teach precise information to our clients about etiquette and social norms, thereby preventing unintentional negative situations.
● We reduce our impact by leading our trips in small groups, minimizing our carbon footprint.
● While we are traveling, we decrease the waste produced by practicing the principles of LEAVE NO TRACEincluding respecting wildlife and leaving what we find.
Importance of Practicing Responsible Travel in Tibet
Throughout the past decade, there has been a rapid increase in the Tibetan tourism industry and this has significantly contributed to the local economic development and sustainability of traditional culture. Despite this, there are both negative and positive consequences of such rapid development and interest in exploring this majestic country. When not careful, numbers of new visitors and tour guides that knew nothing of the Tibetan culture and the indigenous people quickly stormed the precious yet fragile landscape. Their ultimate goal was of making profit and there was no consideration given to the ancient manners and practices of this humble people. This is a common issue of tourism development that threatens the age-old culture and the unpolluted environment of the high plateau. Although this seems much too prevalent, tourism in Tibet is still at its dawning and this issue makes the practice of Responsible Tourism even more necessary. The Central Government of China also introduced eco-tourism initiatives last year. Hence it is especially important to maintain a clean landscape and rich culture for the next generations to live in. The support of Responsible Tourism is the key to ensuring a healthy future for people who live on the Tibetan plateau.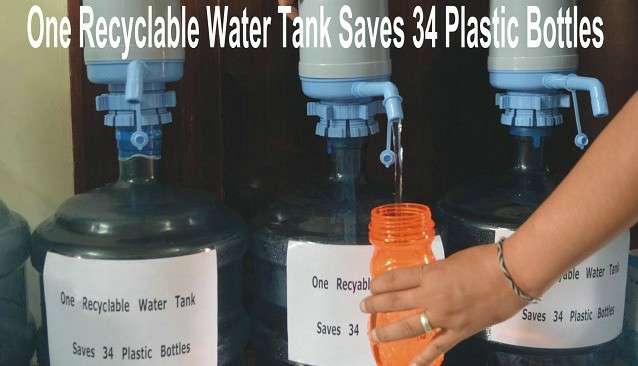 Introduction of our "NO PLASTIC BOTTLE" project
We try our best to provide a tank of purified water and hand pump to every our groups, but of course we give full choice for our clients to whether use the prepared tank water or use their bottle water. Anyhow for the long trips we highly suggest our clients to use the tank water by concerning its goodness and impact to other companies around us.
By using one tank of water, we could save more than 34 plastic bottles, because each tank holds 18.9L and plastic bottles hold 550ml.
Why "NO PLASTIC BOTTLES"?
Plastic bottle causes variety of problems in human, environment, animal life and our mother planet as a large, plastic bottles became popular container for many things that now most of the manufacturers in the whole world. All the plastic bottles are not recyclable that results more trash and toxic through this indecomposable things which creates huge gradual impacts on our planet.
1. Impacts on human.
Plastic bottles causes decrease lung function, increase weight, low sperm count and DNA damage sperm cells. Especially the Bisphenol A (BPA) is hazardous to human health. According to the report from Science Daily in 2008, BPA is an artificial chemical that can affect the natural communication system of the body's hormones when ingested. That results early puberty in girls, defects in newborn babies and certain types of cancer. Another study conducted last year found that 96% of women in U.S have BPA in their bodies.
2. Impacts on environment.
Plastic bottles are the hardest type of recycle where only certain types of plastic bottles can be recycled by municipalities. Thus, many plastic bottles end up lying on ground as litter, in parks and rivers which take more than a human lifetime to decompose and results highly impacts on our mother nature via water and land resources.
3. Impacts on animals.
Since many of such toxin plastic bottles end up with rivers and dip underground, many of animals and especially marine life falls prey to plastic bottles and bags. Consumption of variety plastic bottles, bags and bottle tops results death of many animals. One of the albatross found dead on a Hawaiian island had a stomach full of 119 bottle caps. The indecomposable plastic bottles slowly impacting in a negative role for all animal life.
The Below Information is Sourced from: This document, 'Being a Responsible Travel Initiative' was created by the Tibetan Village Project and Chris Jones for the Tibet Eco-tourism Project. The Tibet Eco- tourism Project is an ongoing educational initiative supported by Columbia University. You can help by printing this brochure and spreading the word.
Being a Responsible Traveler
Tibet is a unique and special travel destination, one that can only be seen by kind eyes and gentle hearts. Ancient cultures and traditions, fragile mountain environments, rare and endangered flora and fauna are worth protecting and preserving for future generations. As a traveler to Tibet, you can make a difference and ensure that your journey has a positive impact on the places you travel to and the people you meet. Being a Responsible Traveler requires you to think about the way that you are involved in the world and the impact that your actions have on others. There are a range of ways you can make sure that you are a Responsible Traveler.

● Buy Locally: Use a travel company that employs native guides and staff. Eat in local restaurants and buy handicrafts that are authentic and regionally made. Don't be shy to ask directly about the source of the products you purchase.
● Be open-minded and aware that your cultural values may differ from the cultural values of the country you are visiting. This may include different concepts of time, personal space and communication.
● Make the effort to learn about local cultural sensitivities: For example - wear full length trousers or skirts and modest tops that are not revealing. Avoid wearing shorts or short skirts and tops with bare shoulders showing. Point with an open palm and not your index finger. - Avoid patting or touching children on the top of their heads.
● Be sensitive when taking photos: Ask permission before photographing local people and don't take photos of charnel grounds or monasteries where photos are not allowed. Many monasteries request a fee for photography and it's always polite and appropriate to make a donation.
● Minimize your waste: Carry reusable cups, plates, cutlery or chopsticks. Try to purchase produce that is not wrapped in plastic. Avoid using disposable plastic shopping bags.
● Dispose of waste appropriately: Most local villages don't have environmentally sound trash management systems. Pack your garbage out to the larger towns or cities where it can be disposed of appropriately. If there is no toilet, dig a hole at least 25cm deep and bury human waste. Burn or bury toilet paper.
● Make the effort to learn some local language. Learning even a few words will break down cultural barriers and demonstrate your interest in local language and culture. You'll gain respect from native inhabitants and it's fun and enriching to be able to communicate with your new friends.

What NOT to Do
Tibetans are generally very easy going and may not make it clear if you are behaving inappropriately. Here are number of things you can easily avoid to ensure your presence is respectful and interaction with locals will have positive long-term effects:

● Never buy products made from endangered wildlife or endangered plants.
● Don't intrude upon local people's homes, tents, lands or private activities (such as sky burials). Show respect for inhabitants' private property and personal space. Always ask permission before entering private property.
● Don't be disrespectful at religious sites or family homes by wearing shorts or revealing clothing or kissing or touching intimately in public. Remove your hat and shoes unless instructed otherwise and don't step over people or people's legs. In the Tibetan culture, feet are considered dirty. Don't relax by putting your feet up on tables or chairs.
● Don't swim in holy lakes, sit on holy objects such as many stones or walk on or step over prayer flags.
● Don't encourage inappropriate begging by giving large sums of money to beggars or sweets to kids. However, begging is accepted in Tibetan society and is a part of the Buddhist generosity practice so subtly giving a small amount is accepted and appropriate.
● Don't create dependency on hand-outs. It is best to encourage self-reliance. If you have the desire to help, donate to a trustworthy non-profit organization or charity and make sure locals are involved in their decision-making processes so that they are indeed the beneficiaries of donations.
● Don't hand out medicines without detailed and proper explanation of the usage. Often it is better to encourage the use of local medical care if it is available.
● Avoid perceived political discussions or activities. You may get yourself or others in trouble.
● Don't break local laws and regulations. If local laws are broken, your travel agency, tour guide or host may be fined and may even lose their license. Remember that you are a guest in Tibet. Make sure you have the correct travel permits.