It has been being a strong will of China government, Tibetan people and all other Chinese people to extend Chinese railway networks to the roof of the world--the Qinghai-Tibet High speed train, which helped the Tibetan economy speedily boom. The highest point on the Tibet train is 5,072 meters above sea level. The railway covers 960-kilometer at an altitude of more than 4000 meters and over 550 kilometers within the "frozen earth" area.
The 1956-kilometer railway link begins in Xining, the capital city of Qinghai Province and goes to Lhasa, the capital city of Tibet Autonomous Region. The 814 kilometer-long stretch from Xining to Golmud was built in 1979 and started operation in 1984. The 1142 kilometer stretch between Golmud and Lhasa runs south along the Qinghai-Tibet Highway and was constructed by rebuilding the original 32-kilometer-long line from Golmud to Nanshankou and laying 1110 kilometers of new track.
Upon its completion, the maximum train speed is designed to reach 100 kilometers per hour in the frozen earth areas and 120 kilometers per hour on non-frozen earth.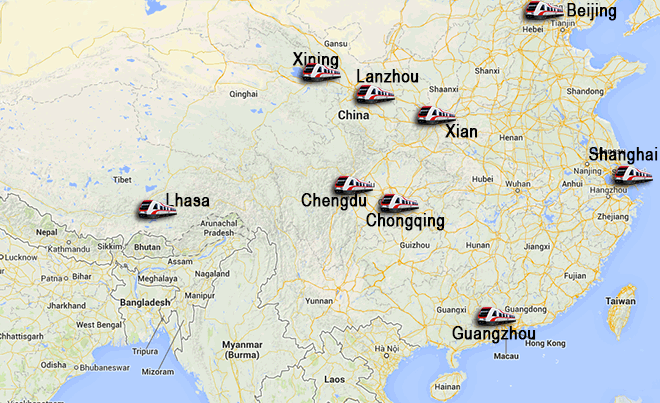 Due to the developed railway network and safety guarantee, It's a rather good choice to travel China by train, especially to Tibet by the Tibet train.
How to Read a Tibet Train ticket: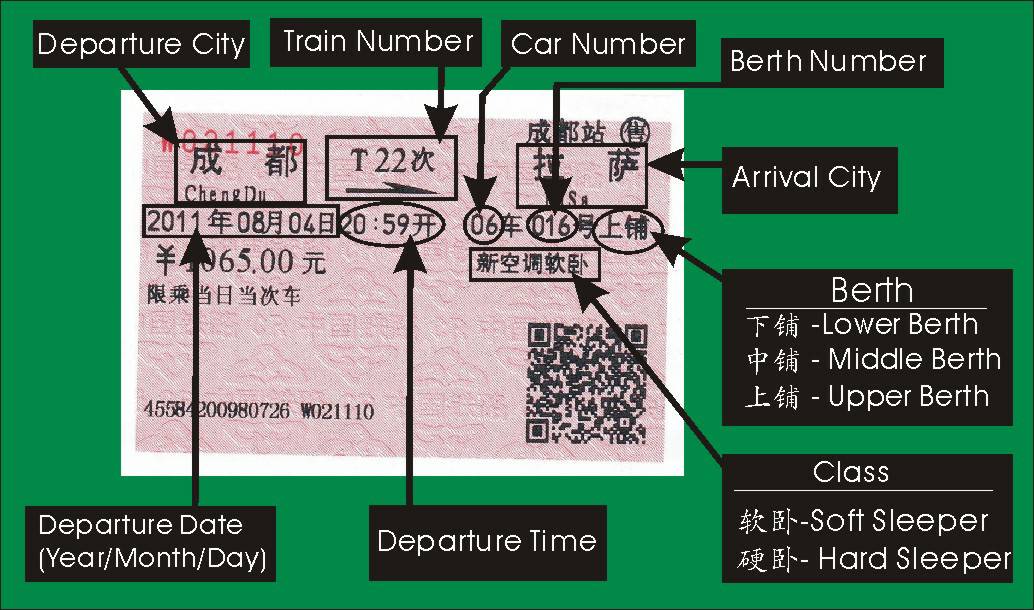 Note: the Tibet train ticket costs we listed in the table is net Tibet train ticket cost, but most of the time it is very difficult to get the train tickets as there are huge number of visitors taking the train every day, so certain amount of services will be added to get the tickets from local ticket agent, exact amount of service fees will different based on the season.
Beijing to Lhasa Train
| Duration | Distance | Frequency | Soft Sleeper | Hard Sleeper |
| --- | --- | --- | --- | --- |
| 40h30m | 3757 | Every day | CNY1186 | CNY763 |
Shanghai to Lhasa Train
| Duration | Distance | Frequency | Soft Sleeper | Hard Sleeper |
| --- | --- | --- | --- | --- |
| 47h20m | 4373 | Every day | CNY1310.5 | CNY841.5 |
Chengdu to Lhasa Train
| Duration | Distance | Frequency | Soft Sleeper | Hard Sleeper |
| --- | --- | --- | --- | --- |
| 43h07m | 3360 | Every other day | CNY1062 | CNY709 |
Xining to Lhasa Train
| Duration | Distance | Frequency | Soft Sleeper | Hard Sleeper |
| --- | --- | --- | --- | --- |
| 21h41m | 1972 | Every day | CNY808 | CNY521 |
Chongqing to Lhasa Train
| Duration | Distance | Frequency | Soft Sleeper | Hard Sleeper |
| --- | --- | --- | --- | --- |
| 42h13m | 3641km | Every other day | CNY1120 | CNY720 |
Guangzhou to Lhasa Train
| Duration | Distance | Frequency | Soft Sleeper | Hard Sleeper |
| --- | --- | --- | --- | --- |
| 53h45m | 4980km | Everyday | CNY1526 | CNY919 |
Lanzhou to Lhasa
| Duration | Distance | Frequency | Soft Sleeper | Hard Sleeper |
| --- | --- | --- | --- | --- |
| 26h27m | 2188 | Every day | CNY823 | CNY522 |
Contact Us
+86-13398000993(Lhasa)
sales@exploretibet.com
exploretibettour
Find a Trip Choose one or more fields