The landscape of Tibet consists of mountains, rivers, planes, and lakes. Various names represent Tibet, such as the roof of the world, snow land, water tower of Asia, and Shangri-La. These landscapes make the geography of Tibet unique and beautiful. Tibet is the best place to travel for photographers and travel bloggers.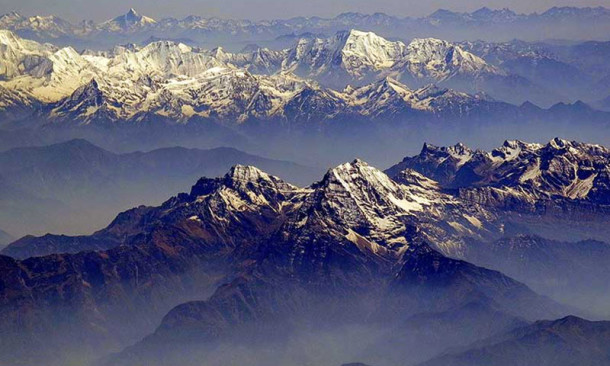 Mountains of Tibet
Tibet is known as the land of snow or snow land because of the mountains surrounding the Tibetan region. Some of the world's tallest mountains are in Tibet, such as Mount Everest, and the world's most extended mountain ranges are in Tibet. The Himalayan Mountain range, Karakoram Mountain range, Trans-Himalaya Mountain range, and Kunlun Mountain range is the world's renowned mountain ranges in Tibet.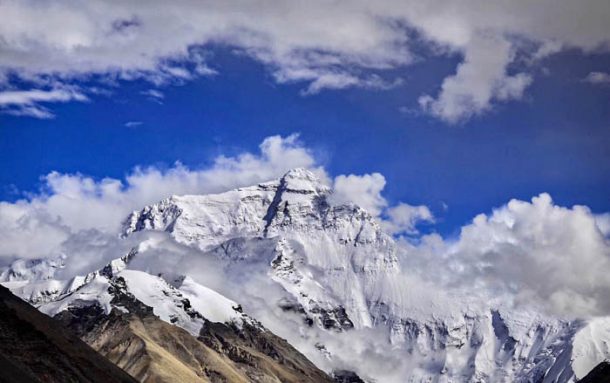 Mount Everest
Mount Everest is the world's highest mountain above sea level, 8,848 m. It is located at the border between Nepal and China (Tibet). Mount Everest is the dream destination for mountaineers across the globe, and it attracts many climbers every year. There are two main climbing routes, one from Nepal and Tibet. The Mount Everest Base camp in Tibet is famous for the regular domestic and international tourists. Trekking and hiking at the base camp are the most popular activity for tourists.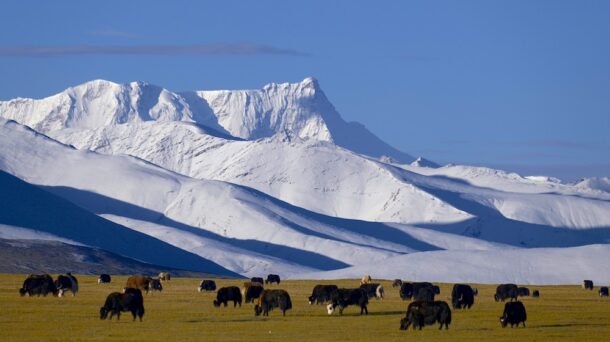 Mount Nyenchen Tangela
Mount Nyenchen Tangela is the highest point of the Nyenchen Tangela Mountain range in Tibet, in the western part of the range between the Brahmaputra River (Yarlung Tsangpo) and Northern Tibetan Plateau (Changtang). For local Tibetans, it is one of the most sacred mountains in Tibet and is considered an influential deity and protector of dharma in Tibetan Buddhism.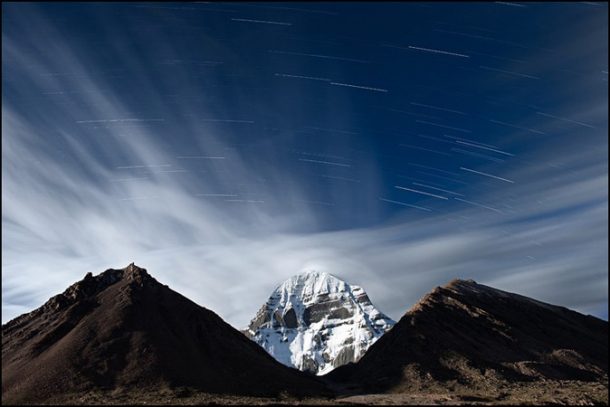 Mount Kailash
Mount Kailash is part of the Trans-Himalaya Mountain range. Mount Kailash is in Ngari Prefecture of Tibet Autonomous Region. It is not famous for its height, but it is the most sacred mountain in Tibet. Mount Kailash is considered sacred in four religions: Hinduism, Buddhism, Jainism, and Bon religion. It is the source of some of the most famous rivers of Asia; Indus River, Sutlej River, Brahmaputra River, and Ghaghara (a tributary of the Ganga River).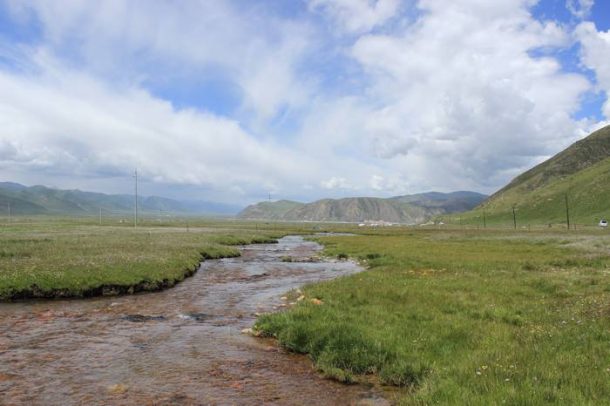 Rivers in Tibet
Tibet is known as the Water-Tower of Asia because Tibet is the source of some of the world's longest rivers. The rivers like Brahmaputra, Indus, Sutlej, and Ganga rivers flow from Tibet to the rest of Asia. There are many rivers in Tibet, but here are some of the famous rivers in Tibet.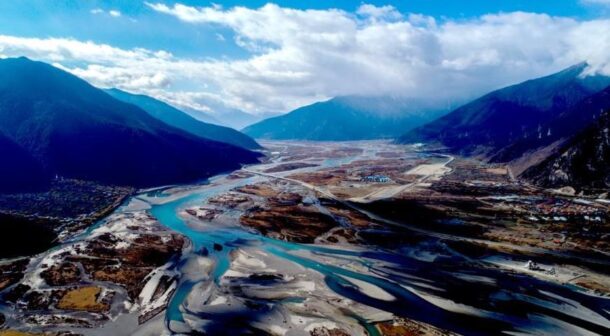 Brahmaputra River or Yarlung Tsangpo River
It has many names as it flows from place to place. Brahmaputra River is one of the world's largest transboundary rivers flowing through Tibet, India, and Bangladesh. In Tibetan, it's known as the Yarlung Tsangpo River. The Mana Sarovar Lake is the source or origin of the Yarlung Tsangpo river. The lake is located near Mount Kailash in Burang County of Tibet Autonomous Region. It is about 3,848 m long an average depth of 30 m. It has many tributaries.
Indus River
The Indus River flows through Tibet, India, and Pakistan. The ultimate source of the Indus is Lake Mana Sarovar near Mount Kailash (Trans-Himalayan Mountain Range). When it flows from Tibet, locals named Sengge Tsangpo, it flows into India and is called Indus River. It has around twenty tributaries flowing through Tibet, India, Pakistan and finally enters the Arabian sea.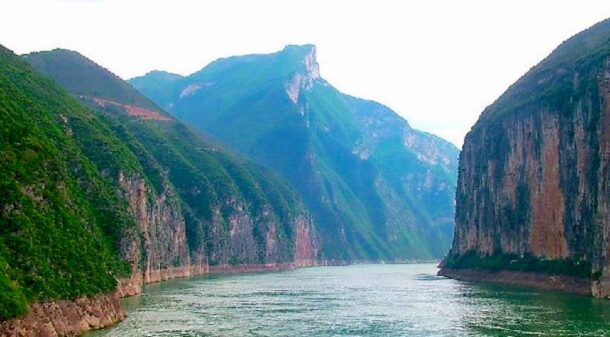 Yangtse River
Yangtse River is the world's third longest river and longest river in Asia, 6300 km. Tanggula Mountain region is the ultimate source of the Yangtse River. It flows through Tibet to the rest of China provinces and enters the East China sea. Yangtse River has played a significant role in China's history, culture, and economics.
Lakes in Tibet
There are hundreds of lakes in Tibet, which are considered sacred by Tibetan people. The principle is that they are the dwelling places of protective deities and therefore invested with special spiritual powers. Here are the holiest lakes in Tibet.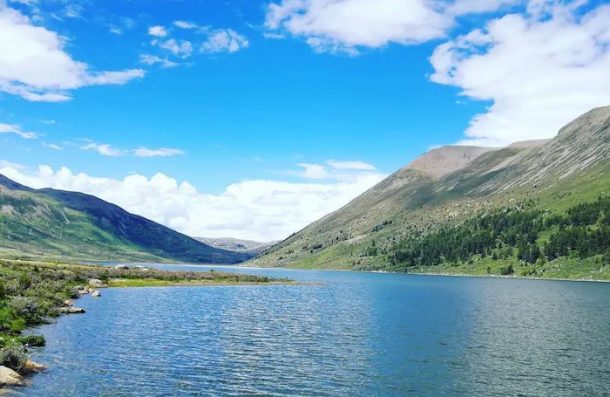 Yamdrok Lake
Yamdrok Lake is one three largest sacred lakes in Tibet, located between Gyantse and Lhasa in Tibet Autonomous Region, it is over 72 km (45 mi) long. The lake is surrounded by many snow-capped mountains and is fed by numerous small streams. Yamdrok Lake is one of four particularly holy lakes, thought to be divinatory; everyone from the Dalai Lama to local villagers makes pilgrimages there.
It is one of Tibet's most famous tourist attractions, and thousands of domestic and international tourists visit Yamdrok Lake.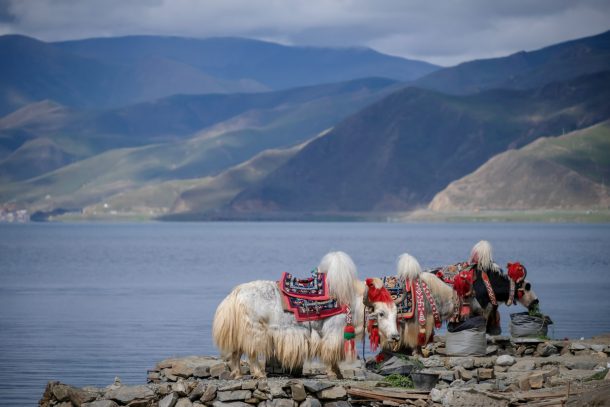 Lake Mana Sarovar or Mapham Yumtso
Lake Mana Sarovar lies near Mount Kalaish in Burang County, Ngari Prefecture of Tibet. It is one of the most sacred lakes in Tibet and one of the largest freshwater lakes. The locals are named Mapham Yumtso and lie at 4,500 m above sea level. It plays a significant role in the practices of religion in Hinduism, Buddhism, Jainism, and Bon religion. Thousands of followers of these religions visit Lake Mana Sarovar every year.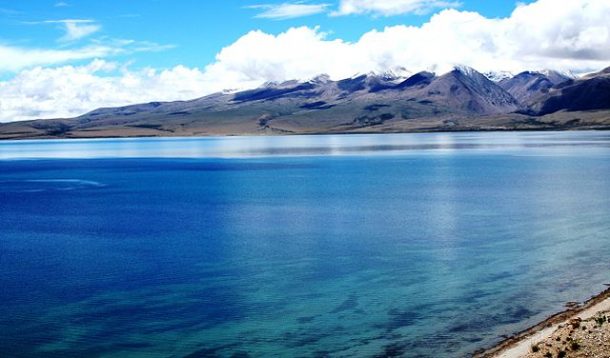 Namtso Lake
Namtso Lake is located near Mount Nyenchen Tangela. It is a mountain lake between Damshung County of Lhasa and Palgong County of Nagchu prefecture in Tibet Autonomous Region. The lake lies at an elevation of 4,718m and a surface area of 1,900km2. It is the largest Salt Lake in Tibet Autonomous Region.
Namtso Lake has five small islands, and it has been used for spiritual retreat by pilgrims who walk around the lake. It is one of the most beautiful lakes in Tibet, and Namtso lake attracts thousands of tourists every year.