First train between Lhasa and Shigatse costs around CNY50,000 per meter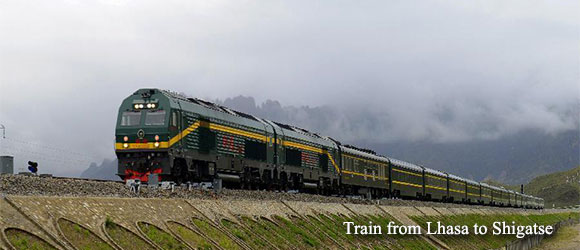 According to Xinhua Times, the construction of the railway from Lhasa to Shigatse took three years, and it was open and operated on August 15th, announcing that the first train trip would depart from Lhasa Railway Station at 09:00 on August 16th. Since then, people can take the train to Shigatse from Lhasa.
It is reported by the website of "China Railway Customer Service Center" that the first train K9821 departing on 16th passed by Xirong, Qushui, Nimu, and Renbu stations, arriving at Shagtse Station at 11:59. From Shigatse to Lhasa, the train K9822 departs at 17:30 and arrives at 20:27 at Lhasa station.
According to the news, the full fare of K9821 / 2 train tickets are: hard seat 40.50 yuan, hard sleeper upper berth 111.50 yuan, middle berth 116.50 yuan and lower berth 119.50 yuan; soft sleeper upper berth 169.50 yuan and lower berth 175.50 yuan.
Lhasa – Shigatse railway started the construction in January 2011, with a total length of 251 km, and total investment 13.28 billion yuan, the railway is located in the southwest of Qinghai-Tibet Plateau, Tibet Autonomous Region. Maximum operating speed is 120 km per hour with more than 8.3 million tons of cargo per year.
The Lhasa – Shigatse Railway links east to Qinghai-Tibet railway and the future railway from Lhasa to Nyingchi, west to planned railway line Nyalam Yadong Port, the world's highest Qinghai-Tibet Railway's first extension line.
Secret
Construction costs over 50,000 yuan per meter
Because of the complex geological conditions, the proportion of high bridges and tunnels, large environmental investment, Lhasa – Shigatse Railway costs more than 50,000 yuan per meter, and is the highest cost of railway construction in the plateau region of China with the longest railway tunnel 10.4 kilometers, ranked the longest tunnel with domestic diesel locomotive in China.
Deputy commander of Lhasa – Shigatse Railway construction Zhang Lizhong said, Lhasa – Shigatse Railway line was designed to mostly avoid the black-necked cranes National Nature Reserve around the Brahmaputra River Valley, Qushui water source protection areas, etc., combining the measures of land remediation and vegetation restoration, solar hot water heating systems and electric heating systems. In order not to affect the migration of wild animals, many viaduct channels were built.
Impact
More convenient to reach Tashilhunpo Monastery and Everest Base Camp
Tashilhunpo Monastery in Shigatse is the ancient residence of the Panchen Lama. It is the dream of Buddhists to worship at the Potala Palace, Jokhang Temple and Tashilhunpo Monastery. After Lhasa – Shigatse Railway opened, these believers are able to complete their aspiration via the modern railway. Tashilhunpo welcomes more than 200,000 people every year from home and abroad.
The deputy director of Tibet tourism bureau Wang Songping said that the opening of the railway will attract more visitors to Shigatse and will promote the fusion of Lhasa and Shigatse travel faster, and make it closer from the Tibet Highway to Nepal and India borders.