Explore Tibet Received the 2018 Certificate of Excellence from TripAdvisor
One of the top Tibetan tour operators, Explore Tibet, has once again taken the title of Certificate of Excellence for 2018. The TripAdvisor Certificate of Excellence is an award given to accommodations, attractions and restaurants that consistently earn great reviews from travelers. For travelers, this is a way of knowing if the company you are looking at has a good reputation and can provide you with the service that you require. For the company, it is an achievement to know that you have been consistently receiving great reviews from your customers on TripAdvisor.
TripAdvisor is the premier website for all things travel, with reviews of hundreds of thousands of businesses around the world. Millions of travelers use the TripAdvisor website every year to look into potential tour operators, hotels, guesthouses, and attractions that they might use for their next vacation or trip. Whether traveling abroad or around your own country, you can always trust TripAdvisor to give the most accurate reviews of businesses, as those reviews are written by real people that have used that company during their trip.
Chosen from thousands of tour operators in Tibet and China
In Tibet and China, there are literally thousands of companies, both big and small, that offer trips to Tibet. These companies range from huge travel agencies that cover multiple countries, often covering tours in much of mainland Southeast Asia to small, personal businesses that offer tailor-made trips to Tibet only.
Explore Tibet is a locally-owned company based in Lhasa, the Tibetan capital, and run by its owner and General Manager, Sonam Jamphel. Tibetan born and raised, Sonam came to the travel industry after many years of other experience and has explored much of the Tibetan plateau he calls home. With his deep understanding of the Tibetan people and culture, he founded Explore Tibet in 2008 to allow more people to experience his unique and wonderful culture. Explore Tibet now offer the most authentic Tibetan experience for foreign travelers, taking in more of the religion, culture, and landscapes that make up the magical and mystical land of Tibet.
The team at Explore Tibet, is energetic and enthusiastic, with a wealth of experience in travel and tourism in Tibet. All the staff of the company are local, with a strong background in Tibet and many years of travel experience on the Tibetan plateau. All the staff are committed to providing the best service possible and the most unique and authentic customer experience available.
Amazing reviews from our clients
A selection of the thousands of great reviews that have earned Explore Tibet their Certificate of Excellence time after time are: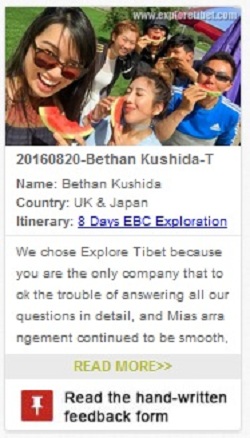 Name: Bethan Kushida, Country: UK & Japan:
"We chose Explore Tibet because you are the only company that took the trouble of answering all our questions in detail, and Mia's arrangement continued to be smooth, with excellent communication."
Name: Irene, Country: Australia:
"It was wonderful how all of the team took care about our 8 years old daughter Emma!! We can only recommend the whole team!! We will come back for sure!"
Name: Edo, Country: Indonesia:
"We are very happy that we chose Explore Tibet for our trip. Rex helped us to make sure that we were prepared for the trip. Down to the smallest detail!"
Name: Simon, Country: Britain:
"It was a great tour and excellent value for money. I would recommend everyone to choose Explore Tibet. It was a great privilege to have had Rooney as our guide. Always smiling and eager to please, his knowledge of Tibetan life and culture is unsurpassed."
All of these reviews, and more, can be found on the Explore Tibet website, and are all authentic reviews from satisfied customers that traveled to Tibet with Explore Tibet.
You can even see the handwritten forms that the travelers have left at the end of their tours as feedback for the company and its amazing staff.
Bethan Kushida's handwritten feedback form from her trip to Tibet with explore Tibet
TripAdvisor member reviews of their trips to Tibet with us
Similarly, TripAdvisor also has hundreds of reviews from customers that have traveled to Tibet with Explore Tibet. Rated as a 5-star tour operator by TripAdvisor's many travelers, Explore Tibet is one of the best options for traveling to Lhasa and around Tibet.
Some of their amazing reviews that can be found on their TripAdvisor page here include:
BabuBJi, New York City, New York
"Touring a place like Tibet where language, food, climate, high altitude and dangerous terrain becomes problems for which experienced, friendly, caring and very patience tour guide and drivers are required. We were lucky to have Mr. Tselha the guide and Mr. Tserang the driver with us."
Jokè B
"Sherry, our salesperson of Explore Tibet, made our dream come true although our request to visit Tibet was very last minute. Sherry was able to respond very quickly on our questions and explain to us what we needed to do to get the Chinese group visa at the Chinese embassy in Kathmandu. The fee was 40 USD/pax which is more than other agencies. But the agency applied through the extremely urgent procedure which normally costs 89 USD and one day before departure we received our visa."
Aesoleoo, Brussels, Belgium
"Rooney is a very dedicated, modest, charming, and patient guide. He knows the locals well and brought us to unique places and very good restaurants. He was always there to make sure all the food was prepared to suit us and helped us out every time to translate the menus. He truly believes in his mission to guide and inform people about Tibet and learned us a lot. No request was too much for him. He was always on time and can take a good Joke."
With these reviews, it is little wonder that Explore Tibet has received this award from TripAdvisor multiple time over the last five years. However, this is not the only recognition that Explore Tibet has received from a world-class travel website.
Lonely Planet Guidebook recognition for Explore Tibet
In its latest guidebook on Tibet, the Lonely Planet has included Explore Tibet as the best local Tibetan-owned tour operator in Tibet, and they are mentioned in the guidebook as the best tour operator to use for authentic Tibetan tours.
The Lonely Planet is of one the top international travel guide book brands and provides transparent travel information without any promotional advertising at all. The Lonely Planet guidebooks are highly regarded by travelers all over the world, largely because their authors have personally visited each and every country they include in their guide books and have used the companies that they recommend.
So, if you are planning to take a trip to Tibet, and want to travel with the best, then come and talk to the friendly guys at Explore Tibet, who will do everything they can to make sure your trip is the best experience you could ever have expected.
And don't just take my word for it. Go check out their reviews and decide for yourself. I think they speak for themselves, don't you?