When you visit Tibet, you wouldn't be too surprised if you see Tibetans singing and dancing at anytime and any events, especially for some festivals, such as weddings, gatherings and even their leisure time.Explore Tibet Team, a professional Tibet travel agency, today introduces the Tibet Repa dance for you.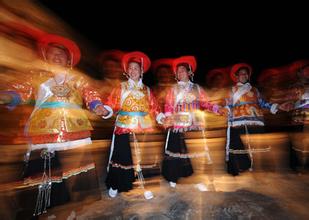 The Repa Dance is from the Chamdo and Kongpo regions and the Tibetan-inhabited areas of Sichuan and Yunnan province.
The Repa Dance is also called Oriental Gypsy dance. In the past, the purpose of the Repa dance is to drive away evils and disasters, as well as praying for good luck. Later, it was even considered a way of making a living for those street performers in the street.
Tambourines are the main musical instrument accompanied the dance. The bold and vigorous movements and stunting posing become the biggest features of the Repa Dance. The most excitement of the performance is the
male dancers perform some stunts during his Repa dance. Sometimes, they will perform pirouettes on one leg while the women beat their drums high above their heads as they twirl.
Come to Tibet, it is not only an opportunity to please your ears, but also an opportunity to experience local Tibetan life. At the same time, it will add more fun to your Tibet tour if you come across the scene of playing Dramyin in your Tibet tour.