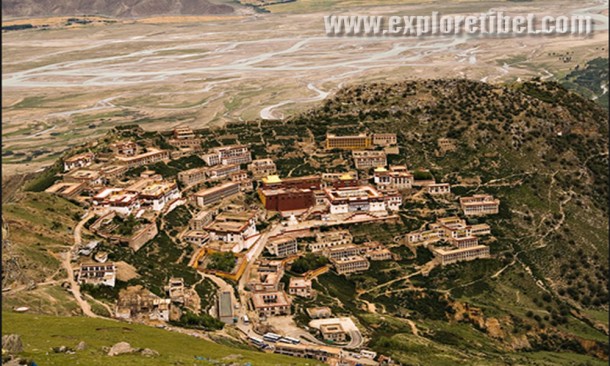 Ganden Monastery was the first Gelugpa monastery and has been the main seat of this major Buddhist order ever since. If you only have time for one monastery excursion outside Lhasa, Ganden would probably be the best choice.with its stupendous views of the surrounding kyichu valley and fascinating kora,Ganden is an experience unlike the other major Gelugpa monasteries in the lhasa area.
The monastery was founded in 1409 by tsongkhapa, the revered reformer of the Gelugpa order,after the Monlam festival was performed here.images of Tsongkhapa flanked by his first two disciples,Kedrub je and Gyaltsab je, are found throughout the monastery. When Tsongkhapa died in 1411,the abbot ship of the the monastery passed to these disciples. The post came to be known as the gand tripa and was earned through scholarship merit,not reincarnation. it is the Ganden Tripa, not as one might expect,the Dalai Lama,who is the head of the Gelugpa order.
Ganden means"joyous" in Tibetan and is the name of the western paradise ( also known as Tushita) that is home to Jampa, the future Buddha. there is a certain irony in this because, of all the great monasteries of Tibet,Ganden suffered most at the hands of red guards,possibly because of its political influnce.
Today it is  the scene of extensive rebuilding, but this does not disguise the ruin  that surrounds the new structures.
As of 2012 there were about 400 monks, and rapid progress was being made on rebuilding the monastery. The red-painted lhakang in the centre is the reconstruction of Ganden's sanctum sanctorum containing Tsongkapa's reliquary chorten called the Tongwa Donden, "Meaningful to Behold." We always recommend our client to pay a visit to such great and honor monastery of Tibet. Explore Tibet is mainly to explore Tibetan culture and religious.