Tibet Trekking Adventures
Tibet, the largest and highest plateau on the earth, is surrounded by the most extensive jumble of mountains found on any continent. Stretching for almost 1600 miles (2500km) and forming its entire southern boundary is the Himalaya, and along its western extremity is the equally rugged Karakoram. Between these two ranges are all fourteen of the world's 8000 meter peaks, including Mount Everest. In Northern Tibet the plateau is a high, arid expanse known as the Changthang, the "Northern Plains", while Eastern Tibet is bounded by a succession of mountains where three of Asia's largest rivers cut deep, parallel gorges on their journey from the plateau to sea.
Despite the natural beauties and astonishing landscapes, crystal blue plateau lakes and mystical Buddhist culture, the diverse topography and high altitude climate made Tibet as the ultimate challenging target for many adventurers or professional trekkers. Tibet is also known as heaven of adventurers on the earth too. So it is very important to get know Tibet better and well prepared for your lifetime experience in Tibet, Explore Tibet is a leading Tibetan tour company that has decades of work experiences for arranging all types of Tibet trekking and adventures.
Our hand picked Tibet trekking tours are specially make for those who are looking for a wilderness experiences on the Tibetan plateau and get rid of the mass tourism, escape from the busy city life and explore the peaceful nomadic atmosphere.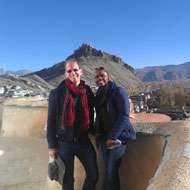 10 Days Tsurpo to Yangpache Nomadic Trekking
Tour Cost: From 0 USD
Tour Outline: Lhasa - Tsurpo monastery - Tibet trekking - Yangpachen - Namtso lake - Lhasa
Tour Level:
This is one of the best trekking tour in Tibet that balances the cultural and wilderness experience, before heading up into the isolated Tsurpu valley, we will spend couple of days in Lhasa for acclimation and physically prepare for the trek
Click Here For Detailed Itinerary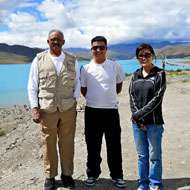 13 Days Holy Lhamo Lhatso Trekking
Tour Cost: From 0 USD
Tour Outline: Lhasa-Samye-Tsedang-Yumbulhakhang-Lhamo Lhatso-Tsedang
Tour Level:
This is the most unexplored trekking that hidden its beauties in the remoteness, but due to its prominent religious value in Tibetan Buddhism, hundreds of Tibetans make their pilgrimage to the Oracle lake Lhamo Lhatso every year, the thrilli
Click Here For Detailed Itinerary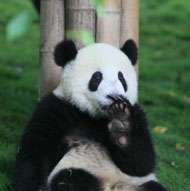 12 Days Mt. Gonka Trekking
Tour Cost: From 0 USD
Tour Outline:
Tour Level:
Mt. Gangkar is situated on the eastern edge of the Tibetan Plateau, Minyag Gangkar (literally means Minyak Snow White) with elevation of 24,790 ft or 7556 is Asias highest summit east of the Himalayas and the highest peak of the Minyak Rabga, this Mt
Click Here For Detailed Itinerary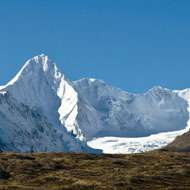 15 Days Mt.Lhakpa Ri Expedition
Tour Cost: From 0 USD
Tour Outline: Lhasa-Gyangtse-Shigatse-Shegar-EBC-Interim camp-Lhasa
Tour Level:
Himalaya was opened for British expeditions first in 1921 and since then lots of attempt from worldwide expeditions failed continuously, in this decades, numbers of miserable stories engraved in the history of world mountaineer. Finally in M
Click Here For Detailed Itinerary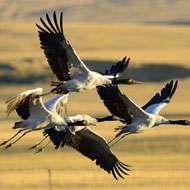 20 Days Kharta Wilderness Trekking
Tour Cost: From 0 USD
Tour Outline:
Tour Level:
This challenging trekking within the alpine terrain of mighty Himalayan is best trekking choice for experienced trekkers and adventurers, for this trekking, you should be physically fit and should be well acclimatized before heading into the
Click Here For Detailed Itinerary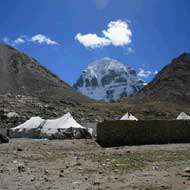 20 Days Spiritual Trekking Odyssey
Tour Cost: From 3120 USD
Tour Outline: Lhasa-Gyangtse-Saga-Manasarovar lake-Kailash-Tada-Shigatse-Lhasa
Tour Level:
While acclimating and alleviating jet-lag after your arrival on the Tibet plateau, we slowly visit the most supernatural Potala Palace, mystical Jokhang temple and hustling Bakhor street, once the world largest Drepung monastery and sprawlin
Click Here For Detailed Itinerary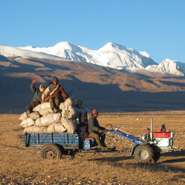 12 Days EBC Trekking
Tour Cost: From 1797 USD
Tour Outline: Lhasa-Gyangtse-Shigatse-Old Tingri-EBC-Lhasa
Tour Level:
This trekking adventure within the alpine terrain of Himalayans and stretches to the base camp of world highest peak Mt. Everest(8844m) is one of the most challenging adventures on the Tibet plateau. You will be greeted by our representative
Click Here For Detailed Itinerary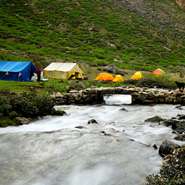 10 Days Ganden to Samye Trekking
Tour Cost: From 1560 USD
Tour Outline: Lhasa-Gaden monastery-Samye monastery-Yarlung-Yumbulhakhang-Lhasa
Tour Level:
This is the one of the most challenging trekking in Tibet that covers 80km from Ganden monastery to 1st ever Tibetan Buddhism monastery Samye, crossing the steep and sky pointing Shugar la pass( 5250m) and Chitul la pass(5210m), this Tibet trekking to
Click Here For Detailed Itinerary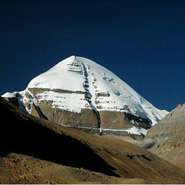 17 Days Mt.Kailash Pilgrimage
Tour Cost: From 2706 USD
Tour Outline: Lhasa-Gyangtse-Saga-Manasarovar lake-Kailash-Tada-Shigatse-Lhasa
Tour Level:
Following the footstep of devoted pilgrims to the far-west Tibetan plateau and trekking around the mystical Mt.Kailash is pilgrimage destinations of Buddhism, Bon, Hindu and Jainism since from long time ago. Gangkar Ti-se is the Tibetan nam
Click Here For Detailed Itinerary
Contact Us
+86-13398000993(Lhasa)
sales@exploretibet.com
exploretibetTour
Find a Trip Choose one or more fields