We are recommended by
We are Recommended as best Tibet travel agency by Lonely Planet Guidebook and TripAdvisor:
The question of "
How to find a reliable Tibet travel agency?
" is frequently asked on most of the
Tibet travel
forums like TripAdvisor and Lonely Planet, but it is always difficult to get a right answers and all the recommendations are very random with different interest and motivations, therefore, so far the Lone Planet guide book and TripAdvisor are the two most well-known travel resources around the world, from these two resources, you will get reliable information for a travel destination.
We are very proud that, as being a
local Tibetan travel company
, we are listed as number one on the Lonely Planet new edition for
Tibetan tour agencies in Tibet
.
May be you are already a Lonely Planet guide user or heard this guide book before, but for a matter of facts, Lonely Planet is of one the top international travel guide book brand and provides transparent travel information without any promotional activities, most important reason why they are so regarded by the traveler is simply because their authors personally visit the sites they write about and know the reputations of the
Tibetan travel companies
that they recommended on their guidebook.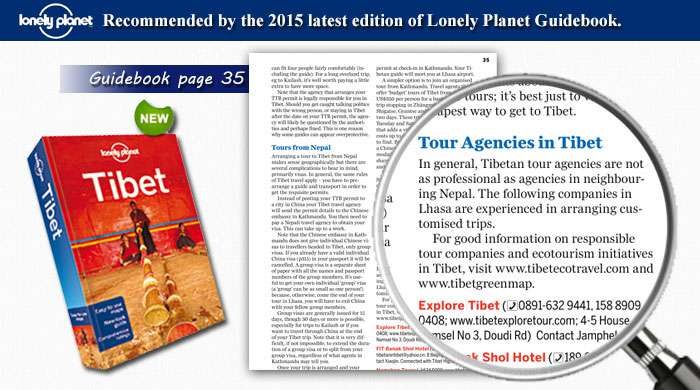 Trip Advisor is a travel resource platform where travelers share their personal experiences of a place where they visit and share their experiences with a particular tour company that they used, so it is not like a travel website, but like a huge community of travel enthusiasms, from there you will hear the latest situation of places from real travelers like yourself, also
Tibet travel
recommendations from real travelers who went to the area and experienced the situation.
Tibetan Travel Company
with a professional local Tibetan guides, we are rated as 5 star Tibetan travel company on the Trip Advisor by travelers who explore the Tibetan plateau with our Tibetan tour guides and visited our office in Lhasa.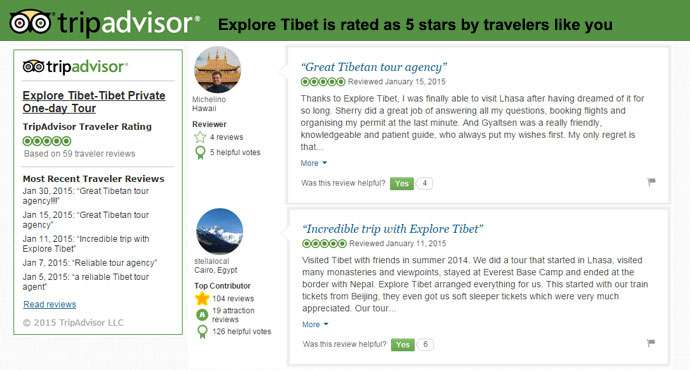 ---

Write Us Here