Winter Pilgrimage Tour In Tibet-Explore Tibet.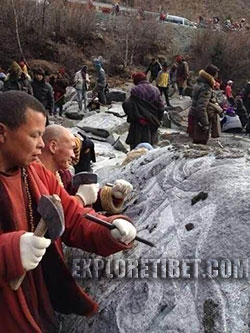 The winter pilgrimage.
Every year from Nov the population Tibetans in Lhasa arose due to pilgrimages coming all the corners of Tibetan areas. The winter is another unique season to enjoy and experience the local side of Tibetans. As in Lhasa, there will be Tibetans various provinces with different costumes, language and outlooks. Again now there were many Tibetans with their families, friends, children and relatives crowding inside Lhasa city to receive divine blessings from historical monasteries, temples, nunneries, palaces and fortresses. From dawn to dust these Tibetans gets in line for pilgrimage and making their path a more spiritual way. The popular streets of Lhasa covered with murmuring chanting of mantras and prayers. The prestige and dignity of those Tibetans for Tibetan Buddhism is unbelievable that every spiritual places in Tibet Autonomous Region is crowded daily with Tibetans doing prayer, prostration and offering butter lamps. Huge groups of Tibetans donating huge sum of money to various spiritual places on behalf of their villages and towns. Where some are busy donating money to donation center in each place for health, peace and prosperity of entire human society even more than 97% people are stranger to them. The usual acts where Tibetans do in their daily life is so much attached with love, compassion, mercy and trust of human life. Hence, the children who goes after each and every Tibetans also learns such basics of Buddhism from their parents, relatives and elder people. Spiritual acts in Tibet are another reliable or must-to-do act in Tibetan societies. In a nut shell, the chain pilgrimage of Tibetans is a never-ending story in Tibet and Tibetan societies. It's kind of adventures of Buddhism.