What is the Chinese Group Visa?
As part of the People's Republic of China, before you can travel to Tibet, or even book a Tibet tour in most cases, you will need to have a visa for visiting China. Tibet Autonomous Region is the only strictly controlled area of China where additional permits are required for travel. The Chinese group visa is only issuing from Nepal for foreign tourists.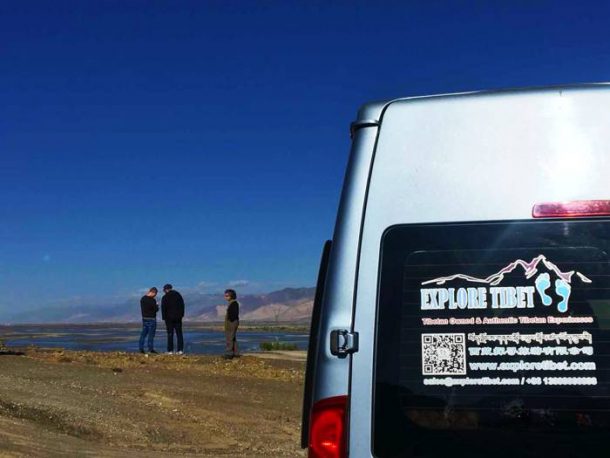 Nepal is the only country with international access to Tibet so for those entering from Nepal, the standard Chinese Entry Visa is not valid. Instead, a different type of visa, known as the Chinese Group Visa, is issued.
However, for those people traveling to Tibet from mainland China, a simple standard Chinese Entry Visa is sufficient to enable you to make the application for the Tibet Travel Permit, which is needed to enter Tibet. This allows you to enter China on the right tourist visa, before traveling to Tibet for your Tibet tour.
When to get the Chinese Group Visa
The Chinese Group Visa is issued only once you have arrived in Kathmandu, the capital of Nepal, for your trip to Tibet. Unlike when entering from mainland China, when you book your Tibet tour, the Tibet Travel Permit is applied for you by us using just your passport, instead of your passport and visa for mainland China.
This is because the Chinese Group Visa is never issued until you have arrived in Nepal, as it requires your original passport in order to process the application.
How to apply for the Chinese Group Visa
The visa is applied for by our representative in Nepal on your behalf from the Embassy of the People's Republic of China in Kathmandu. According to the regulations for the visa, it can only be applied for you by the Tibet tour operator.
The embassy will refuse to process any applications made personally by the travelers. This is done to ensure that the traveler has booked on a valid pre-arranged tour of Tibet with one of the registered Tibetan tour operators.
You will need to be in Nepal before the application can be processed, and once you arrive, our agent in Kathmandu will meet you at your hotel to make all the arrangements. Once all of the documents are in order, the agent will make the application on your behalf with the Chinese Embassy.
Applications normally take around three working days to process, so you will need to be in Nepal at least five working days before your expected date of travel, to allow for any concerns with the visa issuance. Once the visa is processed and approved, it will be collected, along with your passport, by our agent, who will deliver them to your hotel.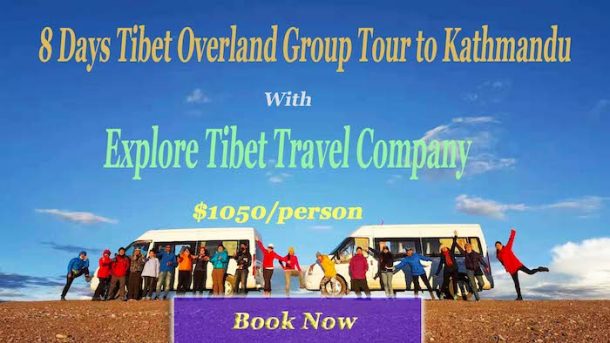 Unlike the standard Chinese Entry Visa and other visas around the world, the Chinese Group Visa is not a stamp in your passport. The visa comes as a separate document, usually on a single sheet of bond paper, and will include all of the members of the party that will be traveling in the same tour group.
The visa will list your name, sex, date of birth, occupation, nationality, and passport number, along with the same details for all members of the party. He visa will be issued as two copies each for each member of the party you will be traveling with: one copy for entry and one copy for traveling around Tibet and for your exit.
Chinese Group Visa Documentary Requirements
You will need to complete the application form in full, with a separate form for every member of your party, though all applications will be made together. You will also need to hand over your original passport to our agent.
The documents required from you for the Chinese Group Visa are: one completed application form for each member of the party; your original passport; one passport-sized photo; as well as the correct visa fee.
Other documents are also required to process the visa, which will be provided by the tour operator. These include your Tibet Travel Permit; one Visa Invitation Letter for Tourist Groups per person from the Tibet Tourism Bureau in Lhasa; and a complete itinerary of your travel in Tibet.
Chinese Group Visa Validity and Conditions
For those traveling on into mainland China after their tour, the Chinese Group Visa is normally issued for a period of 30 days from the date of issue. This means that, if you are traveling in Tibet for 14 days, you will have another 16 days in which you can continue your travel into mainland China before you will be required to leave the country.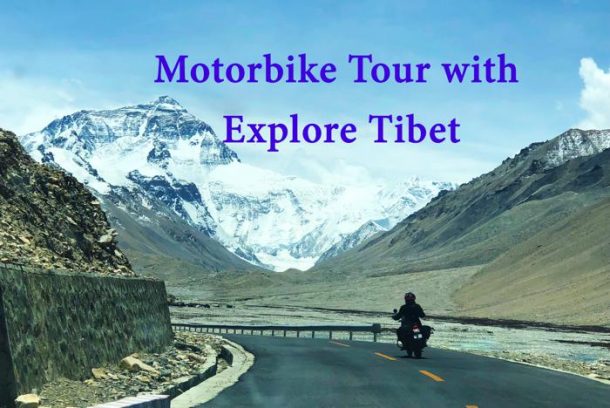 The Chinese Group Visa from Kathmandu cannot be extended once you are in China to increase your length of stay. You will need to exit China and apply for a standard Chinese Entry Visa in order to re-enter China.
There are also other rules that are required of holders of the Chinese Group Visa. All travelers on the same visa, while no longer being required to be of the same nationality, are still required to enter and exit Tibet at the same time and via the same entry and exit ports.
This means that, if your party are traveling to Tibet from Nepal and are listed on the visa as leaving by flight from Lhasa to Kathmandu, you will also have to leave the same way. If you are planning to continue on into China, then you will need to let us know this when booking your tour, so that we can make arrangements for you to be on a separate visa for the trip. This will allow you to continue into China while everyone else heads back to Nepal.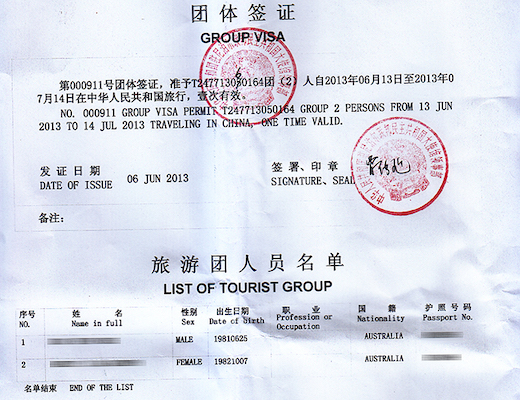 If you already have a standard Chinese Entry Visa, then this will be cancelled in your passport when you make the application for the Chinese Group Visa. Travel in China can only be done on one single visa, so if you are planning to obtain a Chinese Entry Visa for mainland China but are entering from Nepal, then you will be wasting both your time and money.