Traveling to Tibet in Winter
When I told my friends that I planned to spend over a week of my winter holiday in Tibet, most thought that I was nuts. Summer, with its warmer weather, is supposedly the best time to-see Lhasa and its surroundings. But, the more I read about traveling to Tibet in summer, crowds of Chinese tourists pushing their way past the pilgrims in the Barkhor, tickets for Lhasa trains selling out within hours of them going on sale. The long queues to get into the Potala Palace and Jokhang temple, and traffic jams on the roads towards E.B.C., the more off-putting it sounded. These problems won't be seen during my visit to Tibet in winter.
Traveling to Tibet in winter turned out to be a great time, maybe even the best time to travel to Tibet. Here's why. In summer (from mid-June until the second week in October), millions (not literal, actual millions) of domestic Chinese tourists visit Lhasa. Every year, as the city improves its tourist infrastructure and marketing materials, tourist numbers increase. The local travel companies also offer over 30% discounts on the Tibet winter tour packages.
However, once the October' Golden Week' National holiday has passed, many Chinese tourists start to dwindle. Around this time, the city switches from being less of a holiday destination and more a place of pilgrimage. Thousands of Tibetan people, many of whom still wear traditional clothes, visit the city. The streets around the Barkhor and the kora path around the base of the Potala Palace are full of Tibetan pilgrims. Most walk swiftly. Some whisper mantras and flick prayer beads as they walk.
Others prostrate. Their destinations, the Jokhang Temple and the Potala Palace, still feel crowded. But unlike in summer, there are no fixed entry times, and visits are not strictly controlled. Our group could spend as long as we wanted to in both places.
Weather of Tibet in Winter
I visited Lhasa last January. Although the official outside temperature was just above freezing, intense sunlight and clear blue skies made the temperature seem much, much warmer than it was. Nights were cold, but daytimes felt warm and sunny. The weather made it easy to take good photos too, and Lhasa is a photographer's dream in January. In the weeks preceding Losar (the Tibetan New Year), shops are full of seasonal goods, and the streets are full of locals wanting to buy them.
On day 3, we headed out of Lhasa and took the road towards Yamdrok lake. Our driver stopped at a viewpoint just below the summit of the mountain pass. The rows and rows of empty spaces and rusting metal souvenir stalls made us feel glad that we had arrived there when it was quiet. A few guys spinning yak wool invited us to take photos of their Tibetan mastiffs. They didn't ask us for money, but one of them said that they usually charge 20 RMB for people to pose for photos with their dogs in the peak season.
There were more empty parking spaces in the big car park at the top of the pass. There was also a stunning view that we felt privileged to have all to ourselves. A row of snow-capped mountains led down to a clear turquoise lake. The silence that surrounded us added to its breathtaking beauty. Later on, once we'd made our way down to the lakeshore, we touched the thin layer of ice lining its edges and listened to it crack.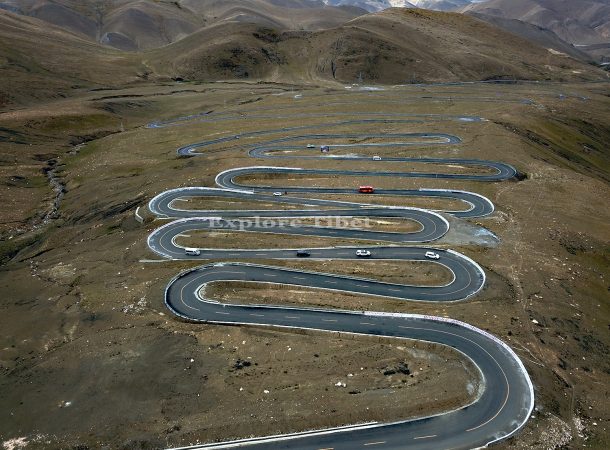 A trip to Everest Base Camp
One day later, atop another mountain pass, we were treated to another gob smashingly beautiful view. We saw the Himalayas. Everest is just one of the many jagged, snow-covered peaks.
The following morning, when we went to E.B.C. It was the only day during the whole 8-day trip when the weather wasn't as good as we'd hoped. Visibility was pretty poor and, while we couldn't see the top of Mt Everest. The strong winds and thick fog gave us a sense of how desolate and barren the base camp area is. In winter, you can't stay at the tent hotels, but you can remain at the Rongbuk Monastery or, as we did, at small local hotels in nearby villages.
The fog didn't last long. By the time we started the long journey back towards Lhasa. The sky was already becoming its usual shade of blue. Afterward, disappointed that our group didn't see Everest from the base camp itself, I read about Tibet's climate. In summer, Everest can be cloaked in fog for days on end. July and August can be rainy too. Good weather can never be predicted or guaranteed, but travelers who go in winter have a much better chance of seeing the mountain than those who go during the summer months.
While I didn't see Everest from E.B.C., I did have an incredible journey. Suppose you want to see Lhasa looking like every other Chinese tourist spot, noisy and overcrowded. Then join the hoards of people who go in there in summer. However, if you want to experience the city as it was meant to be, as a place of Tibetan pilgrimage. If you're going to see, talk to, and learn about the people who go there. And find out what motivates them to travel so far and how they manage to the prostate over such long distances if you want to find out what people buy before Losar and how they celebrate, and if you want to see mountains of mountains, not mountains of people. Then, traveling to Tibet in winter is a far better choice.