Kagyu
Kargyupa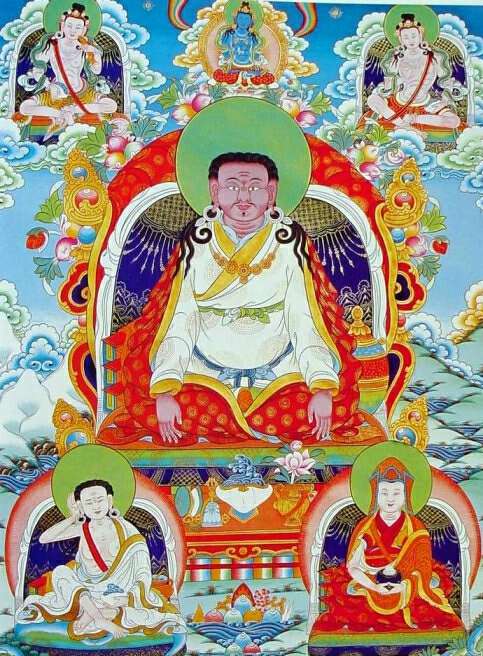 This tradition started with the Tibetans Marpa Chökyi Lodro(1012-1097) and Khyungpo Nyaljor, in the 11th. century, who had Tilopa (988-1069) and his disciple Naropa (1016 – 1100) as Indian masters.
Probably the most famous practitioner and master in the lineage is Milarepa (1040-1123), who attained Buddha hood in one life time by an incredible display of perseverance. Milarepa was a disciple of Marpa who in turn was a pupil of Naropa. The Kargyu tradition is both a meditation lineage and philosophy training lineage. Typical aspects of the Kargyu tradition are the practice of Mahamudra (not like Dzogchen of the Nyingma) and the Six Yogas of Naropa.
Later the Kargu lineage is divided into 12 lineages which basically categorized into 2 as four primary schools of the Dagpo Kargyu and eight secondary schools of the Dagpo Kargyu, where the four primary schools of the Dagpo Kargyu are Karma Kamtsang, Barom Kargyu, Tshalpa Kargyu and Phagdru Kargyu. Then Eight secondary schools are Drikung Kargyu, Drukpa Kargyu,Martsang Kargyu, Shugseb Kargyu, Taklung Kargyu, Trophu Kargyu, Yabzang Kargyu and Yelpa Kargyu. But in the present day existing Kargyu lineage schools are Karma Kargyu (with as leader the Karmapa), the Drikung Kargyu and the Drukpa Kargyu schools.
In the present day the prominent head of the sect is 17th Karmapa where there are two candidates claimed to be the reincarnation of 16th Karmapa who died in 1981, Karmapa Ogyen Trinley Dorjee one of the tow who currently resident at Gyurdui monastery in Himachal Pradesh of Northern India, he was recognized by 12th Tai Situ Rinpoche in 1992, and the other is Karmapa Thaye Dorje who is recognized by the H.H Shamarpa Mipham Chokyi Lodro in 1994, currently Karmapa Thaye Dorje is resident in Rumtek monastery in Sikkim of India where the monastery of previous Karmapa is exist.