Tibet Kyirong (Gyirong) border to Kathmandu.
Tibet Kyirong (Gyirong) border to Kathmandu Overland Drive Distances and Road Condition.
Kyirong, close to the Sino-Nepal border, is a small Tibetan town with a population of around 4,000 inhabitants. Located at an altitude of 2,700 meters above sea level, geographically it is close to Nepal and has influences of Nepal's subtropical climate, which makes it greener with a more humid climate.
The Kyirong border was first opened in 1980, but because of its road condition, the crossing remained unpopular until 2015. After the deadly earthquake on April 25, 2015, most of the roads in Nepal's border areas were badly damaged and the most popular Tibet-Nepal overland route through Zhangmu border (Dram) was devastated. Since then, the Zhangmu border (Dram) was closed and the Kyirong Border became the alternative for the overland journey in 2017.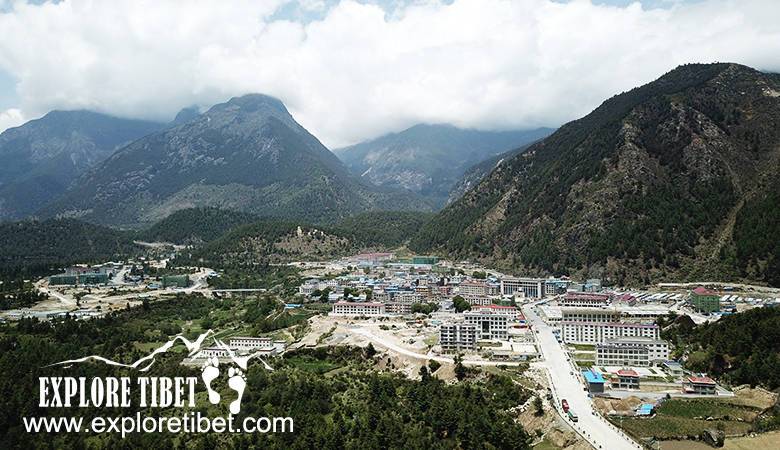 In less than one and half years, the road from Lhasa to Kyirong was completely paved and opened for international tourists. However, the road from the Kyirong border to Kathmandu remained narrow and muddy, especially during the monsoon months of July and August.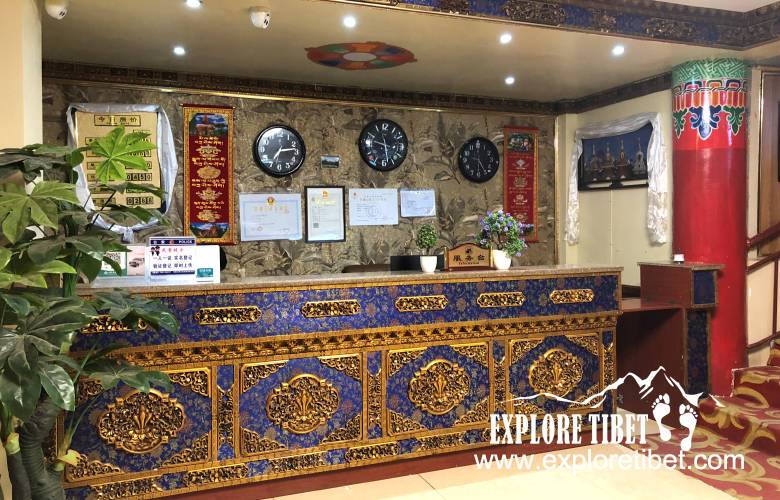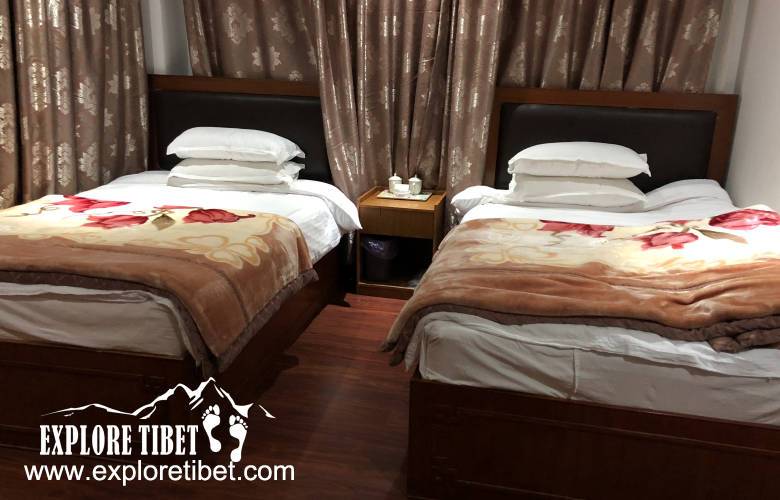 Hotel and Guesthouse in Kyirong
On their last night in Tibet, most tourists stay at the Phuntsok Rabsal Hotel in Kyirong town. It is owned by a Tibetan business man named Passang, who employs a mixed team of local Tibetan and Nepalese cooks. The hotel has around 27 guest rooms and all the rooms have hot shower, free Wi-Fi and TV, and breakfast is included at the hotel restaurant. The standard breakfast has pan-cakes, omelets, potatoes, and coffee.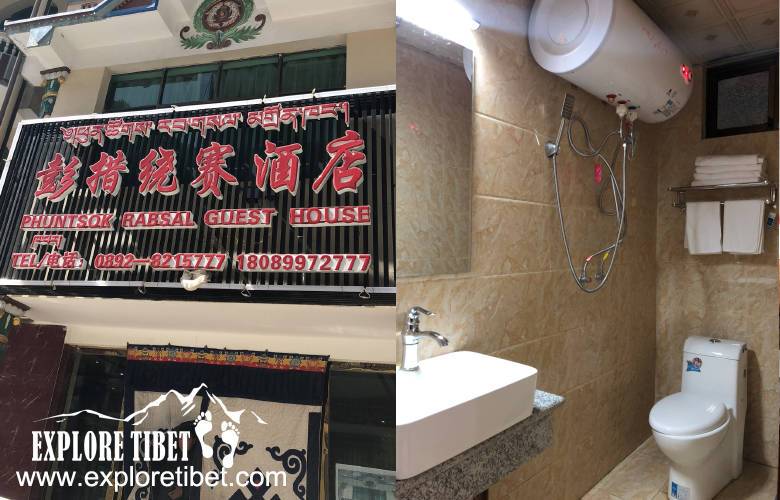 Restuarants in Kyirong
These days because of the increasing number of tourists passing through the town, the Kyirong town becoming more commercial and more restaurants and shops opening in the area, there are large mix of Chinese cuisine restaurants to Nepalese food restaurants, you can also find Hui ethnic Lanzhou noodle shops too.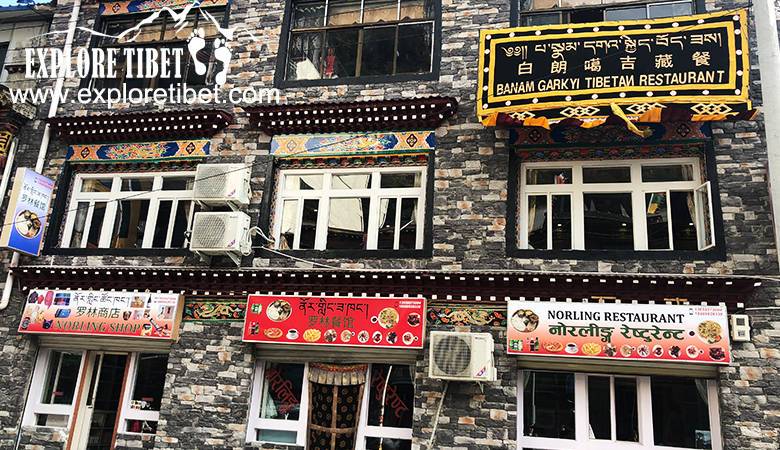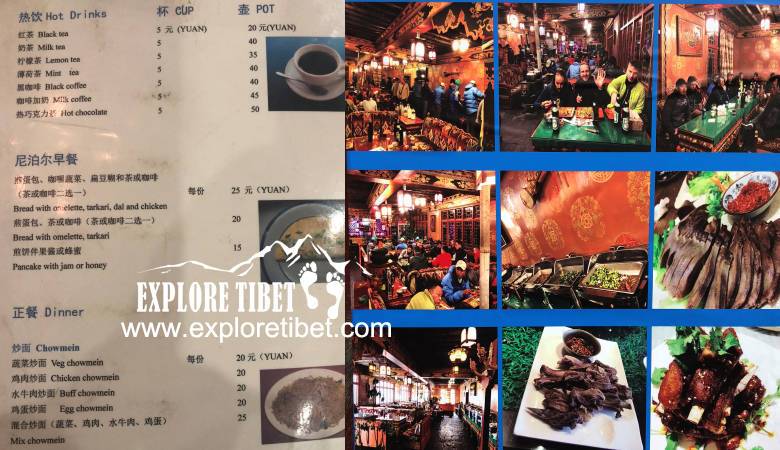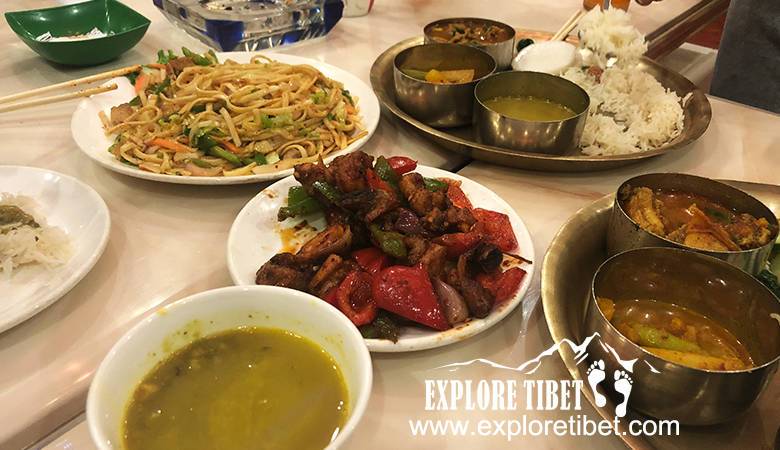 Today, a drive from Kyirong town to the border check point, which is about 29 kilometers, would take around 35 min. There are two different check points between the town and the border. Around a 10 minute drive from the town, you will reach the first check point, where they will check the border papers of the guide and driver. After a further 15 minute drive, you will reach the second check point, where all tourists need to show their passports and permits. The checkpoint guards will check the permits and passports one by one, and after this, it will take around 25 minutes to get to the border.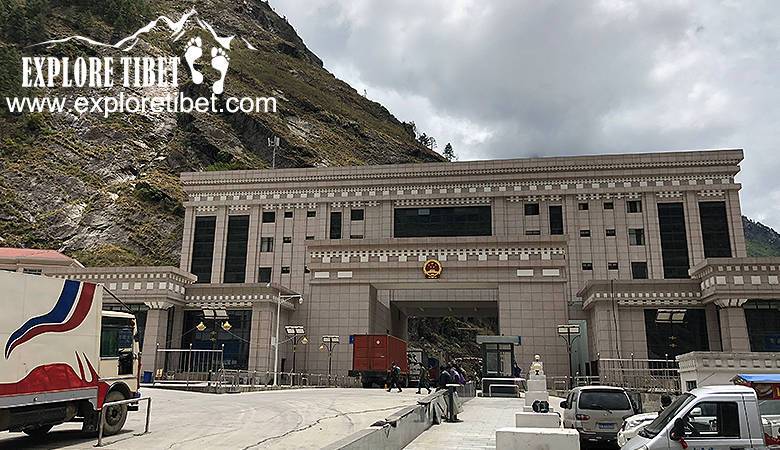 The Chinese customs office at the border opens at 10am and closes at 6pm daily. It is also closed during their lunch break, from 12 noon until 3pm. At the border, our guide will help you to clear through the checks with your Tibet Travel Permit, which also checks your Chinese visa. If you came to Tibet from Nepal and hold the Chinese Group Visa, then your group visa papers need to be submitted here.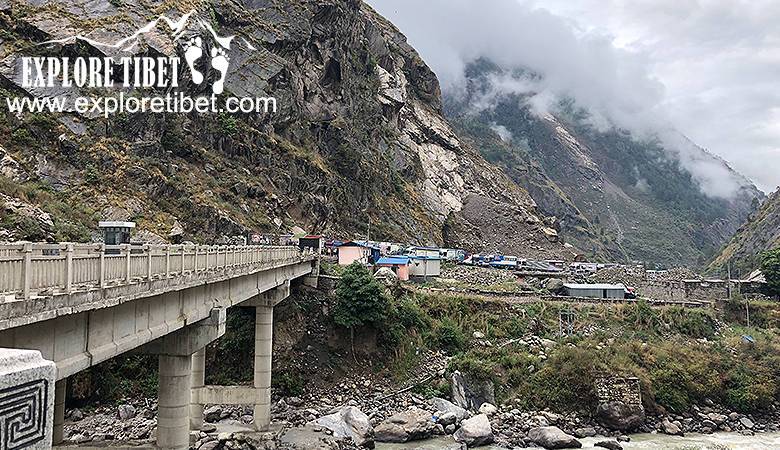 How to get the Nepal Visa at the Kyirong Border? 
Once you cross the bridge, you will meet your Nepalese car and driver there. On the Nepalese side of the border you can get a 15 days Nepal tourist visa for US$ 25.00, the Nepalese visa office is only few min walk from the Kyirong border Chinese customs, and then start your drive to Kathmandu. The road from the Sino-Nepal border Kyirong to Kathmandu is only 170km distance, but it can normally take around 7-9 hours due to the poorer road conditions.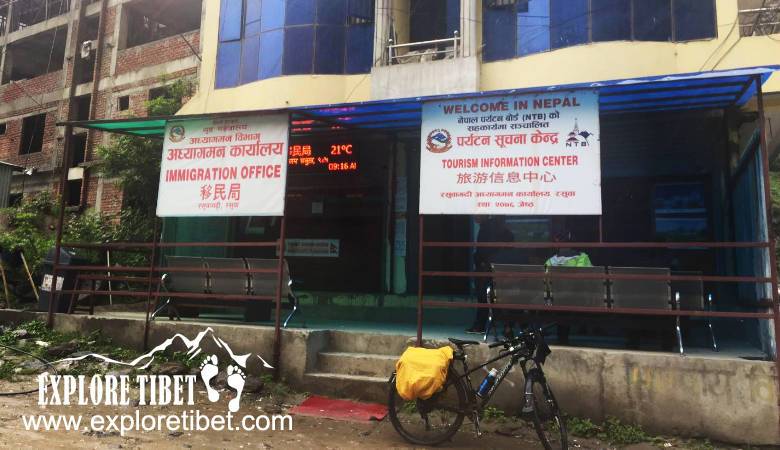 (Nepalese Visa Office at the Border)
The road from the Kyirong border to Kathmandu goest through the Langthang National park but the road is unpaved and bumpy, specially during the mosoon months from June to Aug, the Kathmandu to Kyirong border is also an important freight or cargo route between China and Nepal at the moment, so there a long queues of Nepal trucks are taking this route and some times there might be some traffic too.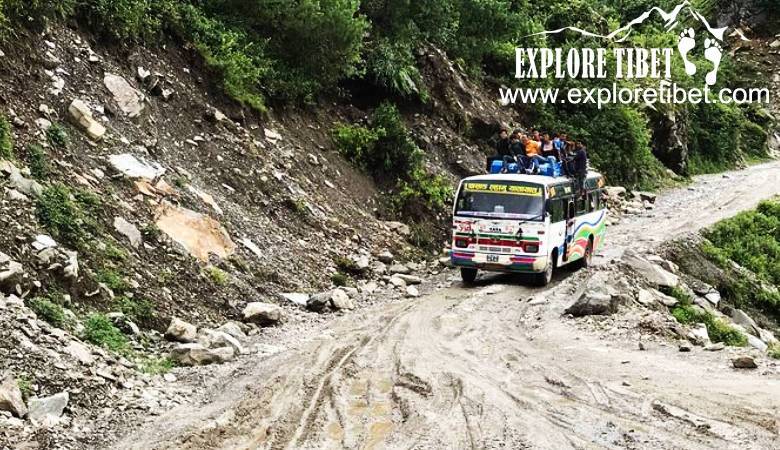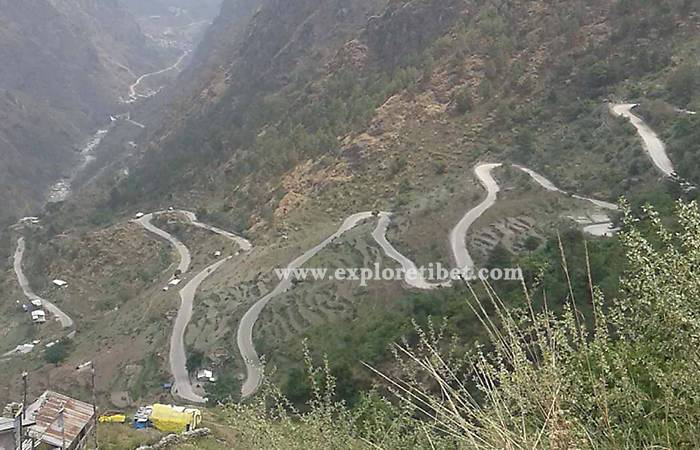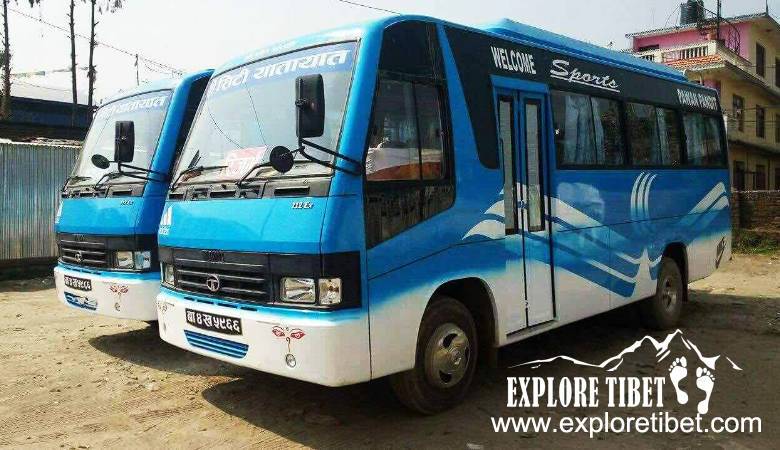 Can you cross from Nepal to Tibet?
Ans: yes, you can drive from Kathmandu to Kyirong border of Tibet and then from Kyirong enter into Tibet.
Is the Tibet Nepal border open now and what is the distance?
Ans: yes, the new Kyirong (Gyirong) border is opened for tourist and it is about 170km from Kathmandu and about 800km from Lhasa.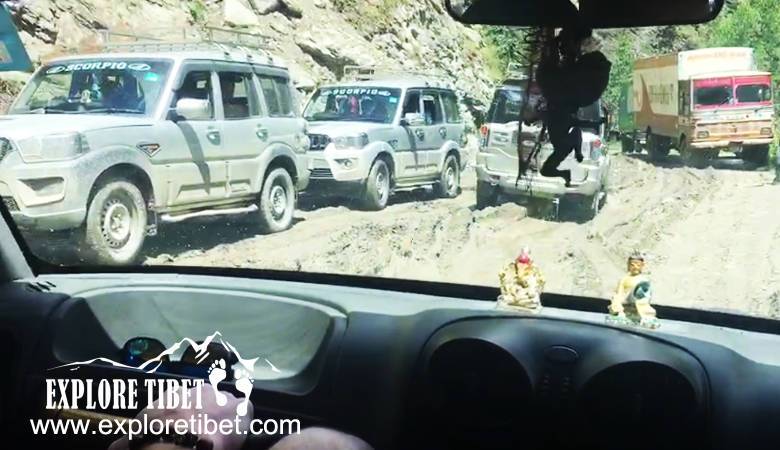 How do I get from Kathmandu to Lhasa?
Ans: there are two ways to get from Kathmandu to Lhasa, either you flight from Kathmandu to Lhasa which is around 2 hours flight or drive from Kathmandu to Kyirong border and then to Lhasa.
How much a jeep cost from Kyirong border to Kathmandu?
Ans: A jeep from Kyirong border to Kathmandu cost USD200 for four passengers, or USD50 per person, you can also book jeep without sharing with other passengers for USD200.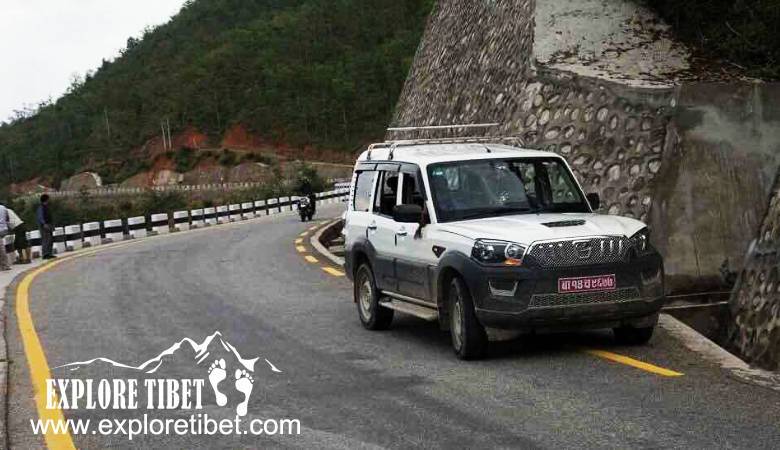 How to book a transportation from Kyirong border to Kathmandu?
Ans: Explore Tibet provides Kyirong border to Kathmandu transportation services, just send an email to [email protected] to reserve a jeep, please book it at least a day earlier your arrival at Kyirong and we will arrange the jeep and driver who will wait you at the Nepal side of the border.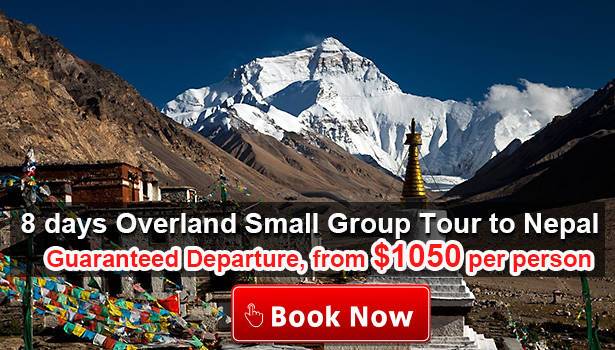 What travelers say about the drive from the Kyirong border to Kathmandu?
"The road to Kathmandu is a tough one! It's rocky, slow and quite muddy at the time of year we rode it. The hills are impressive though and there is lots of vegetation and small towns. Very different to Tibet. We spend a night in a village called Nuwakot which is 4 hrs from the border. The next day we then finish in Kathmandu." —- Matt who was on a motor bike tour from Kyirong to Kathmandu in July 2019.
"We arrived in Denmark yesterday, after the last week in Thailand for relaxing. Migma (our guide) helped us to geting in contact with an Nepal driver, who took us to Kathmandu. The road is still bumpy and the trip took about 7,5 hours, included lunch. We had fine sunny weather. Both Migma and Lopsong (driver) was extremly helpful, they tried to fulfil all our wishes. We learned a lot about Tibet history. They gave us unforgettable moments we will remember for the rest of our life." — Ole Nielsen who traveled from Kyirong to Kathmandu in June 2019