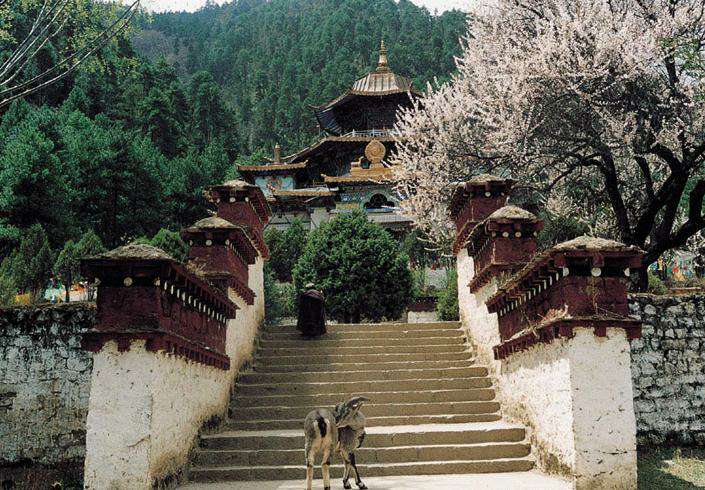 Lamaling monastery initially located on the ridge of a low-lying hill (called Norbu Ri) once destroyed in a natural disaster (earthquake) and in 1930 the restoration were taken place which is the main seat for the late Dujom Rinpoche (1904-1987), head of Nyingmapa order. The octagonal shape of Sangdok Pelri restored on the tableland with a statue of Guru Rinpoche and his footprints on a stone display in the temple. Another holy statue of Tonpa or Sakyamuni statue locates in the main assembly hall where all the daily and special prayers happening in the monastery with monks and nuns. Norbu Ri is also a good place for hiking starting point at the car parking area, from top of the hill the view of the olden side of the monastery can be viewed after 45 minutes of hiking.
History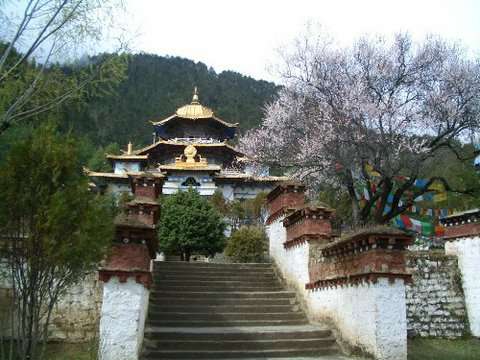 The Lamaling monastery, head of the Nyingmapa order called Dujom Rinpoche (1904-1987) seats there near the Bhuchu on the ridge of Norbu Ri before happening a natural disaster came up to it. In 1930 the restoration of the monastery held and shifted it on a tableland with a statue of the Guru Rinpoche and his footprints on a stone left in the temple at the present. When the earlier temple was destroyed, the 'life-supporting' stone called Lado in Tibetan of Bhuchu reputedly moved as a sign of omen. Thus, Dujom Rinpoche performed ceremonies outside the new building and a three-horned goat appeared and vanished into stone that can still be seen in front of the ruined temple. Tonpa or Sakyamuni's (present Buddha) holy image displays in the main assembly hall (Tsokchen in Tibetan language).
The present Sangdok Pelri temple and garden has been newly constructed on the hillside and there is a new paved road linked to Lamaling with the Bhuchu valley below. And the statues are one of the best metal arts of Chamdo prefecture. Thus, it became one of the best travel place in Tibet tourism.