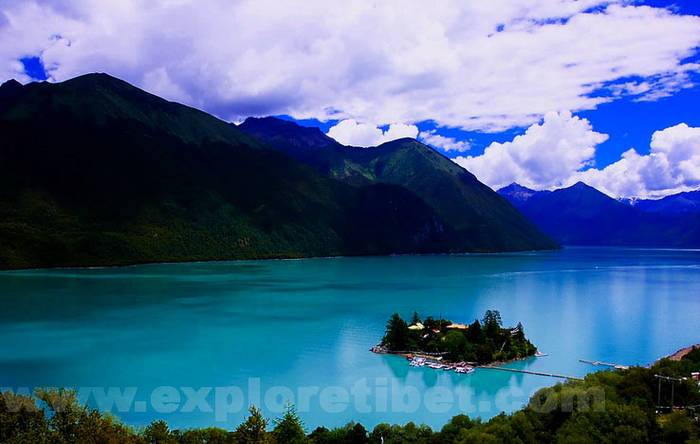 The stunning alpine lake called Draksum Tso (Tibetan name for the lake) locates on an altitude of 3,700meters above sea level; this is one of the most beautiful place in the eastern Tibet which also called Nyingtri prefecture. The literal meaning for the lake is "Drak" means Rocky Mountains, "Sum" means for three and "Tso" is for lake as combination of the name means Three Rocky Mountains Lake, another name for the lake is also known as Tso Kou which means for Green Water. The charming lake has lots of mythical stories with amazing forests and some small chapels, the Tashi Island is one of the main attraction which is home for a small sacred chapel of Nyingmapa (red hat sect) named as Tso Dzong in Tibetan. For photographers, this place is heaven with immense beauty of the reflections of snow-capped mountains in the lake. The majestic lake shares joy with the fishes surviving in it with 6000-meter peaks all around. The northwest bank of the lake shares a wonderful and adventurer giant stone with a hole where people passes through it to obtain eternity merit and curing diseases.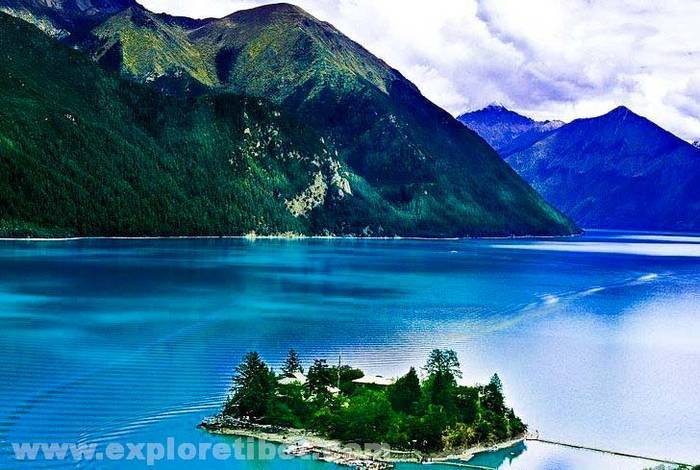 The place is full of beauties; the mighty snow-capped mountains stand near to everything that is holy to the place with greenish forests all around, particularly the place is also connects to historical events like Guru Rinpoche (the Indian sage) and Ling Gesar (the semi-mythical ruler of eastern Tibet) who resides there back to thousands centuries back. The lake attracts many of the world travelers to catch the beauty of its scenery and surroundings all around it, each year millions of travelers visit there and share many of the wonderful things in their life as memory.
In present days, the lake got its own modernized transportations that take everyone near the lake; there are tourist boats that can take you round around the greenish water and share the beauties of the area.