Raksi- a Distilled Alcoholic Beverage
For many tourists, Tibet is a magical and must-go destination. For those gourmand,a wonderful Tibetan experience is not complete without local refreshments such as Chang-barley wine and the local delicacy tsamba .Explore Tibet Team, a professional Tibet travel agency, today introduces another traditional Tibet beverage for you- Raksi.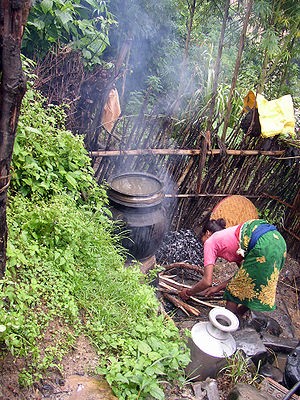 Raksi also has a name Rakshi, it is a traditional distilled alcoholic beverage in Nepal and Tibet area. It is a home-make beverage in Tibet, and usually brews by housewives. Different grains produce different flavors of Raksi, but the main raw material of is usually millet kodo or rice. Kodo is like Japanese sake in taste. It is a strong drink, clear like vodka or gin, tasting very delicious. The smell of Raksi is strong, and when you drink it, a little burning sensation can straight down to your throat,and go down to your stomach. It will give you the smooth, velvety sensation. On festivals, Tibetans sometimes will drink this at home brew beverage to celebrate festivals.
Raksi is very popular in Tibet, but in Nepal, there exist various temperance movements because of its popularity. However, Raksi are required in various religious rituals and social events. At this time, Raksi will be served in a bhatti glass, and via a pitcher, Raksi will spout out from a great height from the pitcher. It is really an entertaining spectacle.
In the distillation process, a large amount of wood will required, and the finished rakshi will be stored in a wooden container known as a pujai. Raksi is produced, sold and mostly consumed at rustic but the general public loved it.
Raksi was ranked at 41st in the CNN's list of World's 50 most delicious drinks, and it is the proud of Tibetan people.
Discover new, enriching trips with in-depth, authentic Tibetan experiences with Explore Tibet.