Lhasa to Kathmandu Overland: an Experience of a Lifetime with Explore Tibet
I and my wife Kit Yeng are a couple of travel writer and photographer based in Penang, Malaysia. We had desired to visit Tibet for a long time, but a mix of red tape, bad timing, and not so approachable agents made us continuing to postpone our trip.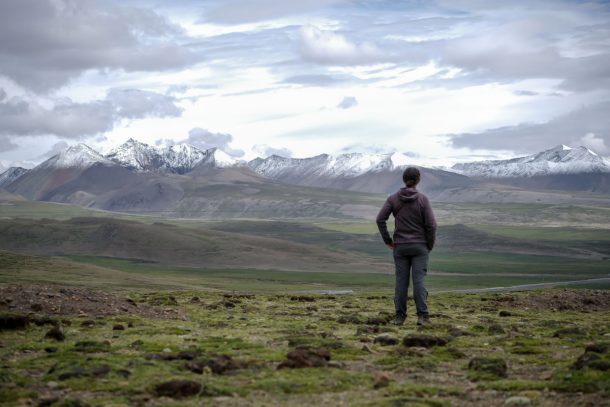 In the end, as soon as we heard that getting permits to travel Tibet had gotten easier in 2019, we started toying with the idea of going again. Being overland junkies, our dream was to tackle the Lhasa to Kathmandu trip. Finally, we found a trusted company in Lhasa-based Explore Tibet, who managed to made our dream trip come true in a very professional way.
This post recounts our experience traveling with them on tour of Tibet, leaving Lhasa overland to the newly opened Tibet Nepal border crossing at Kyirong
DAY 01. ARRIVAL IN LHASA
Welcome to Tibet," said the guide sent by Explore Tibet to fetch us at Lhasa train station as he put a silk white scarf around my neck. This is a symbol of respect for guests in Tibetan culture. After 22 long hours on the train from Xining to Lhasa, it felt great to finally here.
As Explore Tibet's manager Sonam had said when explaining how to print out and carry our Tibet Travel permits with us, we would have faced no issues with authorities — regardless, by the third time our permits were inspected upon arrival at the station, we were feeling a bit nervous.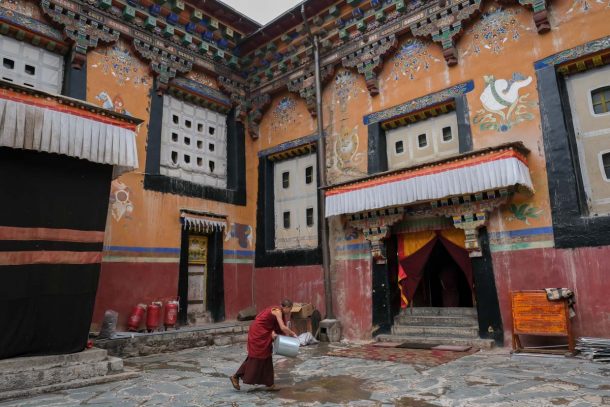 Lhasa, wow. I had dreamed about visiting this city for years, and now we were finally driving in Explore Tibet's comfortable passenger van to Tashitagke, our hotel for the night — a charming, traditionally decorated upscale guesthouse right in the heart of the city. We met our fellow travelers for the next few days (two Spanish and a Dutch couple) and we all walked to the Barkhor, Lhasa's central thoroughfare, to soak the incredible atmosphere of this city.
As expected, today's Lhasa mixes globalization with the timeless charm that has kept luring travelers from all over the world to this spiritual center of Vajrayana Buddhism . Around us, Tibetan pilgrims performed their prayers, prostrating to the floor at each step, in their final walk to the Jokhang, Tibet's most sacred temple set at the center of Lhasa. We explored the Barkhor square and continued walking in a feverish search for the Potala, the former palace of the Dalai Lama, a place that has been in our minds for years. When we finally saw it, placid and quiet in the dark of the night, we realized that this would be the trip of a lifetime.
DAY 02 and 03. EXPLORING LHASA
The next morning, Explore Tibet's guide and driver picked us up sharp on time from the hotel lobby. To better acclimatize to high altitude and prepare for our upcoming road trip to Nepal, we spent two days exploring Lhasa's sights. Besides the Potala itself, which has a strict visiting time of an hour — a very short visit for such grandeur and history — we spent more time soaking the serene atmosphere of the Drepung and the Sera monasteries.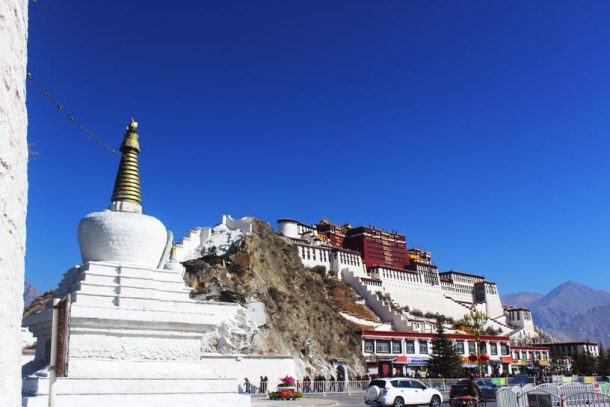 The first is set about 45km north of Lhasa and is one of the largest gompas in the world, at one point housing 10,000 monks. The second is closer to inner Lhasa, with a courtyard where it's possible to observe the monks' Buddhist philosophical debating in the early afternoon. We observed as they practiced their debates, slapping their left palms whenever they thought an answer was wrong.
DAY 04 LHASA (3600m) to SHIGATSE(3900m) via GYANTSE (3900m)
Lhasa certainly mesmerized us, but on the fourth day, it was time to start our much-anticipated drive. In this first day of the overland trip from Lhasa to Nepal, we would drive to the 3900-meter-high city of Gyantse via the beautiful Yamdrok Lake.
But the first real surprise of the day was hearing our guide say that "our first stop is a viewpoint of the Brahmaputra river". I was very excited: having visited India many times, and having seen this mighty river flow across the plains of Assam in Northeast India, I was so surprised to be able to see its upper reaches here in Tibet, where it originates.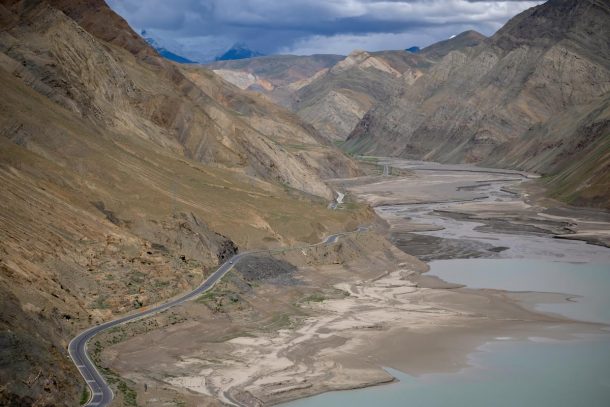 Next was Yamdrok Lake, a beautiful mirror of simmering water set at the bottom of a serene valley after 4700-meter-high Kampa La pass. Local Tibetans were set all along the shore, trying to make a quick buck off Mainland Chinese tourists by charging for pictures with their yaks and mastiffs. And how to blame them? Yamdrok Lake is indeed a supremely enchanting place we spent a good half hour photographing.
Back in the van, we kept driving until the next attraction, the Mt. Nyechen Kangsar Glacier. This slab of eternal ice is set after one of the highest passes on the route, the Karo La, at an outstanding 5100-meters of height. The pass is adorned with prayer flags fluttering above a deep gorge that tumbles into a deep blue river, a splendid viewpoint for photographers. My wife Kit was flickering her cameras madly, asking me to pose and walk up and down a stairway adorned with prayer flags that gave me terrific vistas into the gorge below. Those who fear heights, beware and hold tight on the railing.
Our group, I have to mention, was great to travel with: four very chatty people, extremely friendly and interested in making a great trip crossing Tibet together. I am not sure if we were lucky or if this is the type of people who are interested to travel to Tibet, but the atmosphere was great, and we rolled non-stop jokes all the time we were forced to sit in the van between attractions.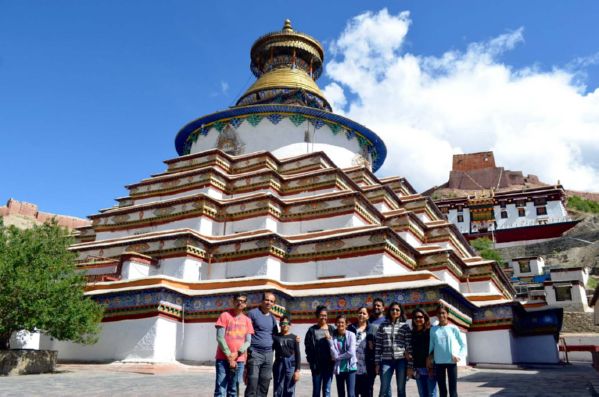 By the time we reached Gyantse, we stopped laughing to prepare for our visit to the Kumbum Stupa, the largest in Tibet, built in Nepali style. It's tall and decorated with the eyes of the Buddha similar to the Bodhnath stupa of Kathmandu, and grants amazing views of the crumbling fort that stands high over a boulder on the outskirts of Gyantse.
By the time we reached Shigatse in the evening, we were tired: the accommodation was in a central Tibetan-styled 4 star hotel, and most of us went straight to their rooms to sleep. Me and my wife Kit Yeng, on the contrary, had a stroll around town instead: developed like a modern Chinese city, Shigatse is populated by many migrants from Mainland China who set up business along its wide boulevards. We soon returned to the hotel to hit the sack, as the next day would have been another long slog on the road.
DAY 05. SHIGATSE to SHEGAR (4100m) via SAKYA MONASTERY.
The trip's highest expectation, I must be honest, was seeing Everest Base Camp. We were told that in a bet to reduce negative effects on the fragile eco-system of the base camp, starting from 2019 the Chinese Government introduced a new electric bus service. No more private vehicles allowed near Everest: this was decided to help cut the carbon footprint and avoid pollution at the former Everest Base Camp, which is now closed to tourists.
But little did I know that the Sakya monastery we stopped at en route would have impressed me so much. Divided into tho halves by the Zongchu river, Sakya monastery has a disused, crumbling part set above the old town, and a southern side with a newer monastery, which is the place where most of the prayers happen these days. The town is delightfully absorbed within the monastery grounds, whose dark grey and maroon walls demarcate the separation between monks and clergymen. Old Tibetan women in traditional clothes were walking clockwise around the walls, rolling the long series of prayer flags as they recited their mantras.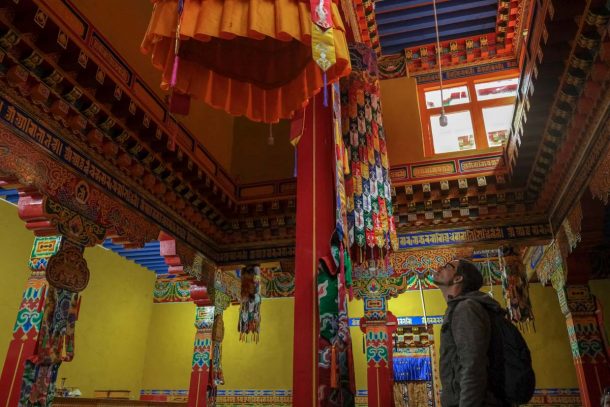 We spent even more time than usual in this place, snapping away happily until our guide courteously reminded us it was time to move on. By the time the van rocked uphill once again to take on the Tso La Pass — another 4500-meter-high beauty of twisted highways and brown, silent peaks for as far as the eye could see — we were still spellbound by Sakya's serenity. We bunked down in Shegar, crossing fingers and wishing for good weather for the next day… indeed, we crossed paths with a family of Dutch we had met on the road earlier. They had just returned from a day trip to the Base Camp, exhausted and disappointed, as they had seen nothing but a thick veil of mist-shrouded before the world's tallest mountain. We fell asleep with bated breaths and fingers crossed…
DAY 06. SHEGAR to Everest Base Camp (5100m)
…and it was useful, indeed. As if some gods had heard our prayers, we woke up to the shining sun, the best weather we had for the whole past week. We consumed our breakfasts in a rush, pushing to get to the camp as soon as we could and beat the inevitably approaching clouds.
For those who have never been to this part of the world, it's hard to describe the beauty of the scenery unfurling from the outskirts of Shegar onwards in words. We climbed again over perfect tarmac snaking along endless mountains until we reached the 5400-meter-high Gyatso La Pass. We made a long stop here to have our first sight of the mighty Himalayan range.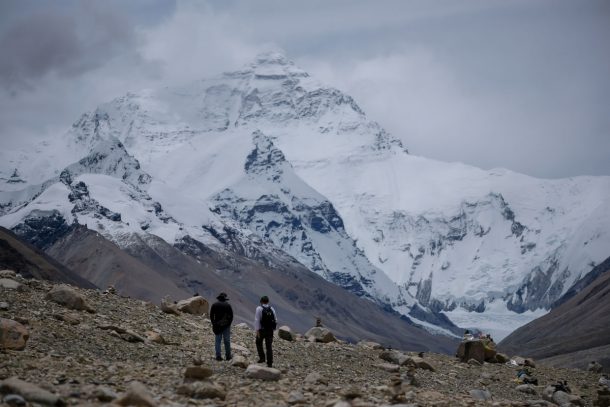 Of course, Mr. Everest was not in sight, clouded by a persistent white drape. But we got good views of the majestic peaks of Cho Oyu (8201 mt) and Makalu (8463 mt). However, one of our travel mates, who had come from Spain specifically to catch a glimpse of this amazing mountain range, was still speechless.
"But where is Everest?" he finally said. We were still hoping that the weather would not disappoint us, but the King of all Peaks was still nowhere to be seen. And when the driver dropped us at the Everest Base Camp eco-bus parking lot, the weather was starting to get cloudy… not a good sign.
"Everest…", our Spanish friend kept murmuring, looking through the bus windows.
But after a few curves, as if he had convinced the sky with his high hopes, we started seeing the tip of something big breaking up the blue horizon… it was shimmering with light, and whither than bone white. The sun had come to our rescue: as soon as we got off the bus and left our luggage at the tented camp we would have stayed on that night, we headed straight to the viewpoint… and it was amazing, for the best part of an hour. We didn't even care that we were right next to Rongbuk, the world's highest monastery. All we cared about was seeing the North Face of Everest. It was looking at us, the tallest dude in this world, without a cloud covering its majestic tip.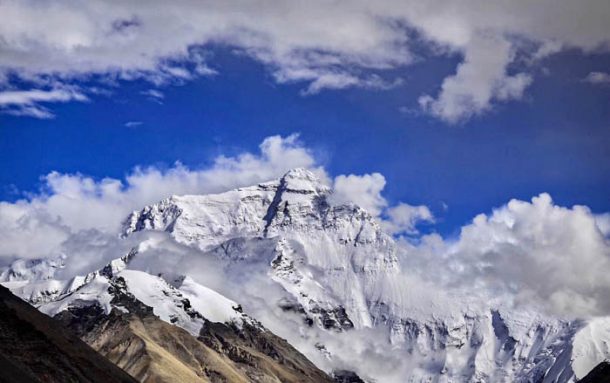 They came back, eventually, the clouds. At about noon, the groups who had arrived late started setting up their cameras and tripods, but to no avail. The white giant never came out of that white curtain ever again for the rest of the day. The night was cold — the coldest of the trip, and the accommodation was necessarily basic. But I had finally seen the mountain, so I sucked it up, together with the slight headache that came in towards the evening… needless to say, we were all up by the crack of the new day, ready to move down to warmer temperatures.
DAY 07. EVEREST to KYIRONG (1800m)
The drive down to Kyirong, where the new Tibet Nepal border is located, was placid. After all, we had got what we wanted: a glimpse of Everest. And we were starting to feel that the trip was coming to a conclusion. The van rolled down until the Thongla Pass and then Peikutso Lake, another large body of water studded like a jewel into the arid landscape.
But after that… things started to change. The arid Tibetan Plateau started to make way for more greenery, until we tumbled down across a gorge of green mountains, warmer air-kissed us, and majestic waterfalls welcomed us to the beginning of the Indian Subcontinent.
Kyirong — a dwarf at 2300-meters of height after all those five thousand-high peaks — is actually 25km away from the border, and is a nice and jolly little town filled with eateries and people going about their business. We spent our last night here, eating our last bowl of noodles, and thinking of the border crossing. After all, we had heard the usual stories about crossing this border — strict control, bag searches, stress, and a risk to get into trouble. We went to sleep without over-thinking it and preparing for the drastic change that crossing into Nepal would bring.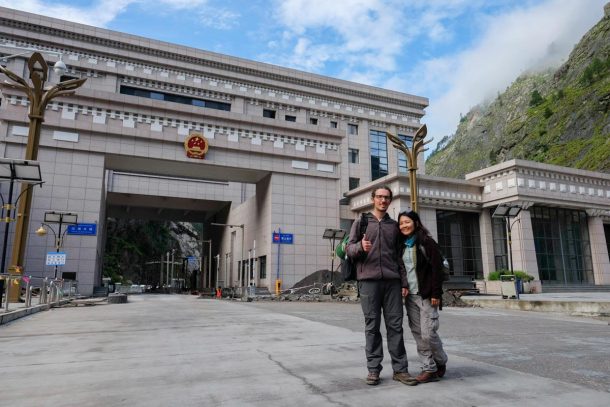 DAY 08. KYIRONG (2300m) – SABRUBESI.
Our Explore Tibet guide suggested that we left the hotel early, at 8 am, to be at the border first and avoid any potential queues. The border opens officially at 10 am, so we bade our farewells in front of the closed gates. Our guide accompanied us all the way through customs and immigration until the last of our Chinese exit stamps was freshly inked inside of our passports.
"I can't go any further, he said," waving goodbye to us all next to the immigration booth. He had served us very well, explaining things in great detail, always being careful that we understood what was OK and not OK to do or say while traveling through Tibet.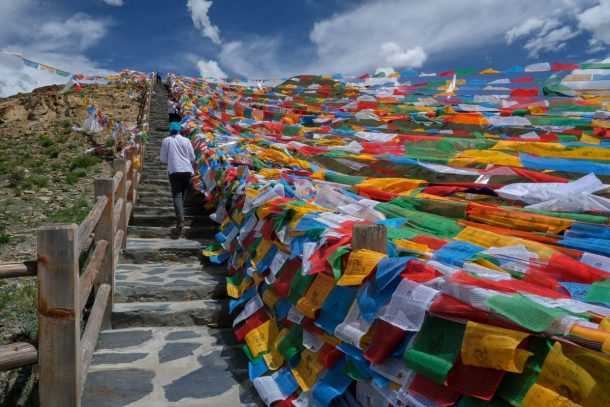 Beyond the border gate, the bridge leading to the Nepali village of Rasuwa and the rutted road and scenery was like entering the other, most rugged side of the coin when compared to Tibet's well-appointed roads. But Kathmandu was waiting: be forewarned, travelers. Even if there's a new border between Tibet and Nepal, it doesn't mean that the road is any good. It's a muddy, sticky slosh of mud after rains, and just slightly less impassable at other times of the year.
It took us another 9 hours of rocking and bumping to reach Nepal's capital. By the end of the day, we collapsed in a Thamel guesthouse, needing to rest our heads more than anything in this world. But we had made it: we had crossed Tibet, from Lhasa to Kathmandu. Explore Tibet made it all the more pleasant, with their careful organization, giving us enough freedom of movement, and solid support to travel this amazing, and yet restricted, part of the world. If you intend to embark on this trip, we highly recommend you take their services.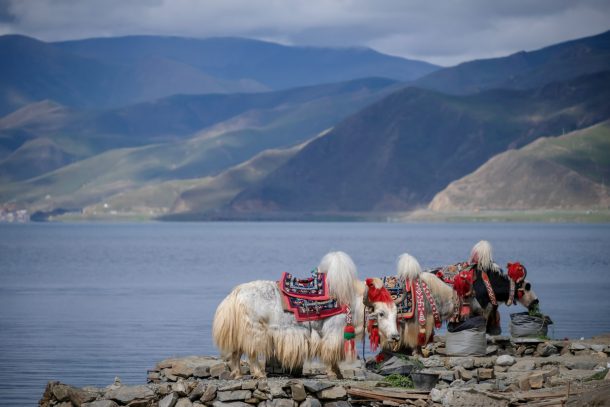 AUTHOR BIO: Marco Ferrarese lives in Penang since 2009, from where he covers Malaysia, India and the larger Southeast Asian region for a number of international guidebooks and publications that include the Rough Guides, Fodor's Travel, Travel + Leisure Southeast Asia, the Guardian, BBC Travel, Nikkei Asian Review, and South China Morning Post. Marco and his Malaysian photographer wife Kit Yeng Chan still call Penang home, even though they are on the road reporting from elsewhere most of the time. Know more about him and his books at Monkeyrockworld