How to Travel to Tibet: A Simple Breakdown of Your Options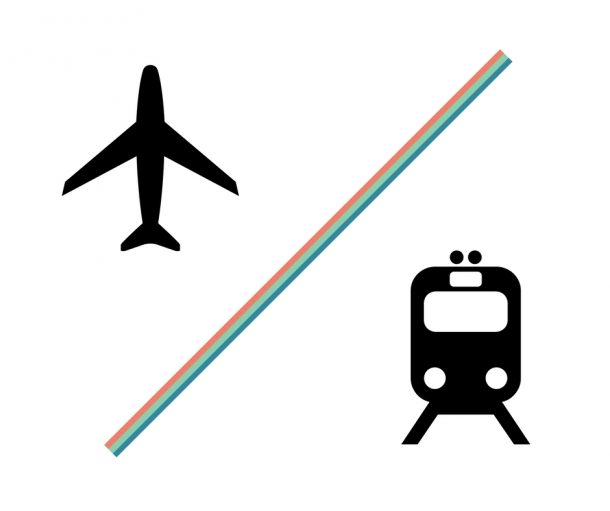 How to travel to Tibet is the most common question. Did you know that there is only one international flight into Tibet? It's from Kathmandu, Nepal and you need the Tibet Group Visa (different from the Tibet Travel Permit) to even board the flight to Lhasa.
Tibet is without a doubt one of the most remarkable places to visit in the world, but it's also one of the most difficult due to its political status and geographical remoteness. Though most people either fly or take the train into Tibet, the requirements, pros, and cons can vary greatly depending on which city or country you choose to travel from.
To make things easier, we've compiled this simple breakdown of the best options to get you off your computer and start trekking the Kailash Kora.
1. Fly International From Kathmandu to Lhasa

If you're already in the Himalayan Region or are from there, consider flying directly into Lhasa from Kathmandu, Nepal. Currently, Air China and Sichuan Airlines are the only two airlines operating flights between Kathmandu and Lhasa. For more information on prices and times, please visit our flights' page here.
As mentioned above, you will need to coordinate with your tour agency to obtain the Tibet Group Visa in order to board your flight. Usually, they will have a Nepali visa agent to help you apply for it, whom you will have to pay a service fee.
The Chinese Embassy is very particular about accepting the foreign currency. All payments must be made in US dollars with clean and new banknotes. You will also need several copies of your passport photo to attach to the Tibet Group Visa application. 
The downside is that there will be a greater risk of experiencing the symptoms of altitude sickness as you will be ascending to a high altitude very quickly. You will need to take it easy and drink plenty of water during the first few days to help you acclimatize.
2. Fly Domestic from Mainland China 

If Nepal is a bit out of your way or you're just not interested in going there, flying into mainland China is a good alternative. It eliminates the Nepali Visa you would apply for if you flew internationally from Kathmandu and you can add cities in China onto your itinerary.
Flights to Lhasa from mainland China are frequent and plentiful. After sorting out the visas and permits you need to enter Tibet, your agency will send your Tibet Travel Permit to your hotel. You will need it to board your flight. 
Like the international flight option, flying into Lhasa will put you at greater risk of experiencing altitude sickness. Also, the time you save in traveling could cost you a pretty penny during peak season.
For more information on flight schedules and prices go to our page here.
3. Fly into China and take the Qinghai-Tibet Railway to Lhasa

If you have plenty of time to spare, like to soak in the culture and environment, then flying into China and taking the train to Tibet could be the option for you. Though you will be on the train anywhere from 40 to 55 hours, you will be passing through some of the best views China has to offer. Oh, and did I mention it's cheap?
Compared to flying, you will be saving around CNY 1000 (~ USD 150)  if you book a soft sleeper (bunk bed in a cabin of 4) and about CNY 400 (~ USD 60)  more if you go with the hard sleeper (bunk bed in a cabin of 6). You can book a train to Tibet from any of these stations: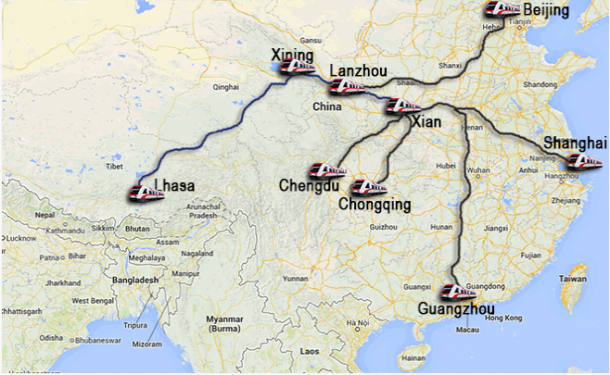 Out of these three options, taking the train is the best for acclimatization. From mainland China to Lhasa you will be ascending more gradually than you would during a 1 and a half hour flight from Kathmandu or any domestic flight. You will, however, still need to adjust to the high altitude of Lhasa during the first few days of your trip.
Tibet's right here waiting for you, whatever you choose we are happy to help. If you have any further questions, please contact us at [email protected]