How to Find the Best Bargain Air Tickets to Tibet
A trip to the roof of the world is one of the most amazing adventures in Asia, and with flights to Tibet taking from as little as 90 minutes to reach the capital's Gonggar International Airport, flying is the fastest way to get to Lhasa and your Tibetan experience. For travelers with limited time on their hands for travel to Lhasa, flights are the best and fastest option, although air tickets to Tibet are not always as cheap as in other places around the world.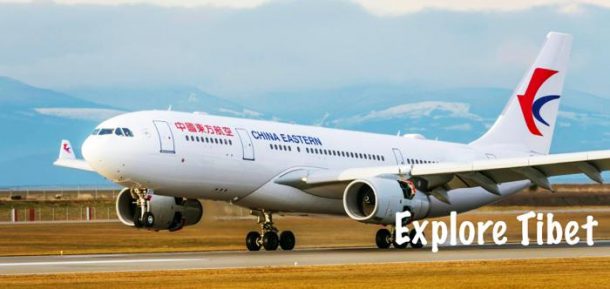 Normally, tickets to Lhasa are not as cheap as tickets for flight between the major cities in mainland China, and while you may find a small discount, usually only around 5% or so, finding a ticket with a larger discount to save money is hard. On average, the cost of a return ticket from mainland China to Lhasa can be almost as much as half of the cost of a tour of Tibet. However, there are some handy hints on ways to find cheaper air tickets to Lhasa to save money and reduce your overall tour costs.
When to Get the Best Air Tickets to Tibet
Knowing when ticket sales are at their lowest means that you know when the cost of the flights is also at its lowest. Peak season tickets are always the most expensive, so it is always better to look for low-season tickets to reduce the cost of the airfare. The low season for tourism in Tibet runs from around mid-November to the end of March, and this is the best time for low-season tickets with larger discounts on the price of the tickets.
Another good tip on finding cheaper flights to Tibet is to avoid the major holidays in China, such as Chinese New Year (Spring Festival) and the October National Day holiday. Both of these, among others, are times when thousands of Chinese tourists head for the plateau for a break from the daily grind, pushing up the flight prices dramatically.
One of the most unused tricks for travelers to China and Tibet is timing the booking of the flight. Majority of travelers tend to book their flights at the last minute, often hoping to find a quick deal on last-minute tickets. This can easily backfire, and you are unlikely to find a deal that can make it worth the risk. Booking the flight several months in advance is a great way to save money on flights to Tibet. The closer to the date of the flight, the more expensive it gets, so booking ahead can be a real money-saver.
Use the Flight Search Engines
Search engines on the internet are the best tool travelers have for finding cheaper flights to Lhasa from mainland China. There are literally thousands of flight search websites to choose from, and whether you use an obscure search engine or go with the more popular choices, you are almost guaranteed to find a ticket cheaper than you can buy one direct from the airlines or via an agency.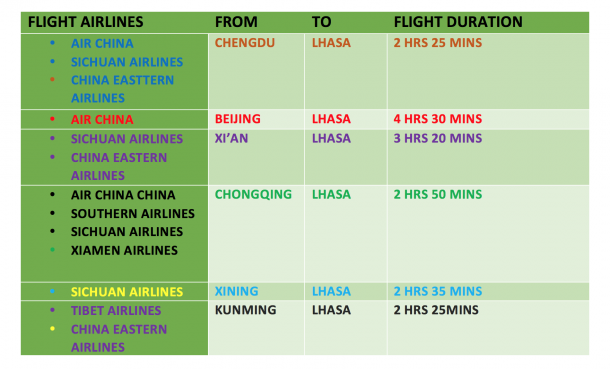 For example, a flight from Chengdu to Lhasa in June 2019, booked a month in advance with Air China, direct on their website, will cost around US$ 290.23 per person for a one-way economy flight. This includes the standard taxes and fees for airports, and the flight departs at 6:00 am from Chengdu Shuangliu International Airport. The same flight, searched through Skyscanner, one of the most popular sites, costs just US$221.48 per person, including taxes and fees.
The flight with Skyscanner is booked through the China Travel Depot, who is a local Chinese travel agency for flights, hotels, and car rentals in China. While the flight with Air China was cheap enough for an economy flight from Chengdu in June, by using the comparison websites for flight searches, who scan hundreds of affiliated websites for the best prices, you can save as much as 20% or more on the cost of each flight.
Non-stop flights or connecting flights?
One of the major conundrums faced by many inexperienced travelers is the option to fly direct or take a connecting flight. When traveling to Tibet from mainland China, there are some airports where you will not have a choice of taking a direct flight, as they do not offer them. However, from the major airports that do offer a direct flight to Lhasa, such as Beijing, Chengdu, Xi'an, Xining, and Kunming, the choice of which type of flight to take should be based on a combination of cost and duration.
Flights from Kunming are normally around 2 hours 45 minutes long, and the cheapest direct flight costs from around 172 dollars. However, the cheapest indirect flight, which takes around 4 hours 20 minutes, with a stop in Diqing, costs just 152 dollars, saving 20 dollars for an additional 95 minutes travel time. However, if you are traveling from Xining in Qinghai Province, then the best option is the direct flight, for around 123 dollars for a 2-hour 15-minute flight.
Flying from Chengdu to Lhasa is a popular route for many travelers to Tibet, and the cheapest flight from Chengdu to Lhasa is also the fastest one, costing just 203 dollars for the 2-hour 15-minute flight. Similarly, the flights from Xi'an are much the same as Chengdu, with the cheapest flights (US$149 pp) also being the fastest (2 hours 50 minutes).
Beijing is a departure location where you need to weigh up the pros and cons. The cheapest flight costs just 290 dollars, but then takes 10 hours 35 minutes, connecting through Xi'an on the way to Lhasa. However, the fastest flight, which takes just 4 hours 20 minutes, costs around 381 dollars, a difference of 91 dollars on the indirect flight. You will also find connecting flights that are more expensive than direct flights. If you can adjust your travel itinerary to opt for the cheaper option, then this is a good way to go. However, if time is important, the higher price will win out.
There are no direct flights from Shanghai and Guangzhou to Lhasa, and all flights travel through other airports to get to the Tibetan capital airport. However, with cheap indirect flights from Shanghai costing just 273 dollars for a 7h 55m flight, and from Guangzhou costing just 299 dollars for a 9h 30m flight, the choice of whether to make a different connection to save time is entirely up to you.
Budget Airlines in China
As with all other countries in the world, China now has several budget airlines where you may be able to get cheaper flights than with the major Chinese airlines such as Air China and Sichuan Airlines.
However, as with all budget airlines, there is little to no onboard service, and you pay fees for checked baggage, while carry-on space is extremely limited. The main Budget Airlines in China are:
Spring Airlines – Based out of Shanghai; good English website
West Air – Based out of Chongqing; good English website
9 Air – Based out of Guangzhou; Chinese only website
China United Airlines – Based out of Beijing Nanyuan airport; Chinese only website
Jiangxi Air – Based out of Nanchang; Chinese only website
Ruili Airlines – Based out of Kunming; Chinese only website
Flexible Travel Times
Time is one of the most important factors when it comes to getting great deals for flights, and there is no better way to get a great flight than to be ultimately flexible with your travel time. If you have plenty of time to spare while traveling and are not in a rush to get from point A to point B, then taking your time in finding the best deal before you hit the road is the best option. And if you really do have time to spare, waiting until you can find the best flight in the middle of the long journey can also help to get a better deal.