Food and Drink on the Tibet Train to Lhasa
When traveling to Tibet, many people decide to take the train from one of the seven gateway cities in Mainland China. Moreover, whether you are starting from Beijing or from Xining, all the trains have facilities for you to eat during your trip.
There are many options when traveling on trains in China and Tibet for eating, from a full dining car with on-site catering and chefs to cook your meals to order, to a snack trolley that sells various snacks, chocolates, and box meals to your cabin. Every train is fully equipped with both dining cart and restaurant so that you have an endless choice of what to eat during your 2-5 days of travel.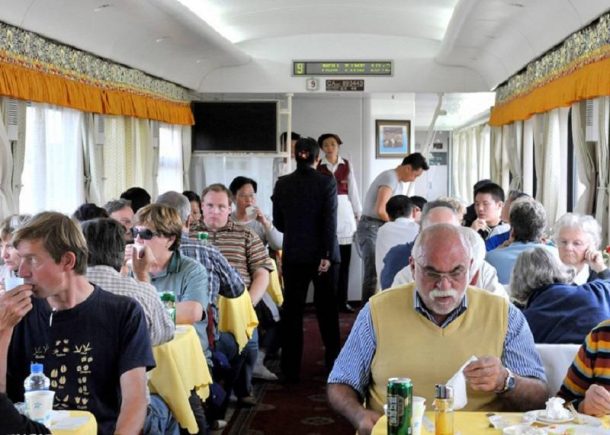 The dining car on the Tibet Train[/caption]
The dining carriage is normally in the middle of the train, located next to the first-class soft sleeper carriage, and can seat anywhere from 40 to 50 passengers at a time. The dining carriage is often in a different numbered car on every train, and there is no set carriage that is used on all trains. If you are not sure where it is located, you can ask any member of the friendly train staff. It is a good idea to get into the dining car early at mealtimes, since it is often crowded, and is unable to cater to every passenger within the meal periods. Get in and get a table at least half an hour before the meal starts. You can always get a beer and watch the world outside whiz by while you wait.
What to Eat and Drink on Tibet Trains
The restaurant car provides passengers with breakfast, lunch, and dinner throughout the entire trip. Breakfast runs from 7:30 am to 8:30 am, lunch is from 11:30 am to 2:00 pm and dinner is from around 5:30 pm to 7:30 pm, although the finishing times can run longer if people are still coming to eat. The meals that are served in the dining car are normally Chinese and Tibetan foods and consist mainly of rice, vegetables, meats, and soups. The food on the menu is often very limited, with the most popular dish being the Kung Pao Chicken, one of the few dishes that western travelers already know.
Breakfast is normally fairly simple, consisting of porridge, pickles, boiled eggs, Chinese bread, and baozi (Chinese steamed buns). Instant coffee is available, normally in individual packets, and often just 3-in-1. Tea is more readily available since it is drunk in both China and Tibet constantly.
For lunch and dinner, the menu is different and includes such dishes as the Kung Pao Chicken, Scrambled Egg with Tomato, Shredded Potatoes, Stewed Beef, cabbage, tofu, fish, and some meats. Vegetable Noodle, Beef Noodle, and Steak Noodle are also available. Different trains often have different menus, depending on their starting locations, and the provided menus are, unfortunately, in Chinese, so remember to ask for the English copy. If you are a big fan of Sichuan cuisine, you can get the train from Chengdu or Chongqing, which provides mostly Sichuan dishes.
The dining car also has a small bar, where you can get tea, coffee, and some local beers at any time, to drink in the dining car, or to take back to your cabin. Water, juice, wine, and other bottled drinks are also available.
Ordering food on the train
The dining cars on the trains normally have around 40 to 45 dishes to choose from for all the meals together, which consist of five cold dishes (salads, etc), eight Tibetan dishes, eight soup dishes, and around 32 ordinary Chinese or Tibetan meals. Such dishes as Stewed Yak with Crassulaceae, Yak with Carrots and Turnips, and a delicious Ginseng Salad are available from the varied menu. On average, a meal for two from the menu costs around 100 CNY.
Majority of the trains to Tibet have their menu in Chinese. However, since this has caused some problems in ordering for non-Chinese travelers to Tibet, it is now also available in English for foreign visitors. You may need to ask the waiters to bring you the English menu after you sit down.
Set Meal in Dining Car
Aside from the menu, which has many different dishes that can be ordered to make up the whole meal, the dining car also has certain set meals, which consist of rice and a selection of meats, vegetables, and eggs, and are served on a bent plate. The food is all Chinese meals in the set meal, and is nutritious and filling, although slightly expensive in comparison to a normal restaurant for the quality of food you get.
Box Meal from the Food Trolley
At every mealtime there are trolleys or carts that runs along the length of the train, dispensing meals for passengers who cannot or do not wish to eat in the dining car. All the food on the cart is a set meal that comes in a bento box and is normally served at a cost of around 20 to 25 CNY per meal.
Fruit from the Food Trolley
The food trolleys that run up and down the train at meal times also have fresh fruit available, such as bananas, apples, pears, peaches, etc. Fruit is a good addition to your diet on board the train, as it not only gives you the missing nutrients and vitamins that you will not get in the normal meals, but it can also help in staving off the effects of altitude sickness. Fresh fruit and vegetable have been shown to have beneficial effects in preventing and treating the symptoms of altitude sickness.
Snacks from the Food Trolley
Everyone loves to have some snacks to hand when traveling, and the train to Tibet is no different. The trolleys all have snacks on them, from potato and corn chips to nutritious granary bars and chocolates. Dried fruit, nuts, cookies, and other high energy snacks can be useful when traveling in a high-altitude environment, as they can give a quick energy boost when it is most needed. Traveling and trekking in high altitudes use a lot more energy than at lower elevations.
Drinks
Drinks are available on the train either from the bar, which is inside the dining car or from the snack trolleys that roam the train constantly. Bottled water is available, as well as beer, soft drinks, sodas, fruit juices, wine, and tea or coffee (usually only instant coffee is available, and you can get hot water to make it from the trolley).
FAQs
Is there hot water supplied onboard?
Hot water is available on the train day and night and can be obtained from the boiling water dispensers in every carriage. Boiled water is free of charge on the train, and can be used for tea and coffee, as well as pot noodles and other instant snacks. it is a good idea to bring a flask with you, so you can fill it with boiled water and keep it in the cabin, to save you from making multiple trips to the dispenser. Care should be taken when dispensing the boiled water, as the train is often shaking and the water can easily spill. Use a small cup to dispense the water, and fill your flask from the cup.
Can I buy some food at the railway stations en route?
At some of the major stations, the train will stop long enough to get off and buy snacks and packet foods from the many vendors that line the station platforms. The trains only stop for a few minutes to let passengers on and off, so you will not have much time. Make sure that you have small bills with you, as the vendors may not be able to change larger bills. The vendors normally sell all kinds of Chinese and western snacks, such as Spicy Strips, Pocky Chocolate Sticks, Chicken Feet with Pickled Peppers, as well as sodas, fruit juice, bottled water, bread, milk, and various fruits and packet meals. The train from Xining does not stop at any stations that have vendors, so make sure you buy them before you get on board.
How much does it cost to eat on the train?
Meals on the train are not expensive, by western standards, and the most you would expect to pay for a meal for two in the dining car, including drinks, is around 100 CNY. The price of individual dishes in the dining carriage is around twice that of normal restaurants and ranges from 20 CNY to around 60 CNY. Meat dishes are the more expensive, at around 40 CNY, while vegetable dishes start at around 30 CNY. It should be noted that payment on the train for all food is in Chinese currency, Renminbi.
Is there any vegetarian food on the train?
In every dining car is a set table, normally Table 1, which is reserved for Muslims and vegetarians. Many of the dishes on the menu are vegetarian-friendly and do not contain meat. There are also some dishes that are wholly vegetarian, and there are set meals for Muslims, which do not contain pork or pork products.