When mentioned Tibetan religion, the dense nationality color and its mysterious atmosphere will appear in mind, giving you the feeling of mystery and dignity. Besides, Tibet is a place where you can find art in almost all aspects of life of people. In the coming Tibetan New Year, you will see many Tibetans busying sewing the multi-colored prayer flags onto tree branches to make a prayer flag tree. In this sense, we can say that the prayer flag tree is one of the symbols of Tibetan long history religion .Explore Tibet Team, a professional Tibet travel agency, today introduces the special tree to you.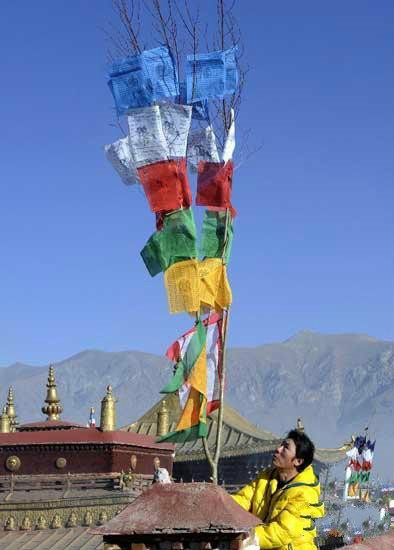 When you enter into Tibet, you will find the prayer flag trees standing erect on the roof of a Tibetan house. Tibetan prayer flag trees are a New Year necessity of Tibetan families. They can buy the trees on store or made the trees by themselves, and they just need sewing the multicolored prayer flags onto tree branches. Tibetan prayer flag trees sewed with multicolored sutra streamers, and the sutra streamers usually have five colors. From the top to the bottom, they are successively arranging from blue, white, red, yellow and green. The sequence of color cannot be shifted because it represents the blue sky, white clouds, red fires, green waters and yellow earth separately.
Tibetans use the prayer flag trees to pray for good harvests in the next year and good luck for their family member. Every year with the approaching of Tibetan New Year, Tibetans will put up prayer flag trees on the roof to replace the faded old ones. The day to renew prayer flag trees is the second day of the Tibetan New Year. On that day, all Tibetans will put up their best costumes, and carry delicious dishes and tributes to their own roof to hold a praying ceremony for replacing the prayer flag trees. Besides, as they walking around the prayer flag trees, they also throw highland barley flours in to sky to pray for the protection from divinities.
Then, they will enjoy a feast together with their family.
Comes and experience this magical world of culture with .Explore Tibet Team.