In Tibet, when mention Soinam Cering and almost everyone knows this celebrity. He is the first playwright in the Tibetan language, the compiler of the first record of folk vocal art and an initiator of Tibetan crosstalk. His crosstalk is popular and almost every Tibetan people will be able to name at least some of his crosstalk dramas .Explore Tibet Team, a professional Tibet travel agency, today introduces this playwright to you.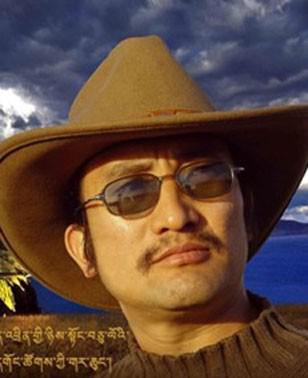 Soinam Cering is a 63-year-old man, who likes to wear a leather hat. He has versatility in folk-arts and his dream is doing some performance by studying at the Shanghai Theater Academy. He wants to find a new way of rejuvenating Tibetan traditional dramas, and he becomes the first playwright in the Tibetan language. Inspired by the extensive and profound of folklore in the plateau region, Soinam Cering finished his six-scene Romeo and Juliet-styled tragedy "Saigyi and Baigyi" based on the Tibetan folk tale of lovebirds.
The drama was a big success in the early 1980s and it created a great sensation among Tibet people. It was performed more than 30 times and it attracted more than 120,000 audiences. His second drama, a satirical comedy "Ngagu Dainba", was the peak of Soinam Cering's work, and many people from other counties traveled to Lhasa especially for watch this show.
Soinam Cering is not dissatisfied with his achievements and numerous prizes, and he wanted to do something to promote the development of Tibetan folk arts. His greatest wish is to turn the Tibet to a sea of song and dance, and to have Tibetan culture shine in the assemblage of Chinese culture.
The long history and exotic religion allures more and more tourists every year. Comes and experience this magical world of culture with .Explore Tibet Team.