As soon as you step onto this mysterious land, you will not only be immediately attracted by the snow-clad peaks, the wonderful mountains and rivers, but also the brilliant Tibetan culture.Most Tibetans are religious people and they are rich in religious life.When you pay a visit to Tibet,you will find that Green Tara painted or carved on stoned and Thankgkas or status in Monastery temples. Explore Tibet Team, a professional Tibet travel agency, introduces one of the more popular deities in Tibetan culture- Green Tara to you.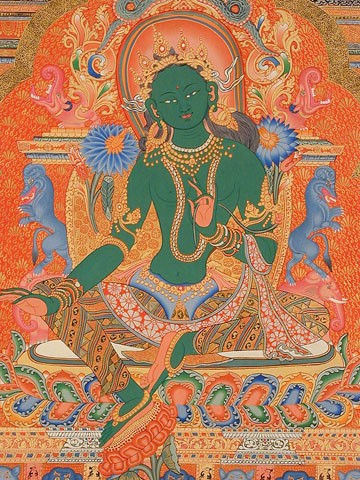 The Green Tara would seat on a lotus with the left leg folded and the right leg is stretch out to show she is ready to step down and go for action immediately.Besides,there is a blue lotus flowers in her hands,,which can show her purity and power.
Tara is one of the most revered deities of Tibetan Buddhism.She is known as the "mother of liberation" in Tibetan Buddhism,and she can bring some success in work and achievements.The primary role of Green Tara is to be a savior,and she can help people relief suffering and overcome dangers, fears and anxieties in all aspect,no matter from physical, emotional or spiritual.
Tibetans love to pray and recite mantras, and the Green Tara mantra is one of the main three or four mantras that can help ourselves and others.The main Green Tara is om tare tuttare ture soha.
Connect your own practice and growth with ancient imagery and timeless wisdom.Comes and experience this magical world of culture with Explore Tibet Team.