Tibetan medicine,as one of the oldest medical traditions in the world, has been evolving for nearly 3,000 years.Tibetan medicines are rich in its resources and types. According to statistics shows, China has nearly 3000 types of Tibetan medicines. The major materials of the Tibetan medicine includes plants, animals, and minerals.Explore Tibet Team, a professional Tibet travel agency, introduces one of famous Tibetan medication-Ghe Wam 9 to you.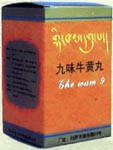 Ghe Wam 9 was initial recorded as a prescription in the "Four Tandara"( a monumental work about Tibetan traditional medicine) in the 8th century. According to the principle of Tibetan traditional medicine,Tibetan pharmacists usually adapt natural and precious herbs which grow up in the roof of the world. The main composition mainly include calculus bovis and Carthamus tinctorius,which lives a particular ecological environment.Besides, the Ghe Wam 9 combined the modern scientific methods with the traditional technological process,and the careful researches of some experts,eventually, the Ghe Wam 9 is manufactured superfine. Through more than 1000 years clinical test, it has been proved to have significant effects on treating the diseases of the liver and gall bladder with little side effect. It is one of the necessary drugs for the acute and chronic hepatitis and cholecystitis.;quick relief of symptoms,slows the course of an illness or disease.Besides,it can lower blood pressure, blood fat, Liver eyesight and other effects.
The efficacy of Ghe Wam 9 is strong,and the drug action is very adequate. This drug is highly appreciated by patients.Ghe Wam 9 is gradually being brought into the limelight as Tibetan culture draws much public attention both at home and abroad.It is approved by the Ministry of Health as one of the national prtected traditional medicines in 1997.Discover new, enriching trips with in-depth, authentic Tibetan experiences with Explore Tibet Team.
Other Related Post You Might Like