Why Travel With Us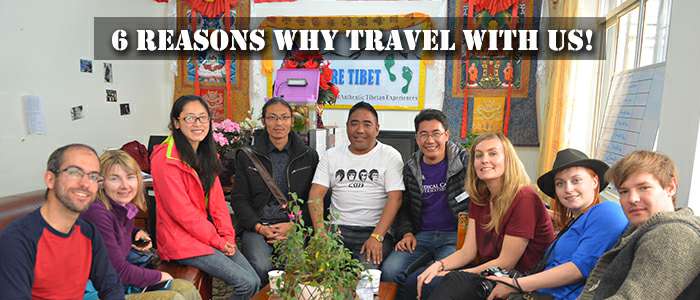 1. Highly recommended by Lonely Planet Guidebook and TripAdvisor: As number one in the list of Tibetan tour agencies, we are recommended by the newest 2015 Lonely Planet guidebook. Moreover, we are rated as 5 star Tibet travel company on TripAdvisor by travelers like you.
Check the Lonely Planet Guidebook page 35 and TripAdvisor Rating HERE
.
2. Our Expertise and Reliability:
All our trip advisors and tour guides are qualified with at least 5 years of guiding experience and insightful knowledge of Tibet travel information, so the trips and travel information that we provide are not merely based on guidebooks or heard from others but come from first-hand experience and knowledge of the local situation.
3. Certainly Flexible and Accommodating Itineraries:
We always try our best to make our trips as flexible as possible so that our customers are not confined by an itinerary that is restrictive and inflexible. We give your trip structure and direction, but you decide what you want to do with it as much as possible.
4. Absolutely no forced shopping or tourist traps;
We guarantee that all our tours are purely authentic experiences and we seriously object to any act of forced shopping by arranging an agreement with shops and factories.
5. 24/7 Services:
When traveling with us, we are always at the end of a phone 24/7, things happen as a part of an adventure, but you are never alone and Explore Tibet family will look after you.
6. Practice of Responsible travel:
We support the local community by using local services, volunteering in local villages, and always trying our best to minimize negative impacts on our environment and culture, so travelers responsibly and act locally is our priority vision.