Tibet Trekking at Mount Kailash
Mt. Kailash tour, as discussed many times before is one of the most fascinating and adventurous walks in Tibet tours and even used to be in the top lists of wilderness walks in the world. At an altitude of 6,714m, Kailash kora dominates 3 days of walks among wilderness and adventures in the snow.
Active Tibetan pilgrims tend to do the whole kora in 1 day starting early in the morning around 3 am and finishing at around 3 pm. But a slower pace will be better recommended for you with the giant number on altitude and all. Tibet trekking at Mount Kailash for the tourists is most memorable trekking ever because during the journey, tourists could enjoy and experience Tibetan Buddhism and Tibetan culture.
The first-day trek will get you as far as 20 km, the kora path starts at the western corner of Darchen (Ngari/Ali Prefecture) towards the west, and the traces of village will slowly fade as you hike across Barkha plain. The trek will come across many Buddhist pilgrimage sites relevant to the ancient mythical king Gesar of Ling, your local Tibetan guide will walk you through those. There are many photographic scenes, especially after the last stop of the day at Chuku Monastery, so take your time. When the weather is warm there are even beautiful ribbons of waterfalls.
The walk, in general, isn't so hard like it used to be but the adventures are still at the same level, there is a small market on the way and another at the end of the day's trek at Sershong. There even are 2 guest houses and a small bazaar. But the Drirapuk Monastery guest house is also doable for those looking for a quiet and peaceful rest, but the food there is basic to instant noodles. Remember to take a very good rest for Day-2's trek which is a bit shorter than the first but it is a challenge on its own.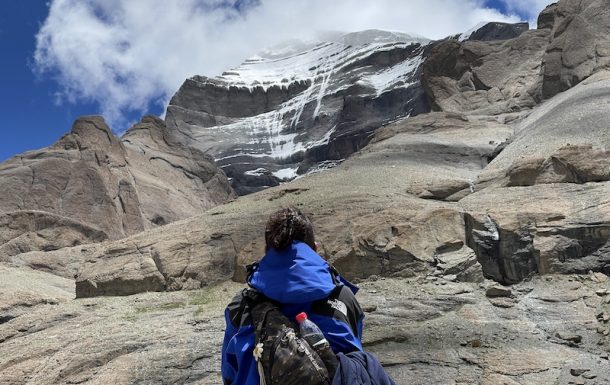 Explore Tibet has locally experienced guides to make your visit to Tibet even more spectacular, we also have some very well tailor-made itineraries –  15 Days Kailash Tour, 17 Days Mt. Kailash Pilgrimage , or you can customise your own Tibet Kailash tour.