Lhasa Weather and Climate
Lhasa
is the biggest city in
Tibet
and it grows very fast over the past few years, the
Lhasa weather and climate
is one of the top concerning informatioin for most of the travelers to Tibet, with the global warming effects,
weather and climate on the Tibetan plateau
is also changing every year, generally
Lhasa has comparatively comfortable climate from April to Sept
, with days surprisingly warm and nights pleasantly cool, then from mid of Oct to Mar, it start getting cold during the night, even during the winter months, Lhasa have very sunny days and big temperature differences between the day and night.
Monsoon starts from end of June till Aug, mostly it rains during the night and have very confortable weather, there are many festivals during this period and locals have lots of picnic and parties as it is most green and favourtable temperature in a year.
Lhasa had very few time snowfall during the winter months, mostly in Dec till Mar, but due to the strong sun light, the snow in the town last only for a day and the surrounding mountains will be snow-capped during the months, Lhasa is accessible throughout the year and even winter months are more intersting with local culture and poeple, there are less tourists during the winter months and it is one of the best time to experiences real Tibet and Lhasa.
Lhasa Annual Temperature Table
Months

Jan

Feb

Mar

Apr

May

Jun

Jul

Aug

Sept

Oct

Nov

Dec

Highest Temperature

(C°)

6.8

9.2

12

13.7

19.7

22.5

21.7

20.7

19.6

16.4

11.6

7.7

Lowest Temperature

(C°)

-10.2

-6.9

-3.2

0.9

5.1

9.2

9.9

9.4

7.6

1.4

-5

-9.1
Some Important Graphs of
Lhasa Weather and Climate
.
The temparature in Lhasa has big difference among different season, July and Aug are the hottest month with Maximum temperature of 24 degree celcius and lowest teperature 13 degree celcuis. Then from Nov till Mar, for 5 months the lowest temperature will get below 0 degree celcius, but during the day time it is still warm and sunny weather.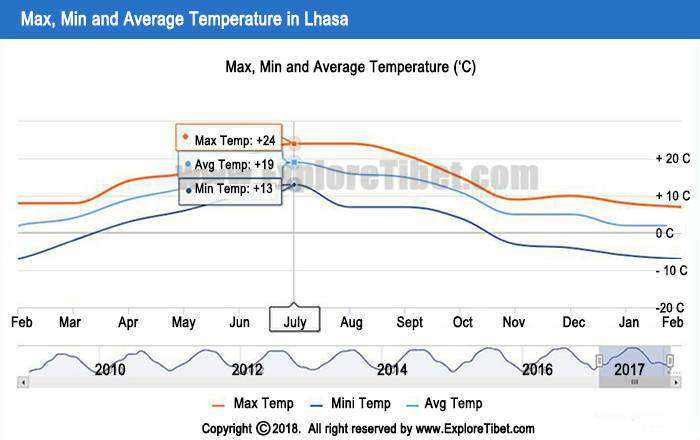 Lhasa Year-around Average Temperature, Maximum Temperature and Minimum Temperature in 2017.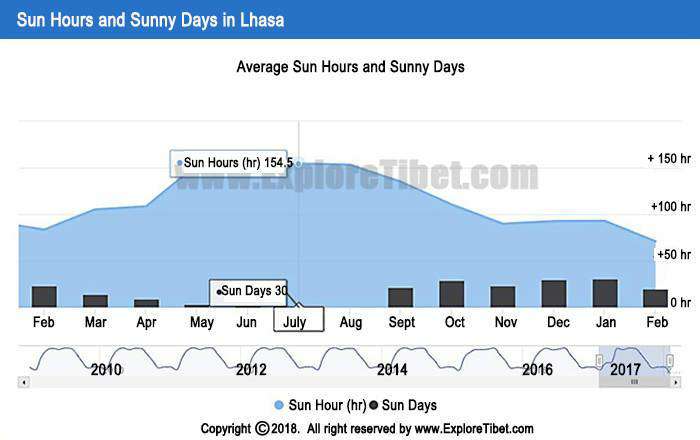 Annual Sun Hours and Days in Lhasa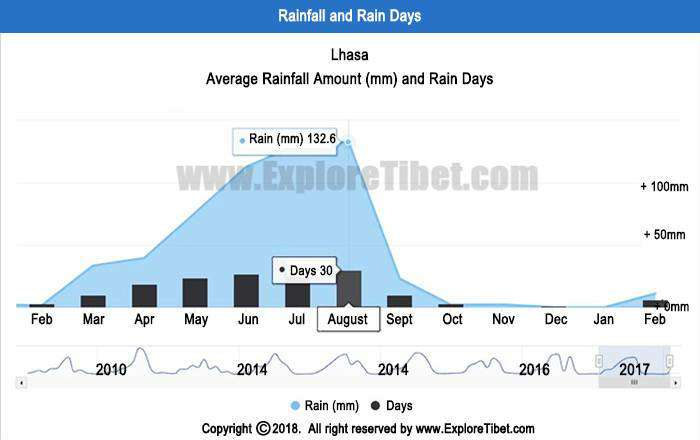 The main monsoon season in Tibet is from Mid of June till Aug, but mostly rainfalls in July and Aug, travel around Lhasa is an easy and it won't be affected by monsoon season as in Lhasa, it mostly rains during the night time and hardly rains during the day.
Annual Precipitation and Rainfall in Lhasa, Monsoon months in Lhasa.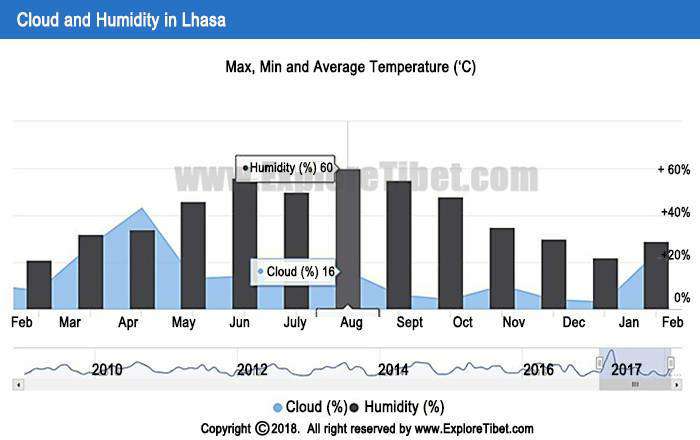 Annual Cloudy and Humidity Percentage in Lhasa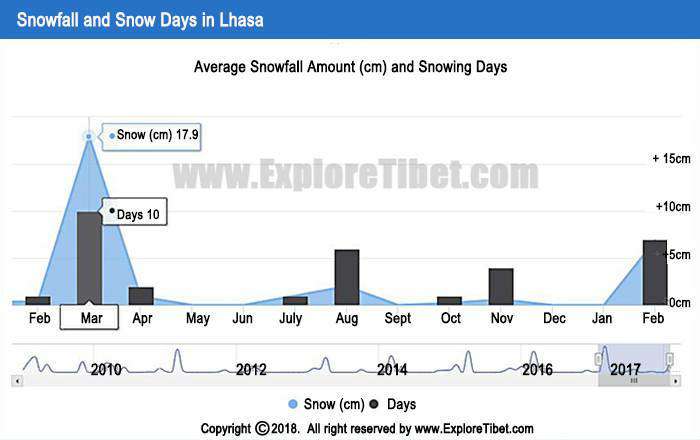 Annual Snowfall in Lhasa, Winter Months in Lhasa.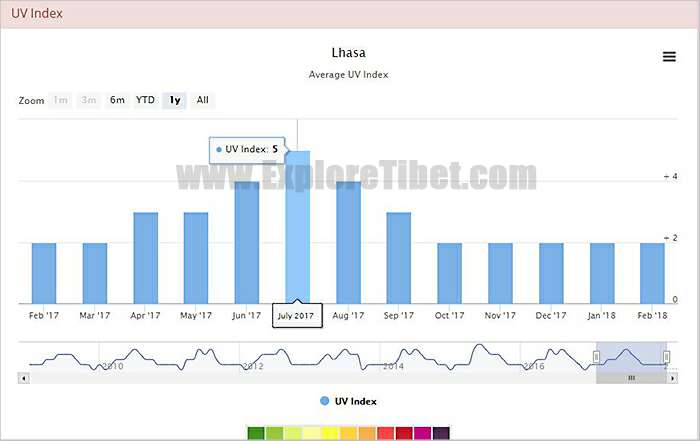 Lhasa Annual Ultraviolet Light Index.