Lhasa's Potala Palace Gets Its Annual Spruce-Up
Every year, hundreds of local volunteers and workers at the palace begin the monumental task of giving Lhasa's most iconic emblem an annual spruce-up. One of the most stunning
sights in Lhasa
, the Potala Palace gets its yearly makeover at the end of the tourist season in Tibet. The ancient Palace, which was once the seat of the Dalai Lama's power in Tibet, gets a facelift with new paint on the walls, and a general clean-up of the surrounding area.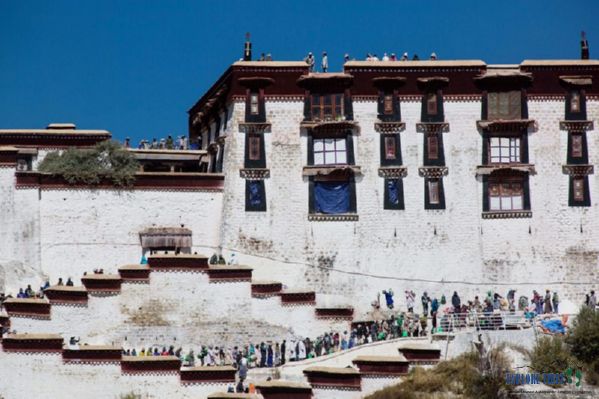 Volunteers gather to start the painting of the Potala Palace in Lhasa
Located on the original 1,300-year-old site of an ancient Dzong from the time of the Tibetan king,
Songtsen Gampo
, the palace was built in the 16
th
century. Constructed on the orders of the 5
th
Dalai Lama, the palace is listed as one of the most important UNESCO World Heritage Sites in Tibet in 1994. The palace is redecorated every year in preparation for the annual Lhabab Duchen festival. The festival is held annually and is one of four festivals that celebrate important events in the life of Buddha Gautama. The date of the festival, which occurs on the 22
nd
day of the ninth lunar month in the Tibetan calendar, is believed to be the day when Buddha returned from the heavens, where he instructed his mother on Dharma and his teachings.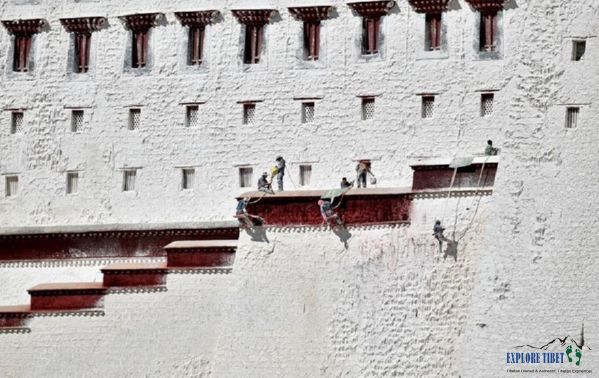 Workers hang from the roofs to paint the high walls of the palace
The red, white, yellow, and black paints of that are used on the palace's refurbishment are made in traditional ways that date back almost a thousand years in Tibet, and modern paints are never used. The paint colors have a major significance in
Tibetan Buddhism.
Red signifies authority, yellow signifies prosperity, white is the symbolized color of peace, and black is used to signify exorcism of bad spirits.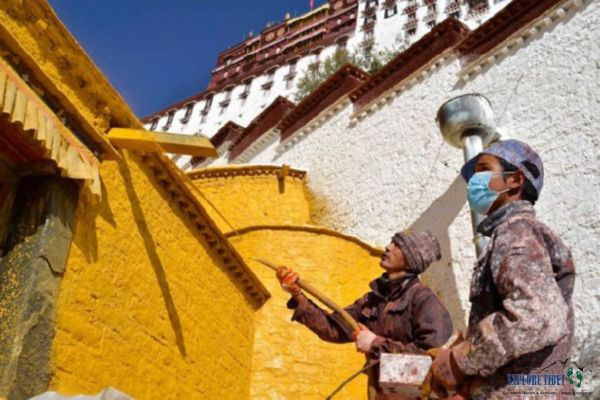 Saffron is used to make the yellow paint for the Potala Palace
The painting of the palace normally takes up to as long as two weeks to complete, with hundreds of volunteers from the local communities taking part in the redecorating. Locals believe that giving their time to help keep the palace looking good can bring good luck to them and their families. Hanging from ropes down the sides of the building, the volunteers use long-handled brushes to whitewash the walls.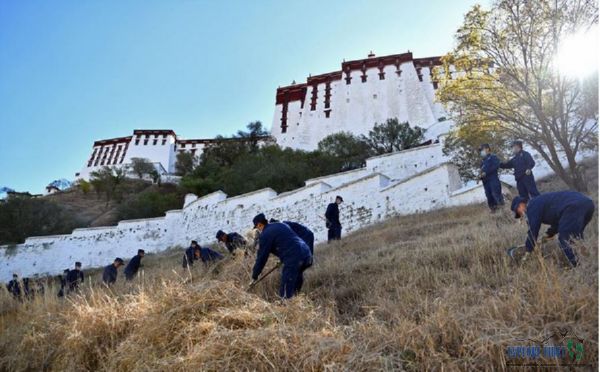 Firefighters from Lhasa Brigade clear the surroundings of the palace of dry grass and weeds
Meanwhile, in the area surrounding the palace, the local firefighters start their annual clean-up of the dry weeds and overgrown shrubs. Part of the dry winter fire prevention in Lhasa, the surrounding area of the
Potala Palace
is cleared of all the dry weeds that have grown up through the summer. This includes trimming the lower walls of the palace, where weeds grow in between the brickwork.