Dolma (Travel Consultant)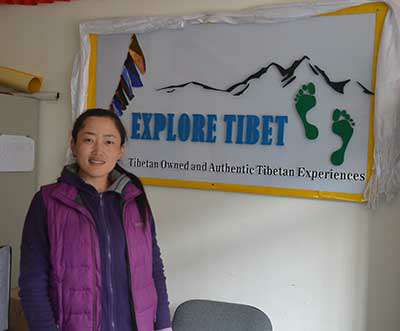 Dolma was born in 1986 at central
Tibet
called Utsang. Since she was a child, she became so interested in foreign languages and when it came to middle school, she put her full efforts to learn English. Hence, after middle school she went to a private language school to realize her dreams. While learning English from private school, she realized that she wanted to be a translator or tour guide in order to introduce
Tibet
an Buddhism, culture and histories to foreigners. She struggled a lot and in 2006, she graduated from the English language school and was able to fulfill her dream once again. While she was in that school, she was a dance & singing leader in Tibetan opera which shares different stories of kings, scholars and decent families of initial centuries in Tibetan civilization.
Since after that Buddhism, culture and Tibetan opera became her major interest, she always preserved what she knew about those. In 2007, she obtained her National Guide License and led so many foreigner groups in and outside Tibet. She shared different histories, culture and
Tibetan Buddhism
with clients and almost 100% of foreigners gave excellence reviews and recommendations to her. So years of experience made her life more adventurous and she took every opportunity to improve her language skills and knowledge of Tibet and its people. After guiding more than 9 years she is able to do all sorts of trips including major trekking in Tibet including Kailash trek, EBC trek and Gaden-Samye trekking.