Tibet Celebrates Fairy Festival
All over Tibet, locals have been celebrating one of the most spectacular festivals in the region, the Fairy Festival. Also known as the
Palden Lhamo Festival,
or the Women's Festival, this unique Tibetan festival is celebrated on the 15
th
day of the tenth month in the Tibetan lunisolar calendar. This year, the festival fell on December 12, and was celebrated all over the plateau.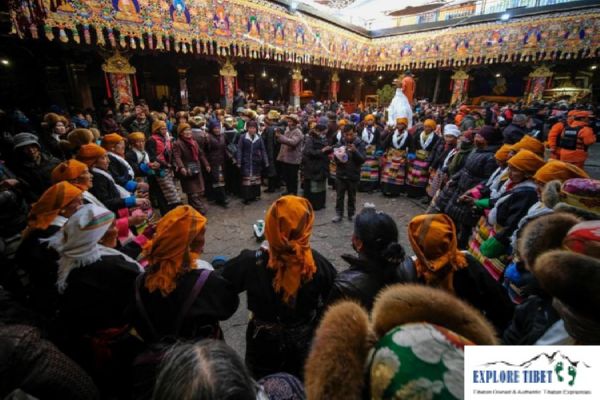 Celebrating the Palden Lhamo Festival in Lhasa, Tibet
As part of the festival activities, women can dress up and make their pilgrimage to the temples to pray and present Kada to their preferred angels and fairies. They can also spend time on themselves, going shopping and going out to eat, and in particular, ask for money from men that they can donate to their fairies. Women have the right to ask for money from any man they meet, and the men are expected to be generous in order to be endorsed with good luck for the upcoming year from their charitable contributions.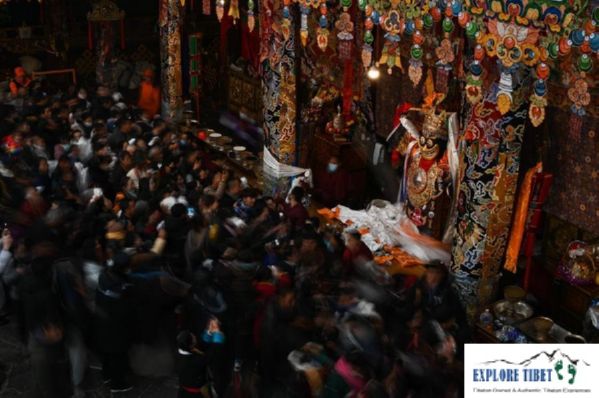 Praying in front of deities in Jokhang at the Fairy Festival
In families, parents give money to children as gifts meant to celebrate the bounteous harvest, as well as the impending New Year. In Lhasa, the people tend to gather around the
Jokhang Temple
, with the women dressed up in their finest decorative clothes while they sing and dance throughout the day. The most popular and festive place in Tibet for the Fairy Festival is the area in front of the Jokhang Temple, where thousands of women come throughout the day to pray piously and pay homage to Palden Lhamo.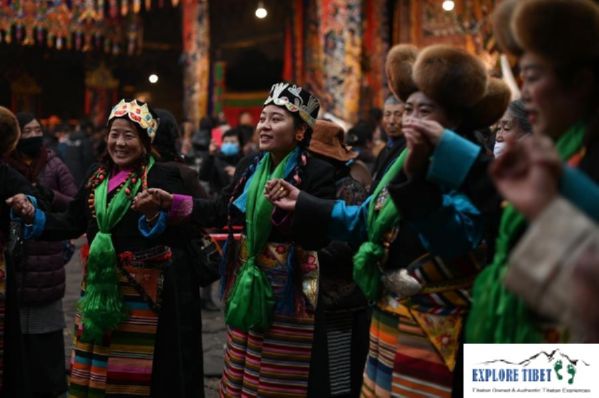 Singing and Dancing in front of the sacred Jokhang Temple in Lhasa
In Tibetan mythology, Palden Lhamo, which means "Glorious Goddess", is the protector goddess of Tibet. She is also deemed to be the female guardian spirit of the sacred lake,
Lhamo La-Tso
, the lake where the lamas go to discover the reincarnations of the Dalai Lama. It is also said that, when
Songtsen Gampo
built the Jokhang Temple for his wives, he made Palden Lhamo the protector of the temple.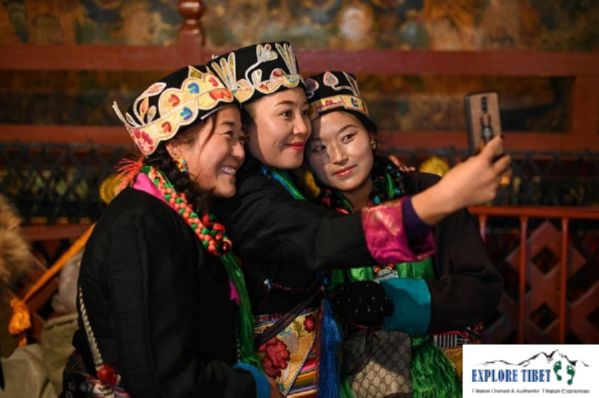 Getting the best "groufies" during the Women's Festival
The festival has its origins in ancient Indian mythology, and the goddess Palden Lhamo, known ias Bandanlamu in India is said to have had a bad temper and three daughters. After she arrived in Tibet, she lived where Lhasa now stands. Her oldest daughter, Baibadongze, fell in love with a general, and when Palden Lhamo found out, she banished him to the south of the Lhasa River, only allowing them to see each other from across the river once a year. But Baibadongze was kind to the women of Lhasa, who sympathized with her and made her day of looking across the river at her lost love into the Fairy Festival.