Temple Of Guan Yu In Lhasa Undergoes Restoration
One of the many ancient temples in
Lhasa
, the Guan Yu Temple in the Tibetan capital of Lhasa has begun its restoration. Dedicated to
Guan Yu
, one of China's deified historic figures, the temple has recently seen some damage and wear to some of the wood and stone of the original building.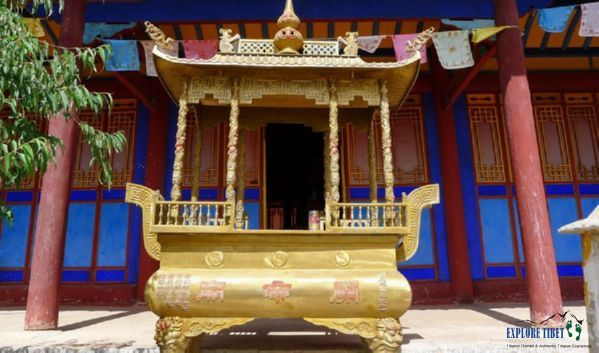 Guan Yu Temple on Mopan Mountain in Lhasa
The renovation project began on the temple in 2007, and repairs were done on the main hall,
the Manjusri Hall,
and the monastic dormitories over the course of three years. Now, the renovations are beginning again to repair the ancient structure and maintain the original charm and architecture of the temple. The temple was built during the Chinese
Qianlong Period
in around 1792 on the top of the small Mopan Mountain, in the west of the Tibetan capital. Constructed in a style that combined the architectures of both Han Chinese and Tibetan design, the temple was dedicated to one of China's most famous historic figures from the Eastern Han Dynasty, General Guan Yu.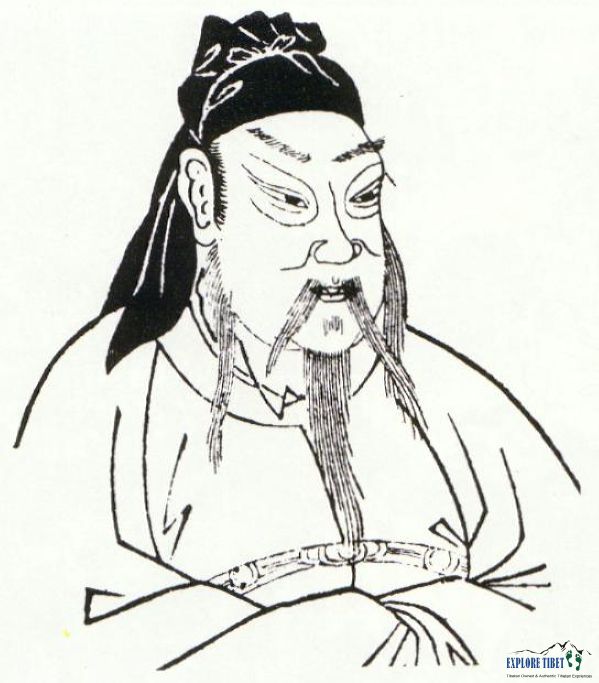 General Guan Yu, taken from the Sancai Tuhui, an ancient Chinese encyclopedia
Serving under the reign of the warlord, Liu Bei, Guan Yu, who was given the courtesy name of Yunchang, played a major role in the events that led up to the end of the Han Dynasty and the establishment of the Shu Han State of the Three Kingdoms Period. After his death by execution in 220 AD, following the fall of Jing Province, Guan Yu was deified during the Sui Dynasty in around 600 AD. The tales of his deeds and achievements have been glorified to the extent that he is still worshipped by many Chinese people, and is devotedly known as the "Divus Guan" in the Chinese folk religion, as well as Confucianism, Taoism, and Chinese Buddhism.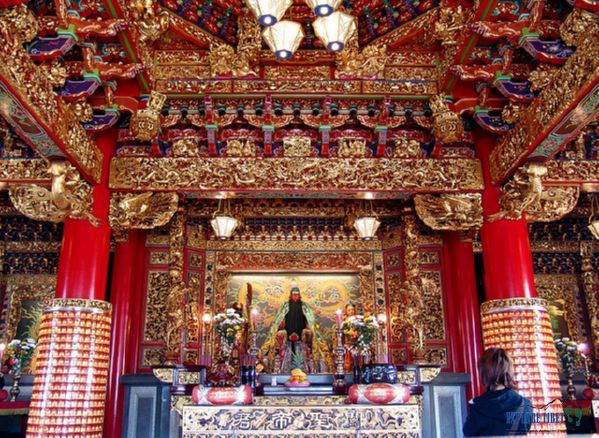 The red-faced Lord Guan Yu in the temple on top of Mopan Mountain in Lhasa
While the temple may not be famous in Lhasa in tourist terms, it is one of the most beautiful ancient temples in the area, and is well worth a visit to see the shrine that was dedicated to the General and the red-faced statue that sits in the central hall. How there came to be a temple to a long-dead Chinese General in the capital of Tibet is a mystery that has yet to be solved. All that is known is that the temple was built by the Qing Dynasty general, Fu Kangan (Fuk'anggan), after the Sino-Nepalese War in 1790, in which Fu Kangan was appointed as Commander-in-Chief of the campaign to help the 8
th
Dalai Lama repel the Nepali Gurkha Armies.