Shoton Festival To Be Held In Tibet On August 30

Lhasa, with its iconic Potala Palace landmark, is the best place to see the Shoton Festival.
According to the latest release from local authorities in Lhasa, the annual
Shoton Festival,
known also as the Yogurt Festival, will begin in Lhasa on Friday August 30, 2019. One of the most popular religious and social events in the
Tibet
an calendar, the Shoton Festival is held in several places in Lhasa, though the most popular for many
Tibet
an families in the city is the beautiful Norbulingka Palace Park. Lasting for around seven days, this outstanding festival is one of the best times for getting to know more about the people of Tibet, their customs, and their traditional heritage.
The Tibetan Shoton Festival in Lhasa starts with a Thangka unveiling ceremony at Drepung Monastery.
This year, the Shoton Festival event in Lhasa will feature the traditional "Sunning of the Buddha" ceremonies, ethic costume shows, equestrian events, and the ever-popular Tibetan operas. The festival in Lhasa starts at the Drepung Monastery, with the whole event kicking off with the unveiling of the giant Buddha Thangka on the thangka platform at the foot of the hill. As the sounds of the trumpets sound across the valley, the thangka will be carried out by the lamas and unfurled for the waiting host to see. Later, it will be rolled back up and returned to its place in the monastery for another year.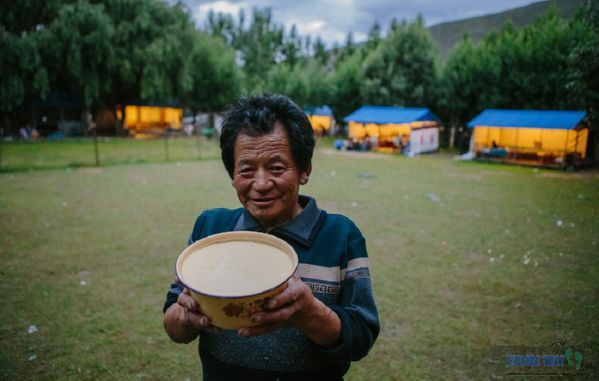 Tibetans make their unique yak-milk yogurt to eat and enjoy at the annual Shoton Festival.
Then, the festivities start in earnest, with a whole plethora of events being hosted at different sites around the city.
Norbulingka Palace
is a popular location for the Tibetan operas, and families gather in the park to watch the operas, enjoy the sunshine and beautiful gardens, and spend time with families, while eating copious amounts of yogurt. The operas start every day from the second day of the festival, and run from around 11:00am until dark. They can also be seen at the smaller park close to the
Potala Palace
.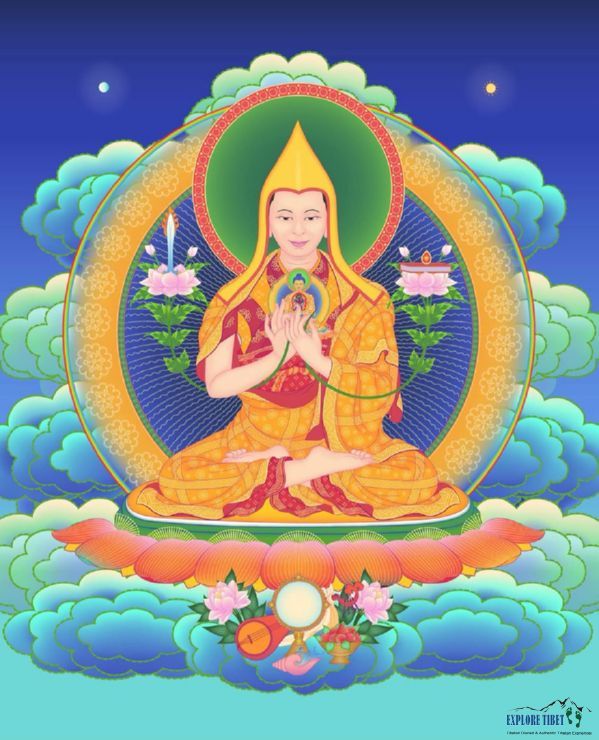 Je Tsongkhapa - The founder of the Gelug School of Tibetan Buddhism
The celebrations were first initiated after Je Tsongkhapa, the founder of the Gelug School of
Tibetan Buddhism
, ruled that the monks would spend their 100 days in meditation and fasting inside the monasteries to prevent them from stepping on any small creatures during the important period of meditation. After the fasting period was done, the monks would come out of the monasteries, and the local people would present them with milk curds to help regain their strength and as an offering of thanks for their sacrifice. This slowly changed to become yogurt, and as operas and other events were added to the day, the festival took root and has become one of the greatest
Tibetan festivals
in Tibet.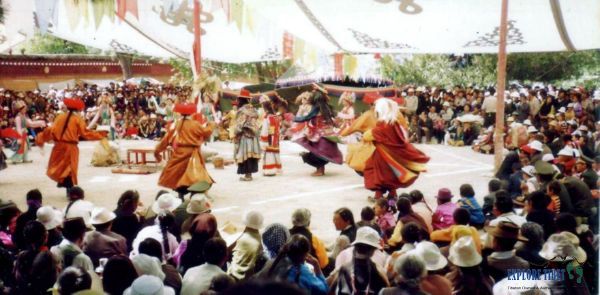 Tibetan opera performances are held during the annual Shoton Festival in Lhasa