New Environmental Protection On The Qinghai Tibet Highway Postal Route
The
Qinghai Tibet Highway
is the most important road to Tibet, and runs for more than 2,000 kilometers from Xining, the capital of Qinghai Province, to
Lhasa
, the capital of the
Tibet Autonomous Region
. Thanks to a new initiative from the
China Post Group Corporation
, the first environmental protection postal route to Tibet was launched in early June.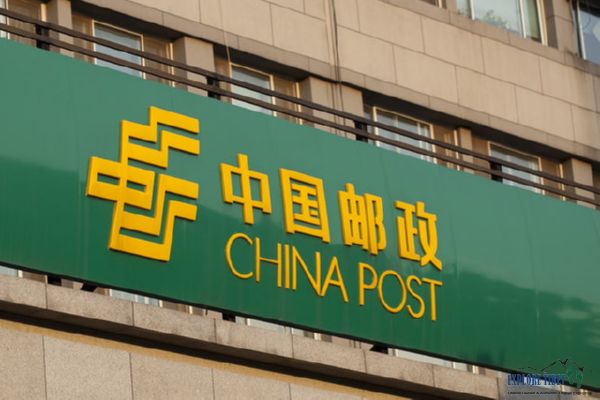 China Post Group Corporation, the official Postal Service of China
Over the past several years, the stunning scenery of the Qinghai Tibet Highway has been marred by an increasing amount of trash by the roadside, even in some of the most sparsely populated areas of the highway. Now, in collaboration with the local branch of the China Post Group in Qinghai Province, the provincial government has come up with a set of new methods to counter the garbage and strengthen the environmental protection along the route to Lhasa.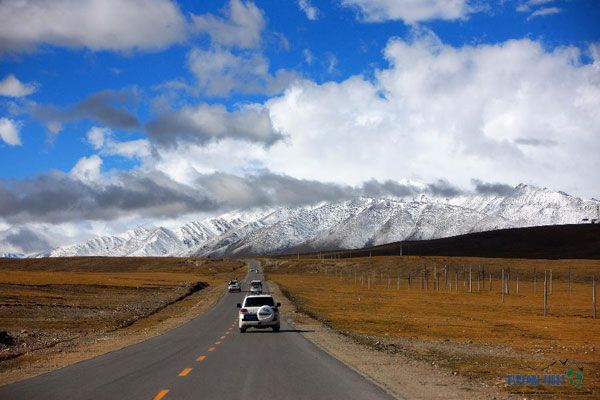 Cars driving south along the famous Qinghai Tibet Highway in China
According to the deputy general manager of the China Post Group, Zhao Liping, the environmental protection provided along the post road to Tibet began in Golmud, and passed through 23 different mail transfer points along the highway, covering a distance of 470 kilometers in a single journey. Increasing the post road to become the longest and highest post road in the world is an amazing feat, and one that will start to provide regular mail services to areas of the plateau which are cut off from the world, except for the highway passing by them.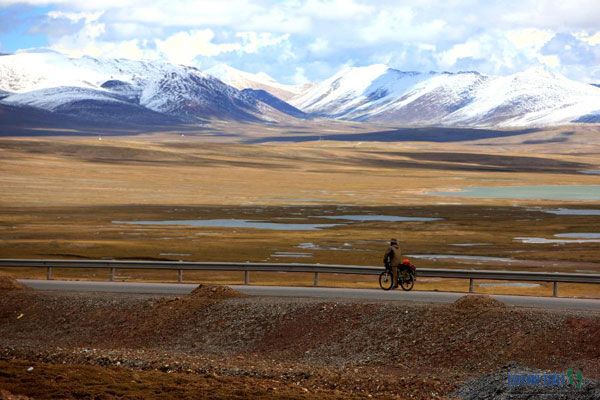 A cyclist stops to enjoy the scenery on the Tanggula Shankou section of the Qinghai-Tibet Highway
The drivers along the post road will also take on additional responsibilities, including environmental protection tasks such as distributing environmentally-friendly mail boxes to people in remote areas and transferring rubbish out of the remoter villages and communities. The postmen will also be able to take packages of fresh beef and mutton from the local herdsmen for delivery to their customers.
Beside, the Qinghai Tibet Highway has attracted many tourists from all around the world, and with this favorable road,
Explore Tibet
had initiated
Motocycle Tours
from Kyirong to Lhasa and had been completed the tours with great appreciation from all clients and their
Tibet Tour
had been very successful due to this well developed highway in Tibet.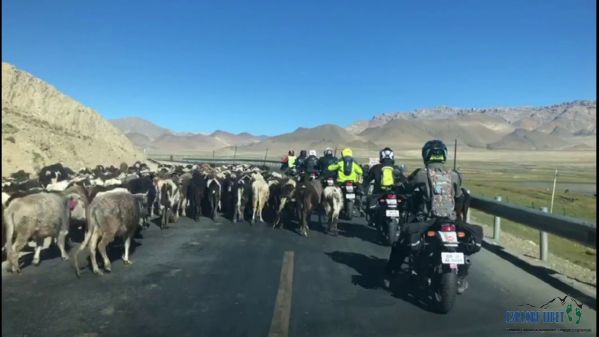 Motorcycle tourists ease their way around a herd of yaks on the highway