Nepal Border Landslide Road Situation Update
In past couple of months,
travel from Tibet
to Nepal by land became an issue due to the
landslide
in the Nepal border, and on the internet, there are lots of different information and it is pretty difficult to get an accurate information.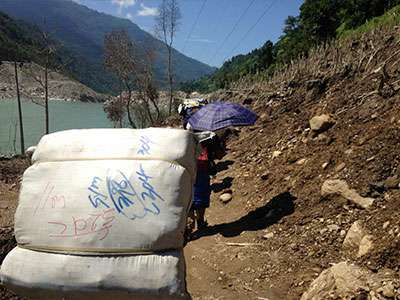 Yesterday, a group of our clients finished their
Tibet tour
at the border and enter into Nepal on the same day, then when they arrive in Kathmandu they have provided the latest update of the road situation to us, and we are happy to publish this update to our readers who are wanting these information.
The road is still not finished and you need to take local cars from the border to the landslide area, then from there walk for less than 3 hours through the dried river bed, and then from the other side take another car to Kathmandu, if you have bigger luggages then there are porters at the place for USD10 per porter.
There are also helicopters available for booking, cost of the helicopter is varied from different operators, from Fishtail charges about USD330 per person, there are also a booking office at the Tibet border which charges around USD300 per person this included transportation from the border to the chopper station and then from the airport in Kathmandu to your hotel.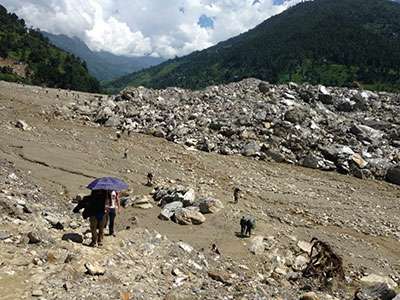 Here is an update from one of our clients who just finished the trip," We arrived late last night in Kathmandu. The Araniko Highway is still blocked from the landslide near Barabise. Apparently, motorbikes can already use the new road, yet it is still closed for all other vehicles. We took a public bus from Kodari to Barabise. From there it is an easy walk for around 30 minutes (2km) to the actual landslide (tourist jeeps might go until this point). From here one has to choose: One can either walk on the new road up the hill above the landslide (which is longer but easier), or one can walk on the old road, which is covered meters high with stones and earth. This way is shorter (around 4km, 1 hour), yet waterproof boots with a good profile are definitely a plus (even though porters go in flip flops). Also, since it rains frequently, it is advisable to pack all backpacks in a waterproof way and have a rain coat at hand. Porters cost around USD 3-5. Right behind the landslide area, one can take a public bus or tourist jeep to Kathmandu. "