Lhasa Nyingchi Railway Bridge Over Yarlung Tsangpo River Is Completed
Saturday November 9 2019 saw the completion of one of the most complex bridge structures on the upcoming Lhasa Nyingchi Railway. The bridge, which will be known as the Bayu Bridge, crosses the Yarlung Tsangpo River in Shannan Prefecture. This massive feat of engineering completes a whole section of the first electrified railway in the Tibet Autonomous Region. This comes just a few days after the construction of the Bayu Tunnel, a 13,073-meter tunnel close to the bridge, was completed on Sunday November 10, 2019.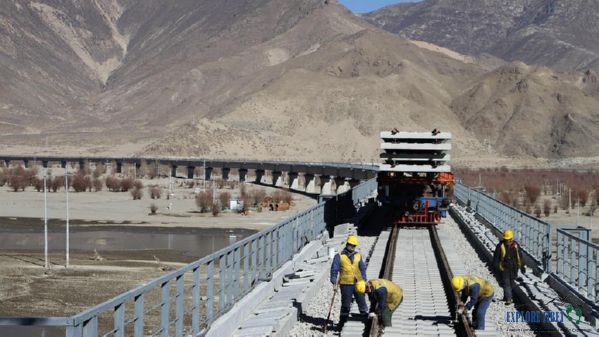 Construction workers on Saturday completed the joining of the Bayu Bridge
The completion of the new bridge, which was joined in the middle to finally complete the major construction, has marked a huge breakthrough in the building of the first railway to link
Nyingchi Prefecture
with the
Tibetan capital of Lhasa
. Previously, the only way to get to Nyingchi was to drive from Lhasa or Chengdu in Sichuan Province, at the other end of the Sichuan-Tibet Highway. Renowned as one of the most dangerous roads in the world, the Sichuan Tibet Highway is also one of the most scenic routes to Tibet. However, the section from Lhasa to Nyingchi still takes around 4 hours 30 minutes to drive along the newly-opened Lhasa-Nyingchi Expressway, and around 10 hours along the older highway route over the Mila Mountain Pass.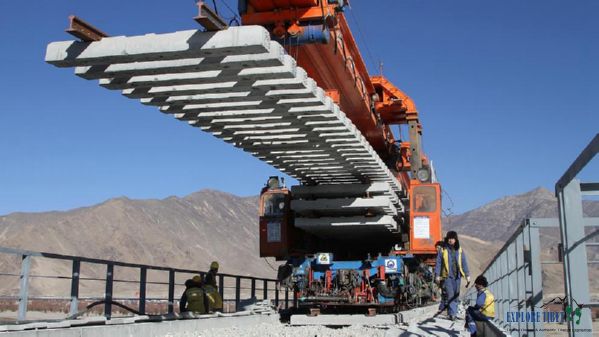 The construction site of Lhasa-Nyingchi railway in southwest China's Tibet Autonomous Region
Once this new railway is completed, the trains are expected to travel the 435 kilometers between Lhasa and Nyingchi in as little as 2-3 hours. Construction on the section of the longer Sichuan-Tibet Railway began back in 2014, and if it remains on schedule, is expected to open for business sometime in 2020. And with operating speeds of up to 160km/h, it will make travel between the capital of Tibet and the beautiful alpine scenery of Nyingchi faster and easier for locals and tourists alike for
Tibet Tours
in Tibet.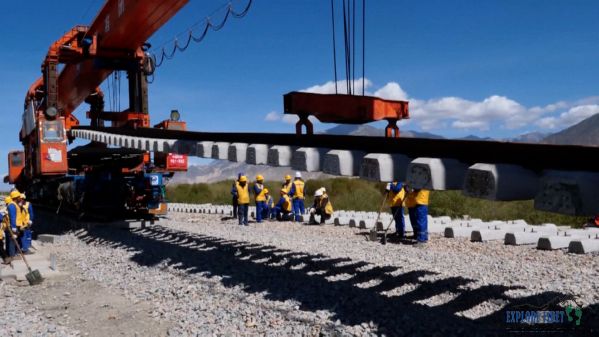 Sections of tracks being laid along the Lhasa Nyingchi Railway
The newest bridge on the line stretches across the Yarlung Tsangpo River at a height of 61.5 meters above the water surface of the river, and is around 283 meters long and 19 meters wide. The construction of the bridge has used newly-developed technologies and stronger steel to protect the bridge from the natural disasters such as earthquakes, landslides, and high winds, which the area is prone to experiencing. And with around 75 % of the whole railway line from Lhasa to Nyingchi being made up of bridges and tunnels, several new construction and safety techniques had to be invented and deployed.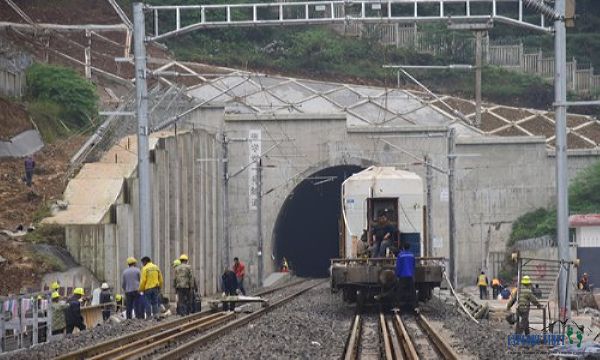 The construction site of the Bayu Tunnel on the Lhasa-Nyingchi Railway which was recently completed