Christmas celebrated in Tibet
Roasted turkey with an exquisite fragrance, Christmas trees decorated with holiday ornaments and smiling Santa Claus, friends from all over the world gathered together and celebrated the Christmas Eve in the St Regis Hotel, the first five-star hotel of
Tibet
.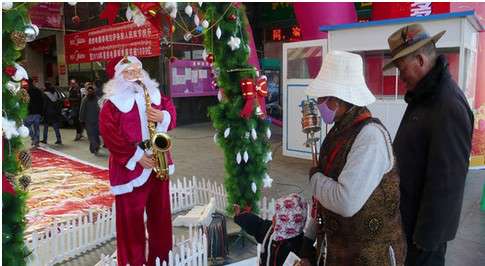 At the Christmas parties, traditional western Christmas food, such as the roast turkey, the honey ham and Christmas puddings are welcome by Tibetans, reported by China Tibet News.
"The food here is very delicious, and Christmas is a happy holiday. Both western festivals and Chinese festivals embody people's yearning for a better life. Like the Turning Scripture in Tibet, the Christmas Eve also symbolize a pray for peace and health," said Qu ying, a Tibetan girl who has sent blessing messages to all her friends
"I find that Tibetans are quite open to other cultures. I don't miss anything about Christmas, like Christmas trees, Christmas gifts and Father Christmas. I am really happy!" Kumar, the newly elected general manager of the St Regis Hotel said.
It is the first time to come to
Lhasa
for Li Hui, a magazine editor from Shanghai, who was very happy to celebrate the Eve in
Lhasa
."I come here with a friend of mine who works in America for Christmas holidays in Tibet. Celebrating Christmas in Tibet is our childhood promise to each other" said Li Hui.
With the sound of music rising, all the friends from China and foreign countries sang a Christmas carol together at the holy city with an altitude of 3,600 meters high, which makes the world not far away from Tibet.