Dunya Restaurant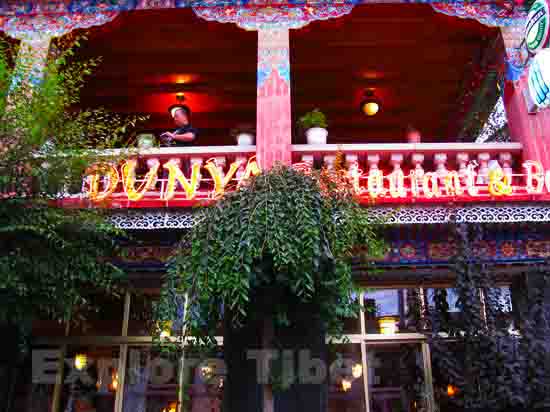 One of the best places to eat in Lhasa is Dunya restaurant. It's run by a Dutch guy. The restaurant is located next to the Yak hotel in Lhasa, Tibet.
They serve the western food in the city such as veg burger, yak meat burgers, meze plate, pizza, sizzler trays and lasagna. There are some delicious salads with fantastic dressing. They also serve momos(dumplings), some Chinese dishes and also delicious Thai dishes. At Dunya restaurant you'll get best bread in Lhasa, which is home made bread.
At upstairs, there is a western-style bar. They serve very nice house wine, alcohol and other beverages. The view is great from the rooftop as you can see the Lhasa city. They also sell varieties of cigars which you won't get it at other places around the city. The staffs are very polite and helpful. They can speak good English and Chinese. The restaurant is very clean and well organized.
The foods have reasonable price for the tourist as for the local Tibetan people it is not that cheap. There is no difference in price for the tourists and locals but the due to currency conversion. It has a beautiful atmosphere in and around the restaurant. After trekking or hiking over the mountains, it is one of the place that you can rest and dine peacefully.
Contact Information
Address:
100 Beijing Dong Lu, Lhasa, China
Phone No: +86 891 633 3374
Website: http://www.shigatsetravels.com/dunya/