Meals & Restaurants
To travel safely and healthy, food is very important to prevent unnecessary illness or trouble in the middle of a wonderful trip. We always suggesting our clients to choose the restaurant carefully and eat light at the arrival day.
Food:
Traditional Tibetan food is pretty basic, and stems from the staples of barley and yak products. The most common main dishes are Tsampa (roasted barley flour, yak butter and tea mixed into a dough), momos (steamed dumplings filled with meat or vegetables), and thugpa (a noodle stew with meat and/or vegetables). Tsampa is an aquired taste – ask your guide to show you how tsampa is mixed with tea in a bowl. Momos are quite good, and thugpa is great comfort food. A special treat (with a slightly acquired taste), if you are lucky enough to find fresh yogurt is supreb tast, which nomads make from yak milk.
You will also probably be offered Tibetan tea at some point; a salty tea made of yak butter, milk, salt and tea leaves. While Tibetans love it, it is an acquired taste for most foreigners. Tibetans are very hospitable and will serve you tea continuously. You are welcome to take a sip or two out of respect and the host will keep refilling your cup. It is also OK to ask for hot water or sweat tea if butter tea is not to your liking.
There are just a few Tibetan restaurants specializing in local fare, and the further you go from Lhasa, the less traditional food you will find. Most restaurants in Tibet are Chinese, and serve spicy Sichuan-style fare.The food is hot and many dishes are stir-fried, eliminating most safety concerns. Most restaurants are safe to eat in, but if it looks deserted, dirty, or you just feel uncomfortable, you should probably seek another option.
Guesthouses catering to backpackers and the occasional hostel or hip restaurant will offer a western breakfast menu of pancakes with honey and bananas, yogurt or cereal. Otherwise, most hotels will serve a Chinese-style breakfast, including steamed dumplings, eggs-boiled or scrambled with tomoatoes, hot veggies, a bland form of rice-pudding and tea.
Vegetarians will have no trouble finding vegetable, noodle and tofu dishes in Chinese restaurants. While you may get tired of the same dishes over and over, you are bound to find a favorite; whether it be spicy eggplant, fried green beans or spicy tofu (watch out for tofu and meat combinations).
Water: Tap water is not considered safe for drinking for most Westerners, but is fine for brushing your teeth with. We recommend purchasing bottled water, bringing purification tablets or boiling your own water if trekking. Note: There are no recycling facilities in Tibet, so please be mindful of your waste. You may be able to save your plastic bottles and turn them in at a convenience store, where they have a slightly better chance of being carted off to a landfill or the rare recycling plant in China.
Below we have selected some best restaurant that serves very good dished with wide-range option of Tibetan, Nepalis and Indian food.
Dunya Restaurant.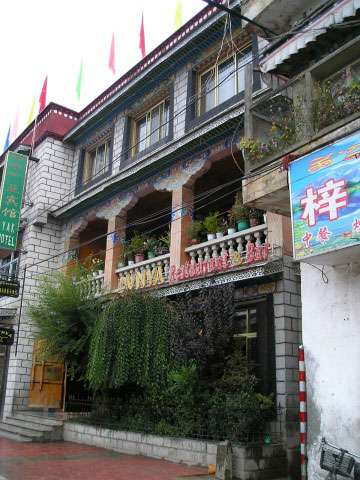 One of the best places to eat in Lhasa is Dunya- it's run by a Dutch guy and has European/Asian food and wine that can't be compared to anything else in Tibet . They also do momos and some Chinese dishes, but you'll be going there for the vege burger or the yak burgers, which are fantastic, or the meze plate, sizzler trays, lasagna, Thai dishes, pizza and the very drinkable house wine. They also do a delicious house salad for those of you craving some fresh greens - the dressing is fantastic. And the bread is all made in-house, best bread in Lhasa . It's not cheap by Tibetean standards (or backpacking standards but if you're thinking in US or UK money everything in Tibet is cheap) but it has a great atmosphere and after trekking in the mountains and eating rice and tsampa, it's nice to come back to Lhasa and have delicious food. It's on Beijing Dong road, next to the Yak Hotel. They also sell cigars. You can reach them at 0891-6333374
Reviews from Trip advisor: "Awesome to have this clean restaurant next door to the yak hotel. A refuge while you get accustomed to the altitude. Yummy menu".
" Run by a Dutch ex-pat, Dunya is a very good restaurant and bar (and if you're looking for hard liquor, this is the place!). Staffed by local Tibetians, the food is solid, tasty and safe".
Across the road is the Music Bar, a small but friendly place to relax and have a few drinks. Staffs are helpful and it's easy to meet people from all over the world there.
Yak hotel restaurant
The Yak Hotel has a restaurant on the top floor which has amazing views of the Potala. You'll get some great photos, especially in the evening, but the service is rubbish. The food is OK, they do good momos, but you'll be waiting a long time for them and trying to get change means a staff member has to run all the way downstairs to the reception. Still it is a nice place to chill out looking out over the fabulous mountains and the now-sprawling city.
Snowland Restaurant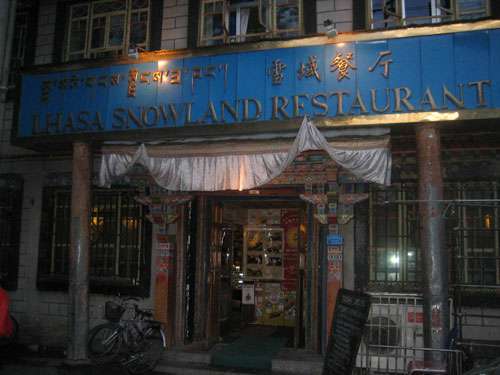 Snowland restaurant is opposite to Lhasa kitchen which is right in front of the Jokhang temple. It is one of the well known restaurants around the town that serves a mix of excellent continental and Nepali food in very civilized surroundings. Both Nepalese and Tibetan cook in the restaurant serves very good Indian dishes, particularly the tasty chicken butter masala and naan breads. They also have several different cakes which are very good and discount are available after 9pm. You can reach them at 6320821.
Reviews from Trip Advisor; "We had one dinner and one breakfast here. We arrived late for dinner and it was crowded with Tibetans, Chinese and foreign tourists. But we got a table quickly. The menu is extensive. The food was good but slow in coming - they were busy. The waitress spoke a little English.
It is hard to find a place for early breakfast in Lhasa but Snowlands was open early. We went about 8:00 and there were only two other people there. Service was poor but we got the "Set Breakfast" - 2 eggs, 2 pieces of toast, tea or coffee for 20 yuan per person.
By the way, there's a photo of the actor Colin Farrell on the wall - he ate there!"
Lhasa Kitchen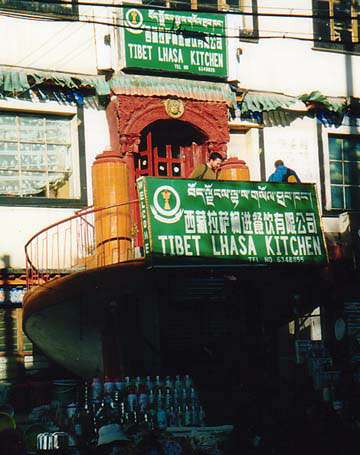 It is located right in front of the Jokhang temple and nice place to rest after day sight seeing around the town. The twisted stair case to the second floor has pleasant seating and good views from the windows. Most of the cooks are from Nepal and serves wide-range of foods from vegetable dopiaza (onion-based curry) to cheese and tomato toast. They has good Tibetan, Nepali and Indian dishes. It is a popular place with travelers and locals alike. If you can't find it call them at
Reviews from IgoUgo: "After weeks of eating Chinese and Tibetan food, we were looking for something different. Friends recommended this restaurant for a curry so we immediately took their advice. It was a good choice.
The restaurant is upstairs and it looks out towards the square in front of the Jokhang Temple. We went one night and were so impressed that we returned two nights later. The staff were friendly, service was good and the Nepalese/Indian food was excellent. There were several curries on the menu and I sought advice on which was hottest. The waitress suggested the masala and it was excellent. On the second visit I had a chicken curry and this was also excellent so I can firmly recommend both.
To accompany the curry I ordered some rota. This was only Y4. The curry was Y15. There were various starters and desserts but we didn't need them. That is a pretty good value meal. For drinks, some of us had lassis and some had beer. Both were less than Y10."
New Mandala Restaurant.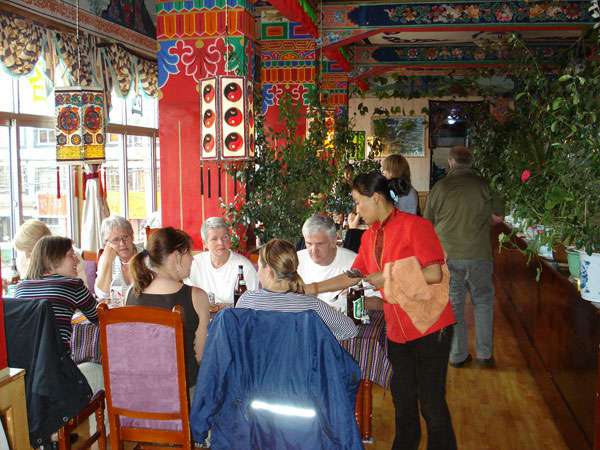 The New Mandala is a great place in the Barkhor to eat, with views out over the Jokhang. It's an open air rooftop with awnings over the tables so you don't get too hot in the summer. It's a good refuge from the crowded pilgrim trail below and lets you observe all the goings on with a cold drink in your hand and some good Indian food on its way to you. Service is not the best but hey you're there to relax and soak in the atmosphere so you've got all the time in the world. 0891-6342235
Reviews at Trip Advisor: "New Mandala Restaurant i visited. Great food, abit expensive though, great atmosphere and great view of Jokhar Temple from the rooftop :) when it's dinnertime sometimes the service is a bit slow but still acceptable :) Nice Indian/Nepalese & Western food."
Namaseti Restaurant.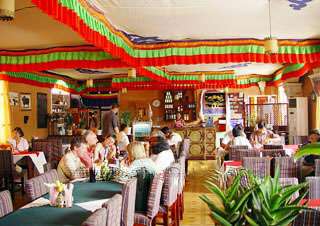 Namaseti Restaurant is another very popular restaurant, next door of Lhasa cinema hall, on the Yuthok road. it can get very busy sometimes in the middle of summer. Food is good, they serve various continental, western, Nepalese and Indian food, even lot of local people use to eat there, so it is very crowded mostly, better reserved a seat during peak season by calling on 6324669 or 13518903038
Norling Restaurant.
It is inside the Kyichu hotel, overlooking a courtyard garden, this ypscale restaurant serves great Indian, Nepalese and Western fare with great atmosphere, though it is tad pricey.
Summit Café
The Summit café is inside Shambala hotel on Tenjie ling road, it is owns by an American, it serves different coffee, cakes and ice-creams. It is a good place to relax after the long day sightseeing. 0891-6315884
Reviews at Trip Advisor: "If you're in Lhasa, and you're Jonesing for a latte, mocha, or chai tea, don't despair - there is the Summit Cafe, a near-Starbucks clone that serves all your favorites in a comfortable setting. Soft chairs, free wi-fi and computer usage, just a cozy coffee shop in Lhasa's Old Town.
Near as I could tell, food options were similar to Starbucks too - mostly sweets and pastries. Not cheap for Lhasa."
Songtsen restaurant in Shigatse
Songtsen restaurant is located on the Shigatse pedestrian street which is next to Tashi Lhunpo monastery. It is a Tibetan owned and one of best restaurant in the town. It serves very good Tibetan and Nepalis dishes. It has a nice seating and beautiful Tibetan furniture that make it totally Tibetan looks.
Tashi restaurant in Tsedang
It is a chain restaurant that has branched in Lhasa and Gyantse too. It is located next to Kalsang bridge in the town and on the second floor. It is the best restaurant in the whole town that serves good Tibetan, Nepalis and Indian food. All the menus are in English which is hard to find in the area. They also sell some nice local handicrafts sometimes.
Contact Us
+86-13398000993(Lhasa)
+124 0778 0765(USA)
sales@exploretibet.com
exploretibetTour
Find a Trip Choose one or more fields