When mentioned Tibetan religion, Lama Religion which with dense nationality color and its mysterious atmosphere will appear in mind.It will give people the feeling of mystery and dignity.If you happen to be in Tibet with absolutely no knowledge about Tibetan culture.There are two kinds of prayer wheel, one is for holding by hands, the other is fixed on stands inside monasteries.Explore Tibet Team,a professional Tibet travel agency,today introduces the second one to you.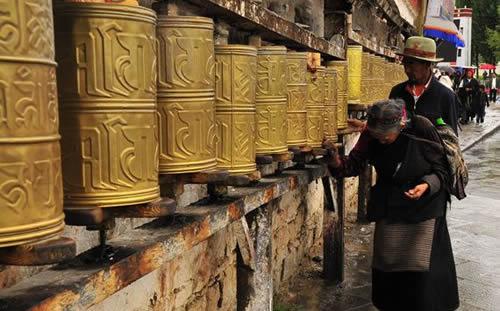 Most prayer wheels are cylinder-shaped prayer wheels.They are also called "Mani" scripture wheels.It contains the traditional six-syllable. In Tibetan Buddhism,the more you chant the Six-Syllable Prayer,the more you show respect to Buddha.Tibetans believe every time turn equals to chanting scriptures,you can turn the prayer for thousands of times.They believe revolve around the Buddhism classics on the prayer wheels,you will get more chance to be relieved from the six divisions of rebirth.Scrolls within the wheels symbolically relive the prayer to the heavens,earning merits for pilgrims.Prayer wheels vary in size,some even can reach to several tons.It is said that world largest prayer wheel in Hainan Tibetan Autonomous Prefecture, northwest China's Qinghai Province.
Today,when you walk beside the temples,you will find some pilgrims walked along the circular path, prostrating and spinning prayer wheels. Comes and experience this magical world of culture with Explore Tibet Team.